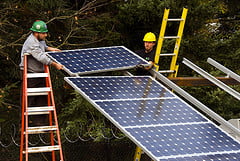 Government turns to Supreme Court with desperate feed-in tariff appeal
The Department of Energy and Climate Change (DECC) has confirmed that it will lodge an appeal to the Supreme Court in a last-ditch attempt to invert the High Court's ruling that proposed cuts to the feed-in tariff (FiT) scheme were "legally flawed".
The Court of Appeal rejected the Government's initial attempt to overturn the decision back in January. The FiT scheme then underwent a consultation period and a subsequent reform, before DECC elected to run with this second, make-or-break appeal.
Word of this renewed effort filtered through on February 21st – the deadline issued by the Court of Appeal for the Government to put forward another appeal.
A DECC spokesperson said, "We respectfully disagree with the Court of Appeal's decision on feed-in tariffs and we have today lodged an application with the Supreme Court seeking that court's permission to appeal.
"We are now awaiting a decision of the Supreme Court on permission.
"We want to see the available funding spread as far and wide as possible making FiTs a scheme for the many not a scheme for the few, supporting sustainable jobs in solar and in a whole range of small scale renewables."
The news has been met with disappointment by those in the renewable energy space. Many claim it further increases the mounting ambiguity for consumers and industry employees.
Andy Atkins, Friends of the Earth's executive director, said, "A successful appeal will allow ministers to slash renewable energy subsidies at any time – even for solar panels and wind turbines that have been operating for years.
"If ministers want to protect families from soaring fuel bills, they must get the nation off its fossil fuel hook – and restore business confidence in the Government's commitment to a clean energy future."
Gaynor Hartnell, chief executive of the Renewable Energy Association, urged people "not [to] lose sight of the bigger picture", though.
She said, "The Government is talking of achieving around three and a half times more solar capacity by 2015 than it had originally had in mind.
"The realisation is slowly dawning that solar can play a much bigger role in the future.
"The feed-in tariff programme should really be expanded further still, as a means of enabling many more industrial sized projects to come to the fore and using a range of technologies, not just solar."
Solar Trade Association chairman, Howard Johns, said that a successful appeal doesn't bear thinking about. "We had hoped that DECC would put an end to the disruption being caused to the sector by this court case", he said.
"A win in this case – whilst unlikely – would set a very bad precedent undermining the case for investment in renewables in the UK.
"The solar sector has been struggling to cope with the number of consultations around the feed-in tariff this year and the uncertainty they have caused – surely now is the time to move on from this situation."
There are very few new arguments in favour of the slashes, so it is expected that this final appeal will also be dismissed. The implications of an accepted appeal, however, would see a long term shadow of doubt cast over the renewables industry.
Therefore, Blue & Green Tomorrow highly recommends capitalising on the higher feed-in tariff subsidy for renewable energy installations whilst you can. Get in touch with Good Energy, the UK's only 100% electricity supplier, and they'll help you make the switch.
Related links:
Industry welcomes Government's feed-in tariff reform
DECC plans consultation for feed-in tariff to mirror German system
Solar industry still facing uncertainties over feed-in tariff scheme
Picture source: OregonDOT
---
Register with Blue and Green to Comment
To leave a comment on this article, fill in your details below to register, alternatively if you are already registered you can login here.