Agricultural Sustainability: Follow the Governance Footprints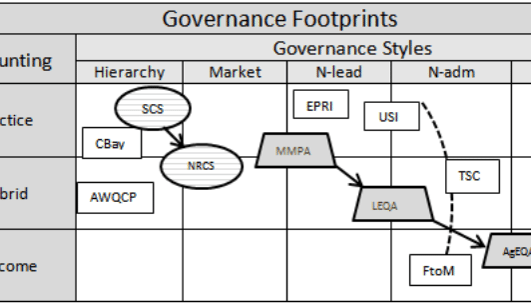 "As toddlers in the field of economics, ag(ricultural) sustainability organizations are beginning to take their first governance footsteps…somewhere."  Writes Tim Gieseke, first published here, republished with permission.
A bit of organizational history; just a century ago most organizations relied on a hierarchy governance style – the typical top-down, command-and-control method.  As the world become more complex and greater innovation was needed, a market governance style was adopted.  Still top-down, but a bit more fluid to remain competitive.  The most recent governance style to emerge is network governance – a more horizontal structure that is able to gather a quantity of information that would cause bottlenecks in the other two.
All governance styles are in use today, in fact, never before in human history has so many versions of governance existed side-by-side.  And this has created a governance paradox; that is, there is inherent conflicts created among the governance styles, yet each is needed to address the complexity of ag sustainability (and all other wicked social problems).
The graphic above illustrates how some ag sustainability efforts are beginning to step away from hierarchy-based governance toward more progressive and inclusive governance styles (market and various forms of network governance).  In researching these efforts, I believe these steps or shifts in organizational governance are mostly unconscious.
In brief, the USDA SCS has shifted from a predominantly hierarchy governance and practice-based accounting system to its slightly different NRCS version today that includes outcome-based accounting and market governance.
The three MMPA, LEQA, AgEQA projects represent a chronological evolution of state (MN) projects in  industry, state and local governments that moved from practice-based to outcome-based accounting and trended toward a more inclusive network governance.
The final grouping consist of the EPA's Chesapeake Bay TMDL, the USDA-EPA-AWQCP, Electric Power Research Institute WQ auction, United Suppliers SUSTAIN, Field-to-Market and The Sustainability Consortium.   These fairly predominant efforts are in the early stages with their governance styles originating from within their organizational culture.  A few small steps have taken by USI, TSC and FtoM to address the need for more data and inclusion of more stakeholders to achieve their goals.
For society to achieve its food and ag sustainability goals, these efforts and the hundreds not on the graphic will need to somehow coalesce and align their varied accounting strategies and resolve the inherent governance conflicts.  That could take a long time.
Or the food and ag sustainability community could be provided with a multi-sided shared governance (MSSG) platform – similar to the business model (multi-sided platform) adopted by Uber, Airbnb, Alibaba, etc – but modified to address the complexity of landscape sustainability.
The MSSG Platform combines the low and diffuse values  associated with ecosystem services and reduces and shares the high transaction costs of exchanging values.  These are not just steps in the right governance direction, but are gigantic and scalable leaps to the next plateau in ag sustainability.
If you are interested in being part of the MSSG Platform, contact:  tgieseke@agresourcestrategies.com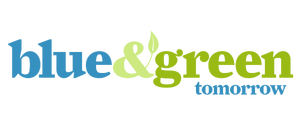 A Good Look At How Homes Will Become More Energy Efficient Soon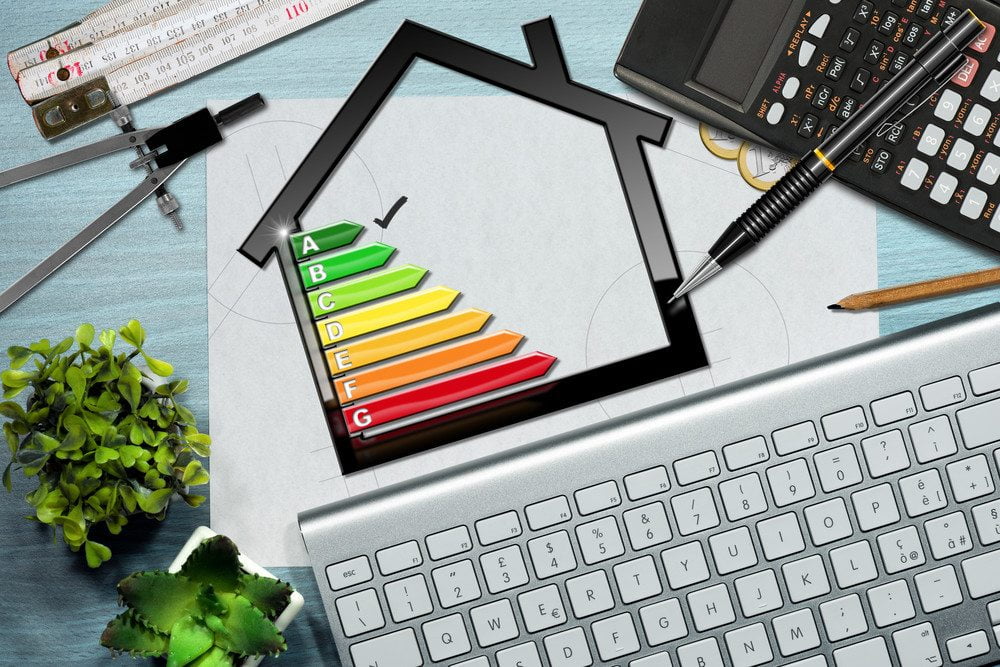 Everyone always talks about ways they can save energy at home, but the tactics are old school. They're only tweaking the way they do things at the moment. Sealing holes in your home isn't exactly the next scientific breakthrough we've been waiting for.
There is some good news because technology is progressing quickly. Some tactics might not be brand new, but they're becoming more popular. Here are a few things you should expect to see in homes all around the country within a few years.
1. The Rise Of Smart Windows
When you look at a window right now it's just a pane of glass. In the future they'll be controlled by microprocessors and sensors. They'll change depending on the specific weather conditions directly outside.
If the sun disappears the shade will automatically adjust to let in more light. The exact opposite will happen when it's sunny. These energy efficient windows will save everyone a huge amount of money.
2. A Better Way To Cool Roofs
If you wanted to cool a roof down today you would coat it with a material full of specialized pigments. This would allow roofs to deflect the sun and they'd absorb less heat in the process too.
Soon we'll see the same thing being done, but it will be four times more effective. Roofs will never get too hot again. Anyone with a large roof is going to see a sharp decrease in their energy bills.
3. Low-E Windows Taking Over
It's a mystery why these aren't already extremely popular, but things are starting to change. Read low-E window replacement reviews and you'll see everyone loves them because they're extremely effective.
They'll keep heat outside in summer or inside in winter. People don't even have to buy new windows to enjoy the technology. All they'll need is a low-E film to place over their current ones.
4. Magnets Will Cool Fridges
Refrigerators haven't changed much in a very long time. They're still using a vapor compression process that wastes energy while harming the environment. It won't be long until they'll be cooled using magnets instead.
The magnetocaloric effect is going to revolutionize cold food storage. The fluid these fridges are going to use will be water-based, which means the environment can rest easy and energy bills will drop.
5. Improving Our Current LEDs
Everyone who spent a lot of money on energy must have been very happy when LEDs became mainstream. Incandescent light bulbs belong in museums today because the new tech cut costs by up to 85 percent.
That doesn't mean someone isn't always trying to improve on an already great invention. The amount of lumens LEDs produce per watt isn't great, but we've already found a way to increase it by 25 percent.
Maybe Homes Will Look Different Too
Do you think we'll come up with new styles of homes that will take off? Surely it's not out of the question. Everything inside homes seems to be changing for the better with each passing year. It's going to continue doing so thanks to amazing inventors.
ShutterStock – Stock photo ID: 613912244
IEMA Urge Government's Industrial Strategy Skills Overhaul To Adopt A "Long View Approach"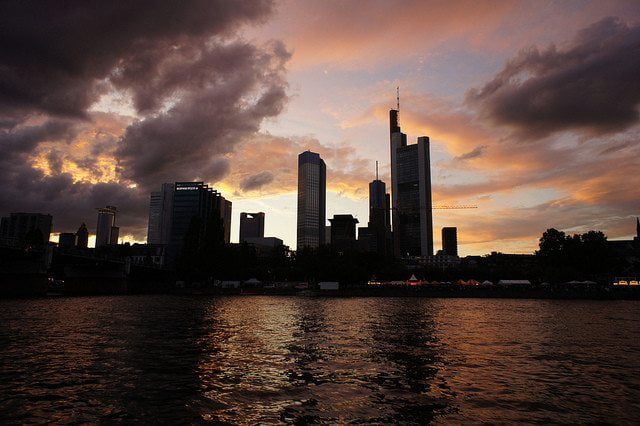 IEMA, in response to the launch of the Government's Industrial Strategy Green Paper, have welcomed the focus on technical skills and education to boost "competence and capability" of tomorrow's workforce.
Policy experts at the world's leading professional association of Environment and Sustainability professionals has today welcomed Prime Minister Teresa May's confirmation that an overhaul of technical education and skills will form a central part of the Plan for Britain – but warns the strategy must be one for the long term.
Martin Baxter, Chief Policy Advisor at IEMA said this morning that the approach and predicted investment in building a stronger technical skills portfolio to boost the UK's productivity and economic resilience is positive, and presents an opportunity to drive the UK's skills profile and commitment to sustainability outside of the EU.
Commenting on the launch of the Government's Industrial Strategy Green Paper, Baxter said today:
"Government must use the Industrial Strategy as an opportunity to accelerate the UK's transition to a low-carbon, resource efficient economy – one that is flexible and agile and which gives a progressive outlook for the UK's future outside the EU.
We welcome the focus on skills and education, as it is vital that tomorrow's workforce has the competence and capability to innovate and compete globally in high-value manufacturing and leading technology.
There is a real opportunity with the Industrial Strategy, and forthcoming 25 year Environment Plan and Carbon Emissions Reduction Plan, to set long-term economic and environmental outcomes which set the conditions to unlock investment, enhance natural capital and provide employment and export opportunities for UK business.
We will ensure that the Environment and Sustainability profession makes a positive contribution in responding to the Green Paper."