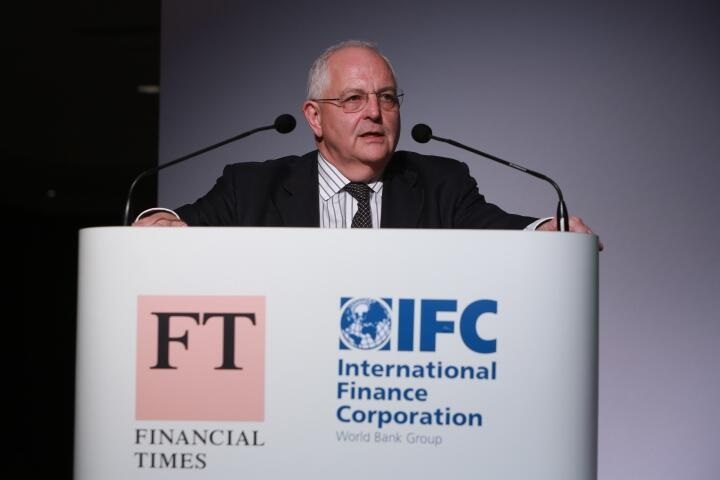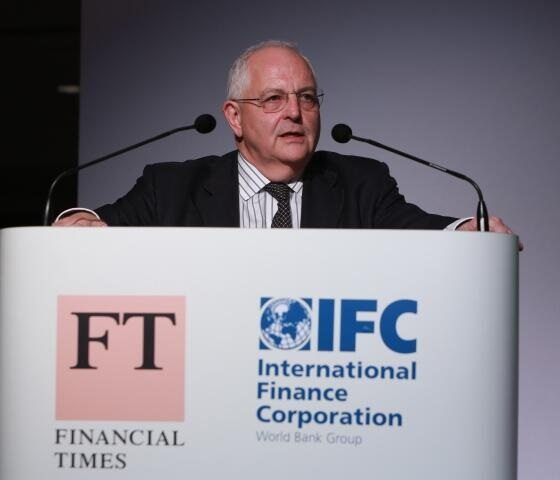 'We're all doomed': Martin Wolf's concluding speech at FT/IFC Sustainable Finance Conference
Martin Wolf of the Financial Times is an exceptional journalist, and considered one of the most influential writers on economics in the world. In a witty and challenging keynote speech at the recent FT/IFC Sustainable Finance Conference, he had been asked to discuss sustainable finance. Instead, he explored making finance sustainable and financing sustainability.
Wolf's CBE for services to financial journalism in 2000 underpins and comes on top of a pile of academic and peer accolades from leading universities and business organisations. This is a serious journalist who knows his brief and is certainly not shy of expressing a forceful opinion – whoever the audience and whatever the conference subject.
You'll be able to see highlights from his speech here shortly.
Neither a borrower or a lender be
Starting his keynote address with a frank admission that he knew nothing about 'sustainable finance', he launched into a forensic dissection of the unsustainable nature of global finance – as he put it, global capitalism's 'Achilles heel'. Far from resolving the problems that triggered the crisis of 2007-2010, finance still carries huge systemic risk.
Two core weaknesses remain: global imbalances in trade and overleveraged banks.
The core problem of global imbalances between debtor (borrowing) and creditor (saving) nations remains.
The core problem of over-leveraging within the banking sector remains, particularly in the UK and US. We could be heading for another, bigger crash.
It's getting hot in here
On the climate, he was even more pessimistic, or realistic depending on your outlook. Measures to mitigate (limit the effects of) climate change have achieved nothing in terms of arresting carbon emissions, which continue to rise inexorably. China and other emerging economies' continuing industrialisation have cancelled out the modest efforts to reduce the emissions of Europe and US. The carbon threshold of 400ppm will be surpassed by 800ppm before the end of the century.
The bleak outlook concluded with the analysis that we needed alternative political structures and reform of the financial system and that look unlikely anytime soon. Finance was unsustainable and we needed to look to financing adaptation when mitigation has self-evidently failed.
So far, so depressing.
It's difficult to challenge such a comprehensive analysis, backed with powerful evidence, and delivered with such conviction.
Difficult but not impossible
Rather than answer the question ourselves immediately, we welcome submissions (both long and short) on how we tackle systemic risk in financial services and climate change. We'll assemble the submissions and send them to Wolf for comment.
Your starters for 10:
Making finance sustainable: This new book, available as a free download, comes from the New Economics Foundation
Financing sustainability: This series of articles on financing the future comes from an Aldersgate Group report
Are we screwed?: This excellent essay comes from a climate science PhD student at Stanford, and asks the biggest question of them all
Further reading:
'Leading' businesses honoured at FT/IFC Sustainable Finance Awards 2013
God v mammon or a match made in heaven?
We salute capitalism's disruptive insurgents
Economy or environment: why choose?