Offensively timed stunts over climate change are a bad idea
On Saturday, a group of climate change protesters draped a banner above the Paralympic logo adorning Tower Bridge. Alex Blackburne winced upon seeing the stunt.
There have been many examples in history of protestors undertaking stunts to get exposure for their various causes – the most famous recent example perhaps being the Fathers 4 Justice campaigner who dressed as Batman and scaled the walls of Buckingham Palace in order to unveil a banner. Without the marketing millions that large corporations have at their disposal, this is often one of very few routes to securing media coverage.
But it's unlikely that the latest protest will be viewed with similar humour. It's very possible that its message will, at best, be simply be written off as an offensive hijacking of an excellent event or, at worst, harm the efforts of those genuinely concerned about climate change.
Activists from the campaign group Climate Siren climbed Tower Bridge in London on Saturday and unfurled a 40ft banner above the Paralympic symbol. The banner read, "Climate change, our next challenge".
Climate Siren is a group calling for a "great effort of civil disobedience in the UK". In June, whilst Rio+20, the United Nations Conference on Sustainable Development, was taking place in Brazil, a number of campaigners made headlines when they chained themselves to the gates of Buckingham Palace, again to highlight the threat of climate change.
The group's latest stunt took an inadvertent swipe at the Paralympic Games whilst providing a hostage to fortune for those who argue climate change is some left wing plot.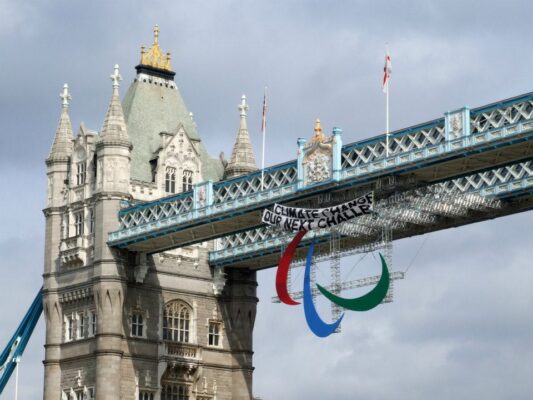 The values and beliefs on display on Climate Siren's website are, in the most part, completely correct.
It's demanding "urgent, concerted and meaningful action to tackle the unprecedented national and global emergency presented by the catastrophic destabilisation of global climate". The problem is; it's going about it all wrong.
By aggressively shoving the issue in the public's face through the large banner on Tower Bridge, the group is inviting anger, disdain and ridicule from outside parties – especially when you add the context of the Paralympic Games into the mix.
The timing of such a stunt could not have been worse, too. Public sympathy will be at a premium, arguably more so than if the banner had appeared above the Olympic rings.
We need to be engaging people positively to make changes and to appreciate the real impact to their lives of climate change; not partaking in madcap stunts that do nothing to encourage a reasoned, intellectual debate.
We are equally irritated by apathetic world leaders who fail to address the clear and present danger posed by climate change. The difference is we, and the many others that do excellent work in the sustainability space, opt for a rational debate as opposed to extremism. We do not criticise the group's underlying message, but their methods.
The Paralympics is about the heroic triumph of human spirit over adversity, exactly the spirit we need to address climate change, and should not be hijacked by ill-thought out protests.
Do you agree or have a different point of view? Please let us know.
Further reading:
The opening ceremony's wider message
World Tweets to end fossil fuel subsidies
Investor report highlights gap between climate change and action
---
Register with Blue and Green to Comment
To leave a comment on this article, fill in your details below to register, alternatively if you are already registered you can login here.