Marine innovation on the block as wave energy company calls in administrators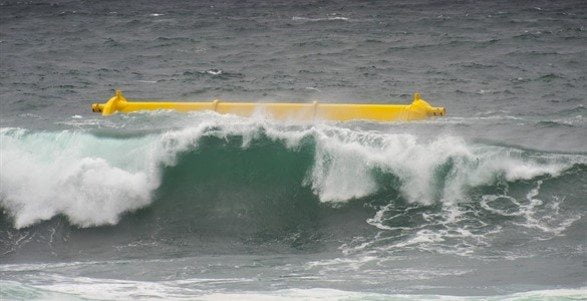 Renewable energy firm Aquamarine Power has called in administrators to manage the business and seek a sale or fresh investment. Aquamarine Power chief executive Paddy O'Kane said: "today's news underscores the financial as well as technical challenge in bringing an entirely new form of energy generation to commercialisation."
Scottish Energy Minister Fergus Ewing said he was disappointed that Aquamarine had gone into administration: "The company has benefited from significant public support in recent years to commercialise its wave energy technology and has built up valuable expertise and intellectual property in the sector.
"I am therefore pleased the administrator plans to continue trading while it seeks a buyer and that all staff will be retained at what will be a difficult time. The Scottish government is absolutely committed to the marine energy sector which has the potential to offer significant economic and environmental benefits.
"That's why we created Wave Energy Scotland, the biggest wave technology development programme of its kind, because we recognised the many challenges facing this developing industry."
Also responding to the news, the Chair of the REA Ocean Energy Group, Max Carcas said: "This is another by-product of the investment uncertainty this government has caused in renewables. We have seen strategic leadership on nuclear, fracking and High-Speed 2, but little in making use of the unlimited energy resource surrounding our coasts.
Wave and tidal energy is an area where the UK has real technological leadership and a huge potential. We know we have a huge energy resource sitting on our doorstep.  We know it can be harnessed.  We know there is real potential for this new energy technology to be a significant export earner for the UK, much bigger than nuclear, fracking or HS2 , yet we don't have a strategy for making it happen.
If marine had the same commitment provided to Hinkley, it could potentially provide cheaper energy, at a larger scale, and be a positive contribution to the UK's balance of payments rather than a negative. Of course there are uncertainties, as indeed there are with Hinkley, but these can be better mitigated to give better value for money for the UK with relatively little investment required today."