Twenty-one of the best green organisations, projects and people are celebrating after winning at the Scottish Green Energy Awards, held last night in Edinburgh.
Scottish Water's "pioneering" efforts to cut its £45 million annual energy bill – Scotland's largest – using renewable energy saw the household business scoop the Renewing Scotland award.
The UK's largest community-owned wind farm, three-turbine Beinn Ghrideag on the Isle of Lewis, was named Best Community Project.
And a stunning image of wind turbine blades poised for action at the Port of Inverness bagged Highland Council Principal Engineer, Eddie Boyd the Best Photography Award.
Niall Stuart, Chief Executive of Scottish Renewables, the industry body which organises the awards, said: "In the week world leaders meet in Paris to tackle climate change there is much to celebrate here in Scotland. From small scale community developments to our cutting edge technologies and the individuals who champion our industry, the Scottish Green Energy Awards is all about recognising the people and organisations that are driving forward our industry.
"While the last few months have been incredibly challenging for the industry due to major changes in support from the UK Government, there remains a huge amount of determination, innovation and creativity that we can and should all be proud of."
Other awards handed out at the 12th Scottish Green Energy Awards last night include the Best Supplier honour, won jointly by two Orkney businesses which judges said have brought value to the whole of a community.
Edinburgh green energy developer Locogen's "exemplary" expansion – which has seen quadruple its headcount in just two years – meant it was given the Business Growth Award.
And John Cridland CBE, former Director-General of the CBI, was named Champion of Renewables for his work highlighting the UK Government's impact on renewable energy investment with the many cuts and closures to support schemes since May (2015).
The full list of winners is:
Best Community Project: Beinn Ghrideag wind farm, Isle of Lewis
Best Innovation: Accelerating Renewables Connections by SP Energy Networks, Community Energy Scotland,
Smarter Grid Solutions and the University of Strathclyde (Scottish Borders)
Best Photography: Turbine blades at the Port of Inverness by Eddie Boyd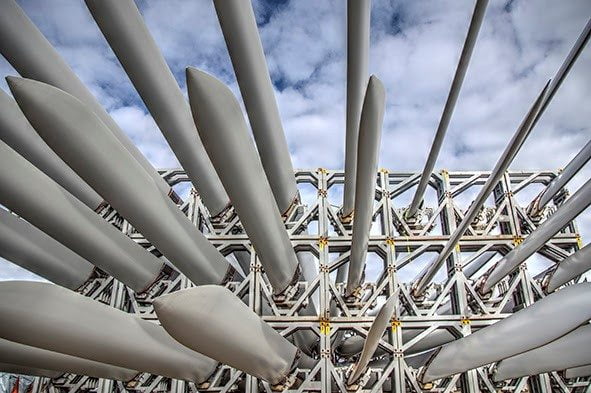 Best Supplier: Green Marine (UK) Ltd and Leask Marine Ltd, both Orkney
Business Growth: Locogen
Champion of Renewables: John Cridland CBE, former Director-General, CBI
Contribution to Skills: Energy Skills Partnership
Engineering Excellence: Atkins and Burntisland Fabrications Ltd
Export Award: SgurrEnergy (Glasgow)
Outstanding Contribution: Allan MacAskill
Renewing Scotland: Scottish Water
Rising Star: Irina Cortizo, Atkins
Sustainable Development: Guide to Hydropower Construction Best Practice by Scottish Natural Heritage, Scottish
Environment Protection Agency and Scottish Renewables
Judges Award: Highlands and Islands Enterprise
Matthieu Hue, CEO of main sponsor EDF Energy Renewables, said: "It has been another fantastic evening of celebration and very well done to those who have won an award tonight. It is well deserved and there was tough competition.
"What has been achieved by the renewable industry especially here in Scotland is incredible and I'm certain there is more to come."
CASE STUDY: Cleaning up: water goes green
Scottish Water delivers 1.34 billion litres of drinking water and treats 847 million litres of waste water every day, and is Scotland's biggest consumer of electricity.
In the last two years the company has doubled the amount of renewable power generated at treatment works, meaning several now generate more than they consume.
The company has installed the world's first "Difgen" hydro turbine – which controls water pressure while simultaneously generating electricity – in a main near Denny, and also operates 14 wind and 18 solar schemes.
Chris Toop (pictured right), General Manager for Scottish Water's energy programme, accepted the Renewing Scotland Award for the company at tonight's (Dec 3) Scottish Renewables event.
He said: "We are delighted to win this award, which recognises our efforts to maximise the use of our 2,000 treatment works and 60,000 miles of pipes to generate an increased amount of renewable energy.
"From hydro schemes to solar PV and food waste recycling, these initiatives are helping to reduce our carbon footprint and bring down the cost of providing vital water and waste water services to customers."