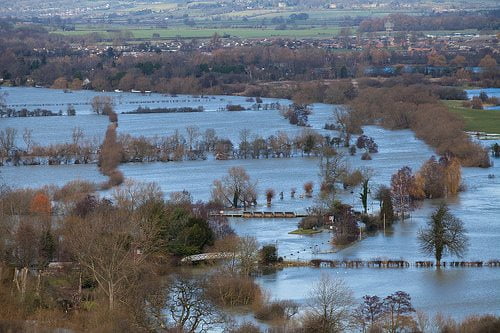 Almost half of UK voters believe that the floods and storms that have recently affected Britain are a result of climate change, a new poll has revealed.
Forty-seven per cent of the people asked said they supported the view that "the flooding was probably the result of changing weather patterns due to climate change", while 39% disagreed. 
Interestingly, the survey found that respondents' opinions on climate change are clearly divided down political lines.
Labour and Lib Dem voters supported the climate change explanation by almost two-to-one. Conservative voters opposed it by three-to-two and UKIP supporters by two-to-one.
Belief in climate change also seemed to be higher in households that are at risk of flooding, with 54% supporting the statement and 42% against.
Last week, a separate YouGov poll found that the number of people in Britain who identify the environment as the most pressing issue for the country had gone up by 14 percentage points in a month.
In January, only 9% of people interviewed believed that the environment was the most important issue for Britain. That figure is now 23%.
Though scientists have stressed that it is currently not possible to attribute individual weather events to climate change, there is growing evidence that global warming will increase the chances of such flooding hitting the UK again.
Further reading:
UK flooding: military to support 'urgent' flood defence inspections
The environment surges in importance among British public amid flooding crisis
Flooding poses risk to UK economy and could worsen with climate change
UK weather: changing jet stream linked to flooding crisis
Lord Stern's climate change warning: warmer and wetter UK 'not a coincidence'