At its Institutional Conference in Amsterdam, Morningstar, Inc. (NASDAQ: MORN), a leading provider of independent investment research, today announced that the new Morningstar Sustainability Rating™ for funds is now available on its North American and European websites as well as in Morningstar® Advisor WorkstationSM, the company's web-based practice management platform for advisors. The Morningstar Sustainability Rating for funds, initially announced on March 1, helps investors evaluate funds based on environmental, social, and governance (ESG) factors. Morningstar now provides Sustainability Ratings for approximately 21,000 mutual funds and exchange-traded funds, encompassing $13 trillion in assets under management, or more than half of fund assets globally.
"One of Morningstar's core values is 'investors first.' We're making our Sustainability Ratings available for free to users on our global investor websites. We think the ratings will be most effective if they're made widely available and placed in the hands of ultimate fund owners and advisors," Steven Smit, head of sustainability, said. "For the first time, approximately 10 million investors will have access to an independent, standardized sustainability assessment to include in their investment decisions."
Morningstar calculates the rating based on the underlying fund holdings and company-level ESG research and ratings from Sustainalytics, a leading independent provider of ESG and corporate governance ratings and research. Funds receive Morningstar Sustainability Ratings relative to their Morningstar Category described as Low, Below Average, Average, Above Average, and High, and depicted by 1 to 5 globes.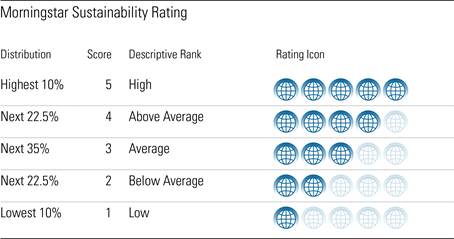 "The Morningstar Sustainability Rating makes it easier for investors globally to incorporate sustainable investing best practices into their portfolios. Using the rating, which is objective and based on a rigorous evaluation of a portfolio's underlying holdings, investors can better assess the sustainability performance of companies held by a fund and compare funds with peers," Jon Hale, head of sustainable investing research, said. "The Sustainability Rating empowers investors by giving them the ability to find funds that meet their sustainability and performance objectives using a consistent, transparent approach."
The Sustainability Ratings are also available in Morningstar DirectSM, Morningstar's research platform for asset managers and wealth management professionals, and Morningstar OfficeSM, the company's practice management system for independent financial advisors. For more information about Morningstar's Sustainability Rating, including sample fund reports, frequently asked questions and definitions, articles about sustainable investing, and the rating methodology, please visit the press kit and website.
Follow the conversation on Twitter with the hashtag #MstarESG.