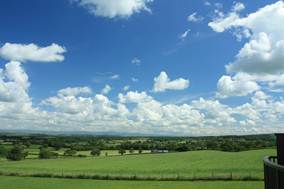 Bill Meredith, head of agriculture and land-based studies at Riseholme College at the University of Lincoln, writes about the importance of agriculture in a sustainable economy balancing the needs of people, planet and profit.
Agriculture is a significant employer, with 1.7% of the total UK workforce involved in primary agricultural production. If the whole of the food chain is considered, including activities beyond the farm gate, the proportion of the workforce amounts to 14%. That means that there are a significant amount of  used John Deere Tractors and other types of farming equipment needed to sustain this business.
The combined agri-food sector accounts for 6.5% of the UK's total economy and generates some £80 billion in Gross Value Added, a measure of the value of goods. The UK food and drink industry contributes approximately 5% of total UK exports.
Without a healthy farming base, there is a very real risk that the major contribution that food and drink manufacturing adds to the UK economy could be eroded. Beyond the economic rationale, increased reliance on global supplies could also raise questions concerning food safety, traceability and animal welfare standards.
It is now widely accepted that the world's population is likely to grow from the current seven billion to nine billion by 2050. The resultant increased demand for food, water and energy is likely to create, what the Government's chief scientific adviser Professor John Beddington describes as, the 'perfect storm'. The problem is exacerbated by the shifting consumption patterns brought on by economic growth. Increasing prosperity raises the demand for animal-based protein such as meat and dairy products, which, in turn, require more grain.
It is predicted that climate change will see northern Europe and other high-latitude regions become key centres for food production. A major technological push will be needed to develop renewable energy supplies, increase crop yields and better utilise existing water supplies. The National Farmers Union argues that given the UK's favourable geographical position, developing the agricultural potential of the country becomes both an economic and a moral imperative.
The UK farming industry is becoming a significant supplier of renewable energy and has been at the forefront of biofuel, biomass and biogas technological development. Areas of biomass crops are increasing. Biogas, more frequently referred to as Anaerobic Digestion (AD), is also gaining wider application as a means of converting organic waste into valuable energy.
In the past the farming industry has been criticised for being profit driven at the expense of the environment. The past decade has seen a continuing trend towards less intensive management and the restoration of wildlife habitats such as hedges. The areas of farmland in England that have entered into conservation agreements now exceed 6 million hectares – almost two-thirds of the agricultural landscape. The proposed reforms to the Common Agricultural Policy will mean that environmental protection remains a priority for farmers, regardless of the pressures to intensify food production.
Agriculture therefore has an increasingly important role to play in promoting a sustainable economy, balancing the conflicting needs of people, planet and profit. The challenge for the future is to produce more food, more efficiently, with fewer resources and with less waste and emissions.
You too can live more efficiently by thinking about reducing your emissions. Blue & Green Tomorrow suggests using home grown, renewable energy from Good Energy instead of relying upon fossil fuels.
Or make the most of your investments by investing in companies that want to look after the environment as well to help create a sustainable economy. To do this get in touch with your IFA, or, if you don't have one, then fill in our online form to get in touch with a specialist financial adviser.