A team of British designers has come up with a bizarre green energy solution, submitted to the Land Art Generator Initiative (LAGI) design competition, in the form of a giant duck. The energy duck is an entry to the Copenhagen competition, which aims to make renewable and zero carbon projects that are also beautiful.
LAGI was founded in 2009, with the international competition starting a year later. The aim is for artists and designers to develop public art projects that will not only generate clean, green energy but will also become celebrated public art installations.
The winning team will receive a $15,000 (£8,897) prize and there is also a cash prize for second place. First, second and third place teams will be flown to Copenhagen to take part in the award ceremony.
Previous competitions have taken place in Dubai and New York and although winners aren't obliged to create their proposed project, they will be given help and support by LAGI if they decide to do so. A project from 2010 is currently being constructed in Pittsburgh.
The competition is also growing in popularity. This year saw an increase in submissions, with 300 entries from 55 countries.
Founding directors Robert Ferry and Elizabeth Monoian said, "As we get closer to achieving a transition to 100% renewables, it will require that clean energy infrastructure become an integral part of the design of our cities.
"The larger question is whether it is possible from the standpoint of aesthetics to place wind and solar farms, for example, near to the places in which we live and work." 
The proposed energy duck hopes to win the competition with its innovative design. The 12-story high structure will collect energy from solar PV panels on the ducks upper half. Hydro turbines will also help generate electricity and at night, low power LED lights will change colour to create a light display in the harbour.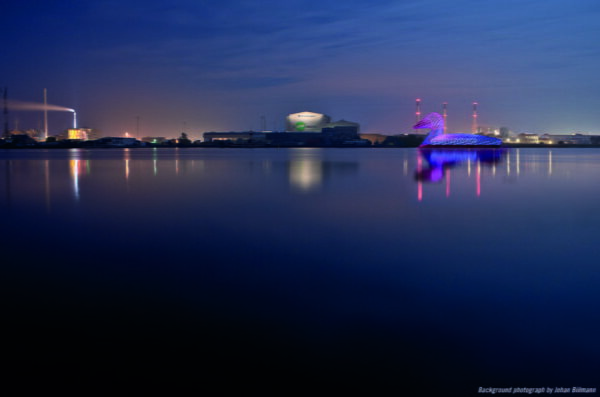 The lightweight steel frame would also be a tourism hub as visitors can go inside and view the working mechanisms of the duck.
"The land art generator designs are needed because they show the world that it is not a question of one – either we give in to the not-in-my-backyard rejection of wind turbines in the city or two – we must live with these utilitarian machines in our midst, but rather that site-specific designs for renewable energy infrastructure can exist as intentional interventions that positively contribute to healthy urban place-making," added Ferry and Monoian.
The awards ceremony will take place at the Danish Design Centre on October 3 this year.
The London-based energy duck team includes, Hareth Pochee, Adam Khan, Louis Leger and Patrick Fryer.
Connie Hedegaard, European Commissioner of Climate Action, will present the awards.
Photo: LAGI 2014 submission – Artist Team: Hareth Pochee, Adam Khan, Louis Leger, Patrick Fryer. Background photograph by Johan Biilmann
Take our 2014 reader survey and you could win an iPad, Kindle or donation to a charity of your choice.

Further reading:
'Global efforts' needed to make cities sustainable
Smart cities don't add complication, they allow society to thrive
UK cities can generate cleaner and safer energy than the 'big six' – report
NASA images show reductions in greenhouse gas emissions above major US cities
207 global cities say climate change is a threat to local economy