The Fountains of Bellagio costs an estimated $5 million a year in upkeep.
Casinos use 20% of all energy consumed in Vegas
In 2016, Las Vegas announced that they could power the city government entirely with renewable energy.
MGM Resort International's solar rooftop installation is expected to produce 25% of Mandalay Bay's power demand.
Tesla's gigafactory is seven times larger than the world's next biggest rooftop installation.
NV Energy has imposed large charges on companies threatening to leave the grid, this is due to a fear for their future.
They say that there are two man-made features that stand out more than any others when you view them from space. The first is The Great Wall of China; the second is Las Vegas as it beams its multi-million wattage from the heart of the Nevada desert out into the night sky.
In fact, Vegas's bright neon-lit streets – with casino after casino trying to out-do each other with spectacular displays – is an essential part of the city that really never sleeps.
One of the most notable causes of this extreme energy consumption is the Luxor Beam. It uses 39 7,000 watt bulbs to illuminate its pyramid, generating 40 billion candlepower. Each light reportedly costs $1,200 and can last for 2,000 hours. The iconic Fountains of Bellagio is another one of Vegas's biggest light polluters. It costs an estimated $5 million a year to shoot the water 460 feet into the air – that's only 80 feet shorter than the Eiffel Tower – and power its 4,500 lights.Then there are all the thousand-room hotels, rows and rows and slots and the casinos themselves all-consuming huge amounts of power.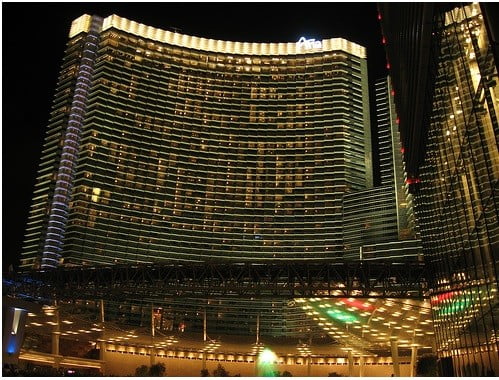 Casinos use 20% of all energy consumed in Vegas
The Move to Greener Energy
With so much energy being used to power Las Vegas, it's perhaps not surprising to see the city switching away from fossil fuels like coal and natural gas to renewable energy sources including hydro-electric power and solar energy.
Of course the former is no novelty to the state of Nevada. Since 1936 the Hoover Dam has been generating electricity not just for Nevada but for Arizona and Southern California too and today it produces no less than 4.5 billion kilowatt hours a year.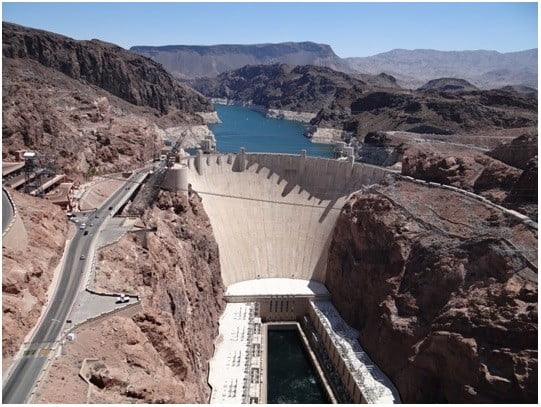 The Hoover Dam efficiently generates electricity
In 2016, Las Vegas announced it had reached its goal of powering the city government entirely with renewable energy. This meant it had met the goal it set itself 10 years before, when it began its renewable energy project to reduce electricity usage by installing solar panels and spearheading new sustainability programs. For the first time in its history, it also received power from the Hoover Dam.
Leading by Example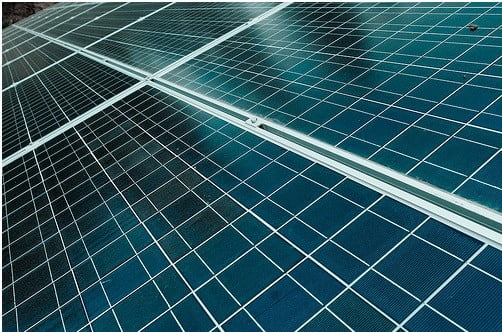 Solar panels
In striving to become more and more reliant on renewable energy in 2016 the city Government of Las Vegas led the way by becoming the first in the United States to power renewable energy primarily generated by the Boulder Solar 1 plant. The result is said to be a $5 million saving each year.

Several of the casinos have also followed their lead, partly driven by the desire to drive down costs in the light of falling revenues attributed to the vibrant online casino scene. In contrast, there is no doubt that online casinos are using a fraction of the energy that is required to run a land-based casino, not only that, well known international online casinos, such as 888casino, cater for players in Las Vegas as well as gamers all over the world (where it is possible for online casinos to operate, of course).
The Wynn Las Vegas, MGM Resorts International and Las Vegas Sands Corp. all have installed solar panels on their rooftops in a bid to become energy self-sufficient – with a huge impact on the energy usage in the city.
At full production, MGM Resort International's solar rooftop installation is expected to produce 25% of Mandalay Bay's power demand. This in turn intends to reduce demand on the southern Nevada electricity grid at the hottest time of the day.
However, as you'll see from the chart below, there are still some challenges to be overcome in Nevada as a whole, which still largely relies on fossil fuels for power – so there is still more work to do.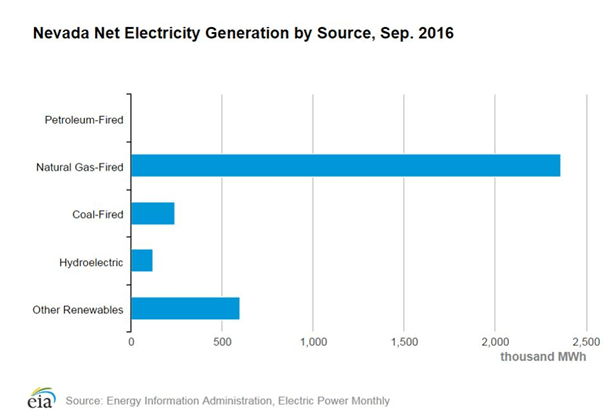 The state of Nevada is still heavily reliant on fossil fuels
Source: Energy Information Administration
The Tesla Effect
On a broader scale, the continuing development of the Tesla Gigafactory in the aptly-named Spark, Nevada, is influencing energy use in Las Vegas. Tesla promises to be able to supply 35 Gigawatt hours of solar generated electricity a year – that's nearly as much as the whole world produces today. If and when it's achieved it could well be that Vegas really can run on 100% renewable power.
Currently, Tesla is powering its Gigafactory with a 70-megawatt solar farm that's seven times larger than the world's next biggest rooftop installation. The company says that having an all-electric facility will make it more efficient, and that much of its heating will be provided by waste heat from its battery manufacturing process.
And the investment in solar energy seems to be paying off, as Elon Musk, Tesla's CEO, says the factory is already producing more batteries than any other factory in the world. It remains to be seen whether all Vegas's casinos will follow Tesla's lead.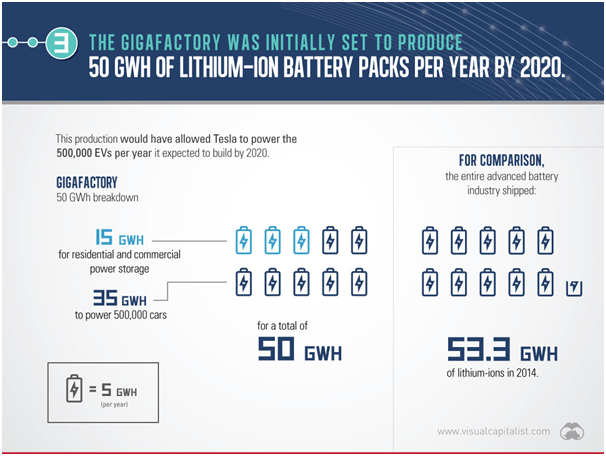 Tesla has upped the ante on renewables-driven productivity
Source: visualcapitalist.com
The End of a Fossil Fuelled Vegas?
One organisation that is not very pleased at Las Vegas's dive into renewable energy is the state's main utility company, NV Energy, which sees its business possibly disappearing in the long-term future. As a result, it has been imposing large charges for any organisations trying to leave the grid. One example is the data services company Switch who have been orderedto pay $27 million before they can make the break.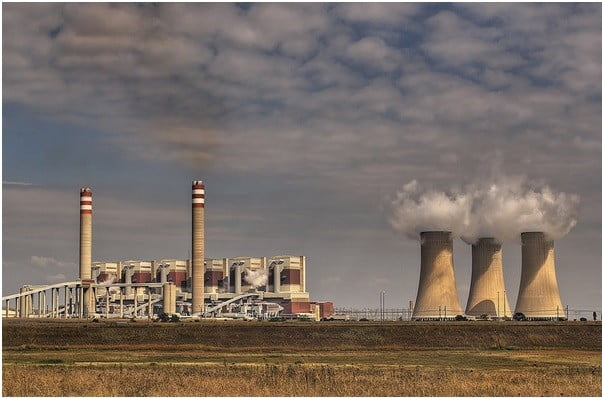 A coal powered electric power station
Across the world, billions of dollars of public money is still being invested in fossil fuel projects by the world's major development banks. Funding for fossil fuel projects totalled at least $5 billion in 2016, according to a report by Oil Change International (OCI). The report estimate that up to $2.1 billion was invested into new oil and gas exploration, while funding for clean energy also grew by over one-third, to $11.4 billion.
But, despite this, the writing may be on the wall for old-style utility providers. Fossil fuels are finite, and polluting, so renewables are going to become more and more important for usnot just in Vegas but worldwide in the years and decades to come.