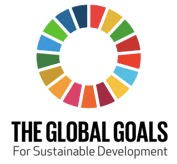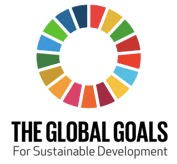 Freediver, Umberto Pelizzari raises a flag underwater representing Goal 14, in support of the UN Global Goals
World Record Breaking Freediver, Umberto Pelizzari raised a flag off the coast of Formentera, representing Goal 14, Life Below Water, which is one of the 17 Global Goals for Sustainable Development. With him on the Meditarranean seabed, Marine Ecologist and National Geogrpahic Explorer-in-Residence, Enric Sala captured the moment.
On 25th September 2015 at the United Nations Headquarters in New York, 193 world leaders will commit to a series of ambitious targets to achieve 3 extraordinary things in the next 15 years. End poverty, fight inequality & injustice, fix climate change.
The raising of the 17 flags is part of the Global Goals campaign to Tell Everyone about the Global Goals.  Founded by Richard Curtis, the Global Goals campaign aims to reach 7 billion people in 7 days. If the goals are famous – if people care about what has been promised by the politicians, it greatly increases their chance of being implemented.
To support the ambition to 'Tell Everyone', 17 flags each representing the 17 goals will be raised at some of the most remote communities impacted by the Goals such as the Himalayas and most iconic places on earth, from the bottom of the ocean to the North Pole.
In support of the campaign, UNDP are raising flags in 109 countries, hoisting them at UNDP Social Goods Summits around the world in places as far flung as North Korea.
Speaking on Enric Sala and Umberto Pelizzari's support for The Global Goals campaign Richard Curtis said: "If we can get the Goals into people's hearts and minds, we really can be the first generation that ends poverty, the most determined to tackle inequalities and the last to live with the effects of climate change."
Marine Ecologist and National Geographic Explorer–in-Residence Enric Sala said: "We need a healthy ocean to enjoy a healthy life. The ocean gives us oxygen and food, it regulates the climate, and absorb much of the carbon pollution we put in the atmosphere. Let's take care of the life below water so that it can continue providing for us."
Designer of the Global Goal icons, Jakob Trollbäck, founder and Chief Creative Officer at Trollbäck + Company said: "The Global Goals are quickly becoming a powerful force for a unified world. Designing one clear and simple icon to convey the essence of each of the 17 Global Goals to 7 billion people was an inspiring challenge. And an important one: if everyone understands The Goals, they can hold their governments accountable to them. To see these icons now being foisted in the Himalayas, the North Pole and under the sea, is an incredible feeling."
The flag for Goal 14, Life Below Water was raised last week under the Meditarranean Sea, off the coast of Formentera.
To find out more about The Global Goals visit www.globalgoals.org.