Simon Birch, a writer for Ethical Consumer magazine, reflects on the last 12 months in the world of ethical shopping and sustainable spending.
This article originally appeared in Blue & Green Tomorrow's Guide to 2013/14.
Shoppers always ditch ethics when times get tough right? Well actually no, they don't.
This was the clear message from Fairtrade Fortnight in February. Critics of ethical shopping were left spluttering with the news of a recession-busting 19% growth in the sales of Fairtrade goods in 2012, taking the UK spend on Fairtrade to a whopping £1.6 billion.
More good news followed in March when the EU introduced a ban on animal testing for new cosmetics covering everything from toiletries to toothpaste.
Campaigners aren't being made jobless just yet, though, as giant cosmetics companies will still use animal testing to develop new products to sell outside Europe.
Meanwhile, chocoholics received a welcome Easter present with the news that they could get their fix and help save the rainforests thanks to a new joint campaign launched by the Rainforest Foundation and Ethical Consumer.
With the Congo rainforest now facing the chop from industrial palm oil plantations, the campaign aims to highlight those companies which are taking a responsible approach to sourcing their palm oil.
In the first of a series of consumer guides, Divine Chocolate and Booja Booja came out top for Easter eggs as actually neither use any palm oil.
One of the most significant developments for ethical shopping in 2013 was the summer launch of Fairphone, the first smartphone to use conflict-free minerals and which promises to shake up the global smartphone market.
Tragically a number of the Co-operative Bank's senior managers haven't been quite so smart.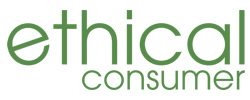 As the media vultures pick over the bank's latest calamitous chapter, the customer-led Save Our Bank campaign is now fighting a desperate battle to ensure that the bank's ethical policies remain intact.
Whatever happens, though, the good news is that the goal of a more ethical banking system can't be destroyed simply by the actions of a few incompetent and foolish men.
Simon Birch writes for Ethical Consumer magazine.
Further reading:
Ethical consumerism's long journey to the mainstream
How Britain's biggest supermarkets fare on sustainability
Ethical consumer market grows to £47bn despite recession
Fairtrade sales surpassed £1.5bn in 2012, as Fairtrade Fortnight begins