The amount of money invested in the UK's green and ethical retail funds is at an all-time high of £12.2 billion, according to data released from responsible investment research firm EIRIS.
This represents a rise of around £1.2 billion from 2012, and is a dramatic increase from the £4 billion that was invested in UK green and ethical retail funds in 2001.
Out of around 80 funds that featured in the research firm's 2013 and 2012 studies, EIRIS estimates that 10 grew by over 50% from June 2012 to June 2013. Meanwhile, 23 grew by 20-50% and 18 by 10%-19% in the same period.
Data supplied by the Investment Management Association (IMA) says over £715 billion was invested in UK funds as of June 2013 (when the EIRIS number was collected). Therefore, the green and ethical sector accounts for 1.70% of total funds under management, compared to 1.83% in June 2012.
EIRIS adds that around 750,000 investors now put money into the green and ethical funds – a figure that has more than tripled in the last decade.
"We continue to see an increase in the amount of money being invested in green and ethical funds, reflecting the wider interest of consumers in being ethical and sustainable in their purchasing decisions", said Stephen Hine, head of responsible investment development.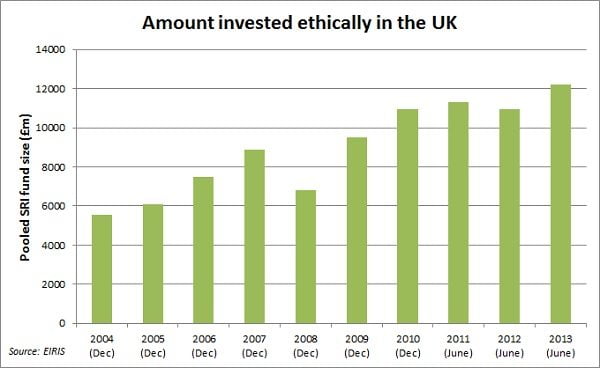 A recent EIRIS consumer survey also investigated attitudes to green and ethical pension options in the UK. It found that 18% of adults would like to see 100% of their pension scheme invested in a fund that avoids anything where there may be a negative environmental, social or governance (ESG) impact
Hine added, "This provides a challenge and an opportunity for providers of [defined contribution] pension providers.
"It's also encouraging that individuals are keen to see their pension providers be transparent about how they ensure their underlying investments follow best practice."
The figures were released as part of National Ethical Investment Week (NEIW) – an event that aims to ensure that everyone is aware of the green and ethical options they have when it comes to taking financial decisions.
According to a YouGov survey also conducted for NEIW, 63% of investors want to be offered sustainable or ethical investment options.
A similar majority – 67% – said they were concerned about losing money by investing in unsustainable companies, such as ones from the oil and gas industry.
Simon Howard, chief executive of UKSIF, said the survey results proved ethical investment was "no longer just a moral issue". He added, "It is a hard-headed decision about the best way to manage your savings and plan for the future in a changing world."

National Ethical Investment Week 2013 runs from October 13-19. Join the debate on Twitter using the hashtag #moneydoinggood.
Further reading:
A 'hierarchy of investment needs' for National Ethical Investment Week
63% of UK investors want to be offered sustainable investment options
'Positive' investment worth £1.6bn in the UK
70% of investors don't know if their investments are ethical