Before Blue & Green Tomorrow was an online magazine, we existed briefly, in 2010 and 2011, as a print publication. Producing five issues over six months, we built up a core following of readers which allowed us to migrate across to the web in September 2011.
For the first time, we're making these five issues available to download for free from our website. So sit back, grab a cup of coffee and immerse yourself into the content – some of which you will have seen as articles online.
Whether you're a new reader, you joined us when we were launched as an online magazine or you've been here since the day we were born, thanks for reading Blue & Green Tomorrow.
——————————————————————————————————————————————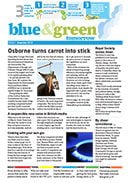 Remember, remember, the fifth of November. To most people, that rhyme relates to the infamous, unsuccessful plot to kill King James I in 1605, by Guy Fawkes and co. To us, it's the day, in 2010, when the first print edition of Blue & Green Tomorrow was launched. The inaugural B&GT publication was packed with stuff about sustainable investment, renewable energy and sustainable holidays – much of which will still be entirely relevant today – and included a contribution from Good Energy's Juliet Davenport (still a good friend today).
——————————————————————————————————————————————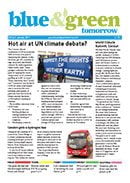 The second issue of Blue & Green Tomorrow appeared in January 2011, and led with an article about the climate change conference in Cancun, COP16. This particular idea for an article had come from a reader, who had requested sober coverage of the event. We dug a little deeper and discovered a parallel mini-conference in which huge businesses from around the globe were pledging to cut billions of tons of emissions and waste from their operations. Issue two also had contributions from Sarah Pennells (SavvyWoman) and Clare Brook (WHEB Asset Management).
——————————————————————————————————————————————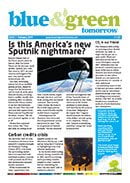 In issue three, from February 2011, a reader wrote to us to express their shock that companies can 'make up' an ethical fund, which we had spoken about in issue two. He said, "Having spoken to my IFA, it turns out that my 'ethical' fund does include BP and Rio Tinto." He revealed he had changed IFA and switched his fund portfolio, and thanked us for highlighting the issue. The same edition contained features on green homes, sustainable transport, planes versus trains, onshore wind, biofuels and sustainable fashion. Stewart Brand, environmentalist and editor of the Whole Earth Catalog, also became the first interviewee in our Green Dragon series.
——————————————————————————————————————————————
The penultimate print edition of Blue & Green Tomorrow ran with the striking headline, Are your investments going to cost the Earth? Published shortly before the end of the tax year in March 2011, we focused issue four specifically on finance. That's not to say we ignored some of our other favourite topics, though. As well as ISAs and premium bonds, we looked at the government's (then) new forestry panel, eco-friendly holidaying in Costa Rica, a philanthropic African investment fund and solar power. The headline feature was The world of ethical investment, which collated perspectives from all aspects of the industry.
——————————————————————————————————————————————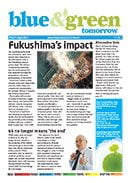 Issue number five, and the final print version of Blue & Green Tomorrow, was published in April 2011. As well as bringing you interesting news from the global sustainability space, we reflected on the previous month's budget statement and dug deep on some key issues. Ben Goldsmith, whose father was billionaire financier Sir James, spoke to us for our Green Dragon feature series. Quoting his father (who himself was quoting someone else), he said, "There's no business to be done on a dead planet." This is a line we've used over and over, and while we may have hopped from print to online since issue five, we continue on the same journey: to spread essential intelligence on sustainability to allow our readers to make informed decisions about money, energy, shopping and life.