Electric dreams: autos disruption and energy storage potential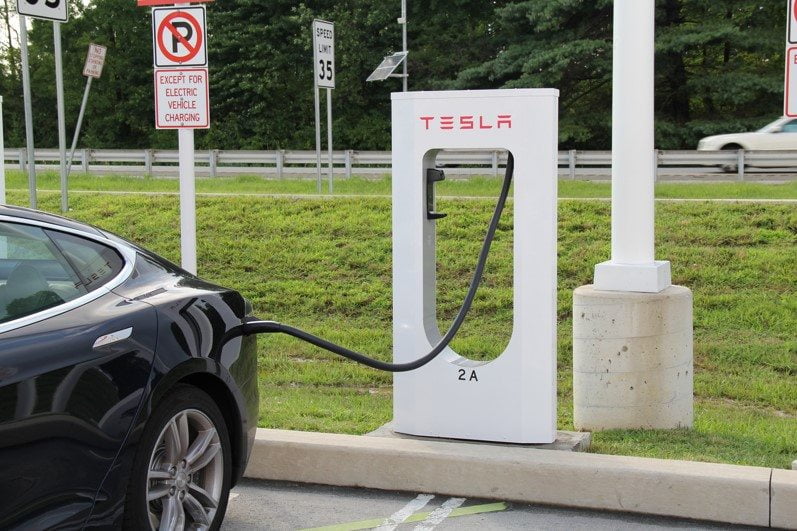 Nick Anderson & Hamish Chamberlayne, portfolio managers for Henderson's Global SRI strategy, discuss 'electrification' and why it could be one of the most powerful disruptors for the autos market and for energy storage companies.
Whether the established car companies want to accept it or not, the recent scandal surrounding Volkswagen may only just be the beginning of an increased regulatory burden for emissions-producing vehicles. Climate change has the potential to be one of the most defining investment issues of our times: currently transport contributes to 23% of global greenhouse gas emissions, making it a significant target for government curbs. This risk presents an opportunity for companies at the forefront of pioneering new energy technologies.
Driving a change in leadership within autos
We believe that 'electrification' will become the most powerful disruptor in the autos market. The advances in lithium-ion (Li-ion) battery technology mean that fully electric vehicles are becoming a more viable option for the average consumer in terms of cost, range (distance per charge), and driving experience (eg, low noise, zero emissions, greater internal space), such that they could threaten the dominance of combustion engines and traditional auto manufacturers within the next 10 years.
We think the most exciting entrant into the market is California-headquartered Tesla Motors, incorporated in 2003 with the primary goal of accelerating the adoption of sustainable transport by commercialising electric vehicles – initially for the luxury segment but with ambitious expansion plans for the mass market. Electric cars are on a declining cost curve, as battery technology becomes cheaper, whereas traditional cars are on a rising cost curve as environmental legislation and emissions regulations become tighter. Crucially, Tesla's battery costs are expected to decline by up to 60% over the next five years.
Tesla and Panasonic: a powerful partnership
Tesla is planning to increase its vehicle production to a staggering 500,000 cars per year by 2020. In order to secure sufficient battery supplies, it is partnering with Japanese electronics giant Panasonic in building a 'gigafactory', which will double global Li-ion battery manufacturing capacity. Due to begin commercial production in 2016, the Nevada facility will be powered by renewable energy, allowing it to be a 'net zero energy' factory. The completion of the gigafactory, together with Tesla's expansion plans into energy storage solutions for utility providers (electric grids) and the home market, is a significant source of upside for both Tesla and Panasonic, both of which we hold in our global portfolios.
Increased efficiency for electric grids
The economics of using batteries for energy storage is becoming even more compelling as the world transitions to a lower carbon economy. One of the key hurdles in the past has been the cost of storage solutions, but advancements in Li-ion chemistry and increased manufacturing capacity, which yields economies of scale, are continuing to drive down prices.
The main buyers of Tesla's rechargeable 'Powerpacks' are expected to be large industrial customers. Utilities are a key market because storage solutions enable the more efficient use of energy already generated; they are better at meeting customer demand at peak times and do not waste generated energy at times of lower demand.
What makes Tesla's Li-ion batteries really attractive for industry is that they are compact – for example, they fit into existing substations without necessitating additional land purchases – and they are very quick and easy to install. They also partner perfectly with renewable energy technologies – as they help smooth the peaks and troughs associated with variable output from solar and wind farms. Considering all of these benefits, it is perhaps not surprising that Tesla's CEO, Elon Musk, has said that half of the world's power plants could potentially be shut down by effective stationary storage.
Climate change to continue to impact profitability
At present Tesla sits within our Sustainable Transport theme, but given the possible growth in demand for its energy storage solutions, there could well be a case for it moving to the Cleaner Energy theme as time progresses. Regulatory and technological risks associated with climate change are already beginning to impact capital market returns, and we think this will continue – as shown in the chart below by the rising share price of firms developing new technologies such as Tesla, and the falling prices of carbon producers, such as US coal company Peabody Energy.
Chart: disruption and carbon risk – already here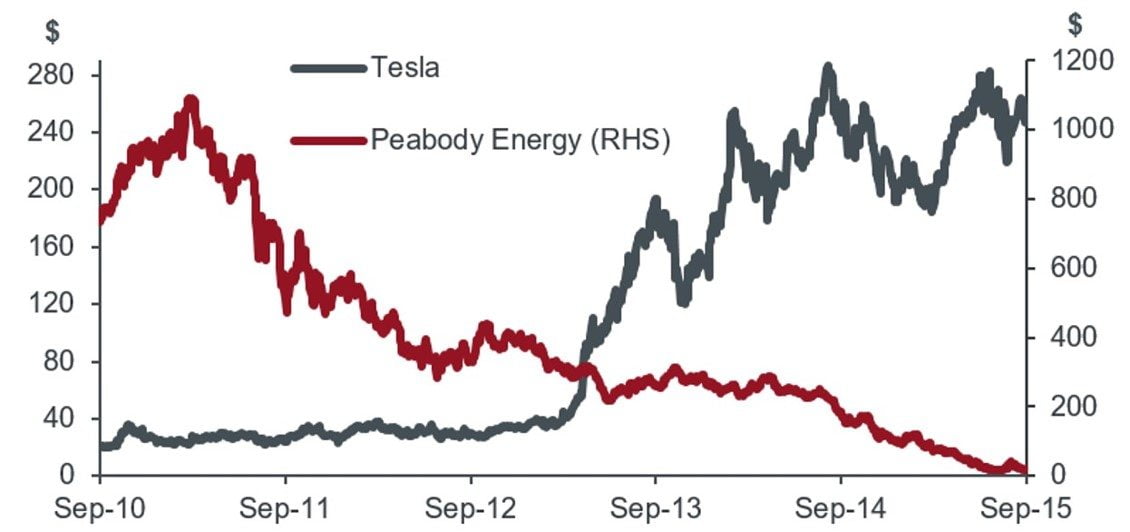 Source: Henderson Global Investors, Datastream, data as at 30 September 2015. Past performance is not a guide to future performance. References made to individual securities do not constitute or form part of any offer or solicitation to issue, sell, subscribe or purchase the security.
Important Information: Please read all scheme documents before investing. Before entering into an investment agreement in respect of an investment referred to in this document, you should consult your own professional and/or investment adviser.
Past performance is not a guide to future performance. The value of an investment and the income from it can fall as well as rise and you may not get back the amount originally invested. Tax assumptions and reliefs depend upon an investor's particular circumstances and may change if those circumstances or the law change.
If you invest through a third party provider you are advised to consult them directly as charges, performance and terms and conditions may differ materially.
Nothing in this document is intended to or should be construed as advice. This document is not a recommendation to sell or purchase any investment. It does not form part of any contract for the sale or purchase of any investment.
Any investment application will be made solely on the basis of the information contained in the Prospectus (including all relevant covering documents), which will contain investment restrictions. This document is intended as a summary only and potential investors must read the prospectus, and where relevant, the key investor information document before investing.
Issued in the UK by Henderson Global Investors. Henderson Global Investors is the name under which Henderson Global Investors Limited (reg. no. 906355), Henderson Fund Management Limited (reg. no. 2607112), Henderson Investment Funds Limited (reg. no. 2678531), Henderson Investment Management Limited (reg. no. 1795354), AlphaGen Capital Limited (reg. no. 962757), Henderson Equity Partners Limited (reg. no.2606646), Gartmore Investment Limited (reg. no. 1508030), (each incorporated and registered in England and Wales with registered office at 201 Bishopsgate, London EC2M 3AE) are authorised and regulated by the Financial Conduct Authority to provide investment products and services. Telephone calls may be recorded and monitored. Ref: 34U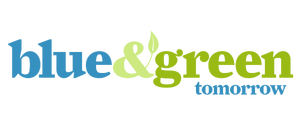 7 New Technologies That Could Radically Change Our Energy Consumption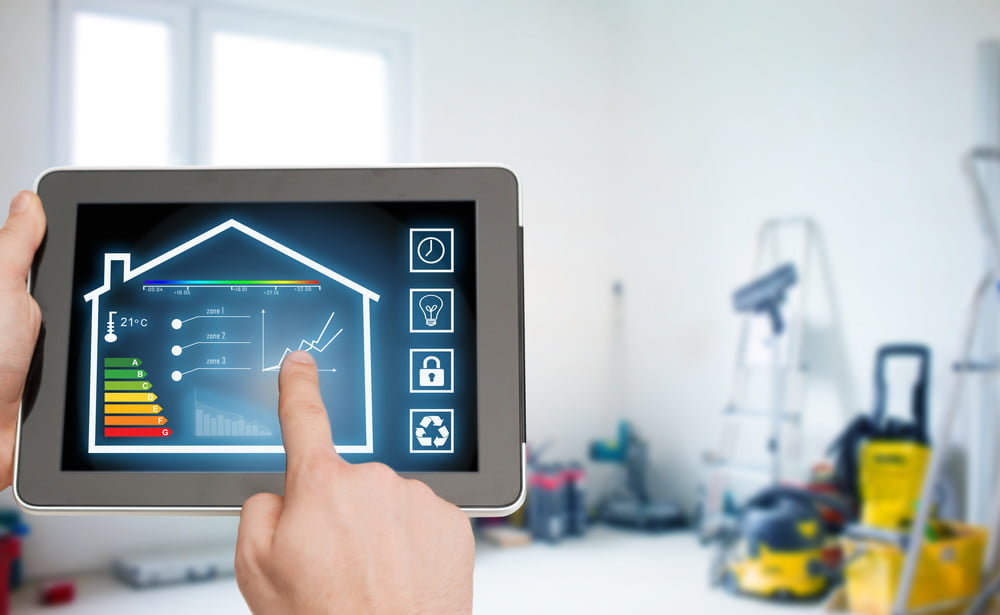 Most of our focus on technological development to lessen our environmental impact has been focused on cleaner, more efficient methods of generating electricity. The cost of solar energy production, for example, is slated to fall more than 75 percent between 2010 and 2020.
This is a massive step forward, and it's good that engineers and researchers are working for even more advancements in this area. But what about technologies that reduce the amount of energy we demand in the first place?
Though it doesn't get as much attention in the press, we're making tremendous progress in this area, too.
New Technologies to Watch
These are some of the top emerging technologies that have the power to reduce our energy demands:
Self-driving cars. Self-driving cars are still in development, but they're already being hailed as potential ways to eliminate a number of problems on the road, including the epidemic of distracted driving ironically driven by other new technologies. However, even autonomous vehicle proponents often miss the tremendous energy savings that self-driving cars could have on the world. With a fleet of autonomous vehicles at our beck and call, consumers will spend less time driving themselves and more time carpooling, dramatically reducing overall fuel consumption once it's fully adopted.
Magnetocaloric tech. The magnetocaloric effect isn't exactly new—it was actually discovered in 1881—but it's only recently being studied and applied to commercial appliances. Essentially, this technology relies on changing magnetic fields to produce a cooling effect, which could be used in refrigerators and air conditioners to significantly reduce the amount of electricity required.
New types of insulation. Insulation is the best asset we have to keep our homes thermoregulated; they keep cold or warm air in (depending on the season) and keep warm or cold air out (again, depending on the season). New insulation technology has the power to improve this efficiency many times over, decreasing our need for heating and cooling entirely. For example, some new automated sealing technologies can seal gaps between 0.5 inches wide and the width of a human hair.
Better lights. Fluorescent bulbs were a dramatic improvement over incandescent bulbs, and LEDs were a dramatic improvement over fluorescent bulbs—but the improvements may not end there. Scientists are currently researching even better types of light bulbs, and more efficient applications of LEDs while they're at it.
Better heat pumps. Heat pumps are built to transfer heat from one location to another, and can be used to efficiently manage temperatures—keeping homes warm while requiring less energy expenditure. For example, some heat pumps are built for residential heating and cooling, while others are being used to make more efficient appliances, like dryers.
The internet of things. The internet of things and "smart" devices is another development that can significantly reduce our energy demands. For example, "smart" windows may be able to respond dynamically to changing light conditions to heat or cool the house more efficiently, and "smart" refrigerators may be able to respond dynamically to new conditions. There are several reasons for this improvement. First, smart devices automate things, so it's easier to control your energy consumption. Second, they track your consumption patterns, so it's easier to conceptualize your impact. Third, they're often designed with efficiency in mind from the beginning, reducing energy demands, even without the high-tech interfaces.
Machine learning. Machine learning and artificial intelligence (AI) technologies have the power to improve almost every other item on this list. By studying consumer patterns and recommending new strategies, or automatically controlling certain features, machine learning algorithms have the power to fundamentally change how we use energy in our homes and businesses.
Making the Investment
All technologies need time, money, and consumer acceptance to be developed. Fortunately, a growing number of consumers are becoming enthusiastic about finding new ways to reduce their energy consumption and overall environmental impact. As long as we keep making the investment, our tools to create cleaner energy and demand less energy in the first place should have a massive positive effect on our environment—and even our daily lives.
Responsible Energy Investments Could Solve Retirement Funding Crisis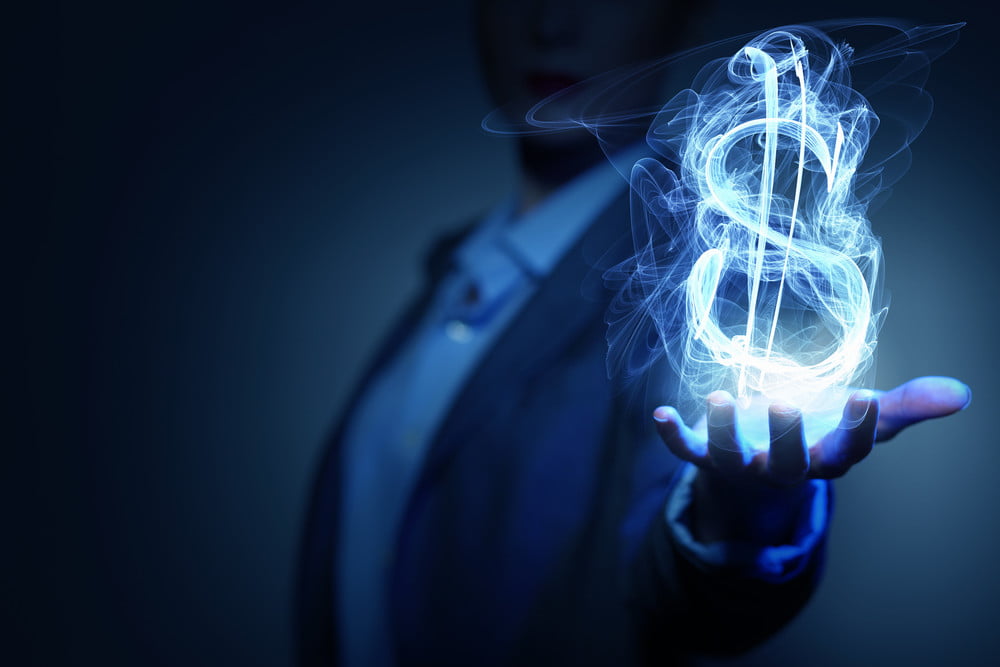 Retiring baby-boomers are facing a retirement cliff, at the same time as mother nature unleashes her fury with devastating storms tied to the impact of global warming. There could be a unique solution to the challenges associated with climate change – investments in clean energy from retirement funds.
Financial savings play a very important role in everyone's life and one must start planning for it as soon as possible. It's shocking how quickly seniors can burn through their nest egg – leaving many wondering, "How long your retirement savings will last?"
Let's take a closer look at how seniors can take baby steps on the path to retiring with dignity, while helping to clean up our environment.
Tip #1: Focus & Determination
Like in other work, it is very important to focus and be determined. If retirement is around the corner, then make sure to start putting some money away for retirement. No one can ever achieve anything without dedication and focus – whether it's saving the planet, or saving for retirement.
Tip #2: Minimize Spending
One of the most important things that you need to do is to minimize your expenditures. Reducing consumption is good for the planet too!
Tip #3: Visualize Your Goal
You can achieve more if you have a clearly defined goal in life. This about how your money can be used to better the planet – imagine cleaner air, water and a healthier environment to leave to your grandchildren.
Investing in Clean Energy
One of the hottest and most popular industries for investment today is the energy market – the trading of energy commodities. Clean energy commodities are traded alongside dirty energy supplies. You might be surprised to learn that clean energy is becoming much more competitive.
With green biz becoming more popular, it is quickly becoming a powerful tool for diversified retirement investing.
The Future of Green Biz
As far as the future is concerned, energy businesses are going to continue getting bigger and better. There are many leading energy companies in the market that already have very high stock prices, yet people are continuing to investing in them.
Green initiatives are impacting every industry. Go Green campaigns are a PR staple of every modern brand. For the energy-sector in the US, solar energy investments are considered to be the most accessible form of clean energy investment. Though investing in any energy business comes with some risks, the demand for energy isn't going anywhere.
In conclusion, if you want to start saving for your retirement, then clean energy stocks and commodity trading are some of the best options for wallets and the planet. Investing in clean energy products, like solar power, is a more long-term investment. It's quite stable and comes with a significant profit margin. And it's amazing for the planet!