Blue & Green Tomorrow in print: issue two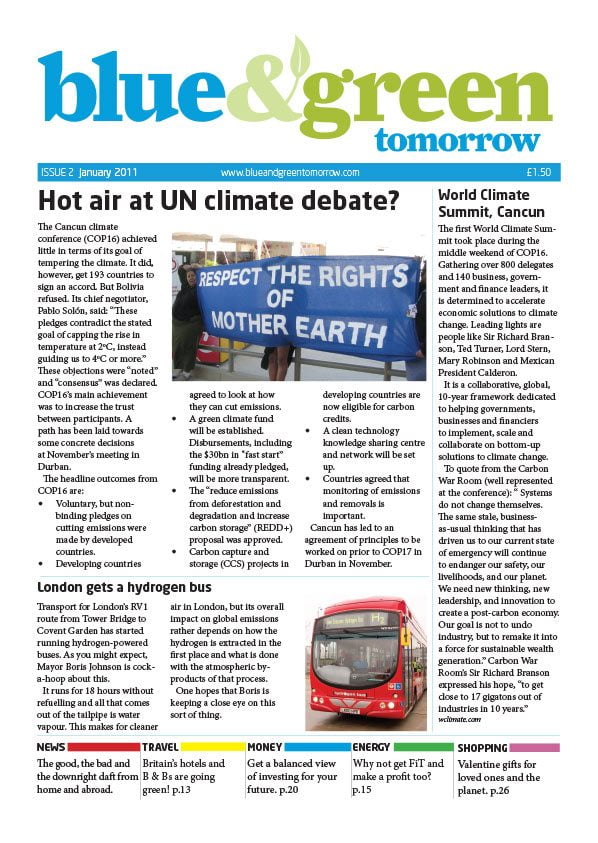 In the previous issue of Blue & Green Tomorrow we asked you for feedback. We really do want to shape the magazine to your needs and interests and we do listen carefully to what you say, good or bad.
A great example of this was the request from Lesley Collins who wanted sober coverage of the UN's COP series of climate conferences. The 'received wisdom' was that not much happened in Cancun apart from a lot of emissions of hot air during the conference and emissions to get there. Well, thanks to reader Lesley Collins, we dug deeper and discovered the parallel mini-conference in which huge businesses from around the globe are pledging to cut billions of tons of emissions and waste from their operations.
Their conference, called World Climate Summit (WCS), is in marked contrast to the main event in which all the countries of the world are seeking a political way forward. This organisation is determined to weld business, finance and politics together. Christiana Figueres, executive secretary of the United Nations Climate Change Secretariat, has pointed out, "The progressive approach [of the COP process] is probably a sane approach but it is in stark contrast to the urgency of the matter."
So we have a two-speed system: a global political process that has to build in incremental but soundly-based steps and a business and financial system that can be mobilised relatively quickly, and pledge huge savings in realistic timescales. They are driven by other major forces, such as their customers and their bottom lines, which are entirely complementary to their responsibilities to the environment we share.
All of which brings us back to the point of this editorial, which is that, thanks to a reader, we went off on a substantial expedition into the highways and byways of the climate change conference process and, along the way, picked up a lot of interesting (we think) insights. It doesn't mean we're going to obsess about this sort of thing, but it is certainly firmly on our radar.
This issue of Blue & Green Tomorrow contains a mix of stories, insights and speculation. Some of it you'll agree with, some you'll be able to provide a deeper insight on and some you'll flatly disagree about. All reactions are okay by us. And we'd love to hear from you so we can start making the magazine a product of all our minds, not just the editorial team and the contributors.
Thank you for your time. We look forward to hearing from you.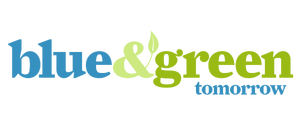 Introducing our 7th Guide to Sustainable Investment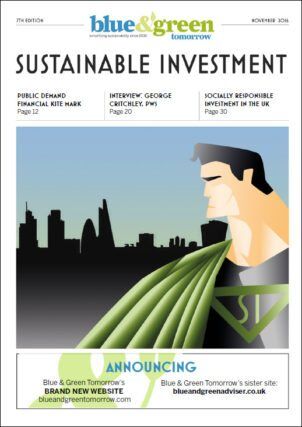 Tomorrow

Blue & Green celebrates its 6th birthday – remember, remember the 5th of November – and to mark the occasion we are delighted to launch our latest and seventh Guide to Sustainable Investment.

The Guide has contributions from UKSIF's Simon Howard, 3D Investing's John Fleetwood and Pennine Wealth Solutions George Critchley alongside wise insights from our friends at ATI, Columbia Threadneedle, Foresight, Impax, Triodos and WHEB.

Click here to download the guide to find out the best sustainable funds available in the UK.
Guide to Sustainable Energy 2016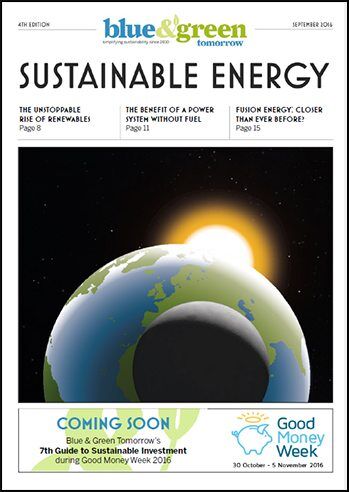 "I'd put my money on the sun and solar energy. What a source of power! I hope we don't have to wait till oil and coal run out before we tackle that."
Quite.
We found the quote at the end of a great article on the New York Times Magazine website in its Current Thinking column, that was current thinking from 2007! It's still worth a read.
You hold in your hand (on your smartphone, tablet or desktop) the fourth edition of our Guide and the current thinking remains we'd put our money on solar energy, but also wind, tidal, wave and geothermal. And nuclear?
Recently the UK government decided it would put our money on nuclear with the Hinkley Point C after months of dithering, perfectly illustrating everything that is wrong with government strategic thinking and energy policy. The wrong technology, with the wrong partners at the wrong price.
Which is why we're delighted to have contributions from Tidal Lagoon Power, Abundance Energy, Bristol Energy Cooperative and the excellent investment organisations (Alliance Trust, Foresight, Impax, Triodos and WHEB) that are putting money into distributed clean energy and storage – the right technology, with the right partners at the right price.
And we also have an article about nuclear fusion – a technology which divides the environmentally minded. We don't have a strong opinion on nuclear fusion and wanted to just present the technology. We believe you are more than capable of forming your own judgment.
We hope you enjoy the guide.
Click here to read it as a single page spread
Click here to read it as a double page spread
You can download pdf of the guide using the links above and clicking on the cloud icon in the bottom right of the screen, if however you are having any issues with that, you can also download a pdf version here (4mb version) and here (12mb version)