A wind turbine in the Forest of Dean – the first renewables project by Abundance Generation – is preparing to begin powering 450 residential homes in the UK after reaching the half a million pound mark in its funding process.
The project was launched in July by Abundance, an innovative new investment model that allows potential investors to pledge as little as £5 towards developments, in partnership with Resilient Energy Great Dunkilns.
After racing to £300,000 in less than four weeks, which meant that it was fully funded, it is now almost half way in its quest to raise £1.4m by the autumn.
Installation of the 500 kilowatt turbine was completed earlier this week and it is prepared to start generating electricity to the local area within the next fortnight – with investors receiving a cash return based on the amount of energy it produces and how much they invested.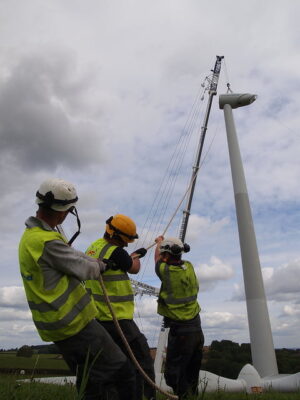 One such local investor, Norman Fry, who is 65 and retired, said, "I wanted to put a small amount in a long-term investment, for which I don't think bank products or so-called buy-and-hold methods are currently suitable or financially worthwhile.
"Also, I view green energy favourably, including wind, and I support localism. I like the way these schemes allow local communities to share in any profits.
"Sustainable energy is very important. It is partly about reducing emissions and warming, but it also reduces fuel use, so contributes to energy security and as a buffer against fuel price rises.
"I would encourage others to invest but I think it should be as a long-term commitment."
Investments in the Forest of Dean wind project ranged between £5,000 and £50,000, with investors expected to receive a yearly return of 6.75-8%.
The refreshing thing about Abundance's business model is that all the money it gathers for projects from investors goes directly into the projects themselves, funding growth and revenue in the real economy and the UK's flourishing renewable energy sector.
And potential investors can still pledge towards the Forest of Dean project, even after the turbine begins generating power.
Further reading:
Inaugural Abundance projects hits funding target
Community finance platform launches first renewables project