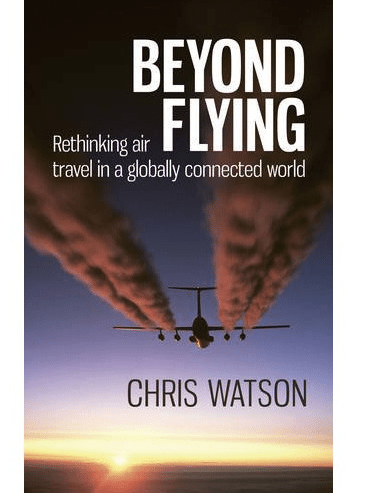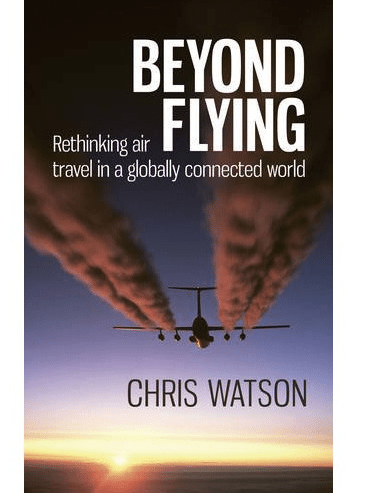 Book review: Beyond Flying: Rethinking air travel in a globally connected world – Chris Watson (2014)
Is flying inevitable? Can a fulfilled, successful, enjoyable life be lived without boarding a plane?
Aviation is a massive contributor to climate change. Every plane in the sky pumps more greenhouse gasses into the heavens.  All estimates predict the global number of flights will rise rapidly this century, driven by a booming population and an expanding middle class.
Should such projections come through, world leaders may be fighting against climate change with one hand tied behind their back. 
Faced with this scenario, environmentalists have become concerned whether we – the lucky few who can afford to worry about flying – will ever accept a more sustainable, less convenient alternative.
In his new book, Chris Watson, a New Zealand architect from an airline family, delves into the experiences of people who have done just that.
Fourteen contributors from around the world – including lawyers, journalists, scientists and international businesspeople – describe their journeys. And not just the physical, overland journeys made in lieu of air travel, but also the intellectual journeys they made as their perceptions and values were changed forever.
Among them is Kevin Anderson, deputy director of the Tyndall Centre for Climate Change Research, who tells how a 20-day train journey from Britain to China was the most productive period of his academic career. 
Watson himself talks about his "green travel experiment", a lifestyle change he embarked upon after reading the dire warnings of climate change projections. He found that his business life was unaffected and his travel emissions were drastically cut, while he enjoyed more leisurely and comfortable journeys. 
Many of the authors make compelling arguments in favour of embracing slow travel. Adam Weymouth, who walked from England to Turkey, and Lowanna Doye, who cycled from Oxford to Sydney, in particular offer great accounts of experiences that sound far more appealing than a cramped seat and an in-flight movie.
The book does also detail the difficulties of forgoing flight, and the grief that can be felt when a personal decision puts entire swathes of the world forever out of reach.
But overall, Beyond Flying should contain enough reasoned logic and well-travelled romance to convince all but the most entrenched fliers to at least consider their ways. With pages upon pages of practical advice and moral support, the book also serves as a fine guidebook for those that do.