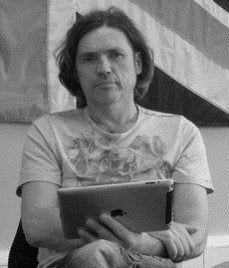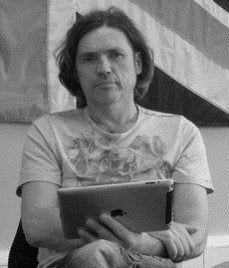 #bluegreenmarbles Vote for Dale Vince OBE, Founder & Owner of Ecotricity #sustainpersonoftheyear15
For building an energy company that makes it easy to switch to limitless, clean energy. Also for Vince's campaigning work – not least on electric vehicles and his call for charging point road signs – makes him a leader in the transition to a sustainable future.
Read more about the 2015 Sustainability Personality of the Year and Blue & Green Marbles here.
Vince has been concerned about the sustainability of life since he was a kid.
In the early 90's he was living on a hill, in an ex military vehicle he called home, using a small windmill to power the lights and stuff. He'd spent the previous ten years or so living 'on the road' searching for an alternative way to live. He was what the media would call a 'new age traveller'.
That's when he was inspired to 'drop in' and promote the use of large-scale wind energy – to bring change to the electricity industry. That was the start of this long journey.
The idea for Ecotricity – of selling green electricity to people, came about a few years later – it was about getting a fair price for wind power, to enable more to be built. And so Ecotricity started in 1995. Green electricity was a totally new idea back then. It just didn't exist, as a choice, before Ecotricity.
He built my first windmill in 96 after a five year battle with all comers – NIMBY's, bigots, planners, big power companies, you name it – and went to Kyoto in 97. The rest is just more history.
He's after change, by empowering people to bring it about themselves. The idea for example, that you can fight Climate Change with your electricity bill, use your need for electricity to bring about new clean sources of it – sustainable ones.
It's not such a novel idea these days – that we can influence the way the world works, through the way we spend our money. Fairtrade is a great recent example.
So that's it really, He's a hippie, He runs a business (a social enterprise) to bring change to the world. His interest is the next Industrial Revolution, how to live without burning up the planet.
Vote here.