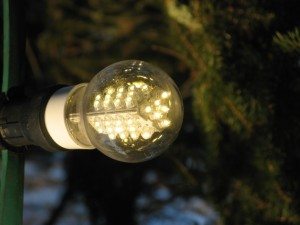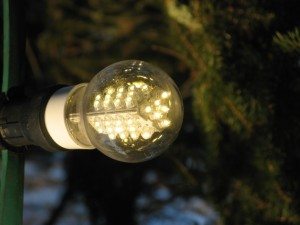 Christmas Lights To Add £20 To Electricity Bill. Survey Reveals Third Brits Haven't Switched To LEDs
A simple switch to energy saving fairy lights for your tree and outdoor decorations could knock a staggering £20 off your electricity bill during the festive period. That is according to research carried out by electricity company Good Energy.
The renewable energy company has calculated that replacing old, incandescent fairy lights with LEDs could save you up to £20 on your electricity bills.
This comes as a new survey reveals that people are needlessly wasting electricity and cash at Christmas time. Figures show that 1 in 3 Brits (32%) still don't use energy efficient fairy lights whilst a sizeable 41% also confessed to leaving their lights on for more than six hours a day over the festive season.
Juliet Davenport OBE, founder and CEO of Good Energy, said: "It's surprising how much electricity Christmas lights use up. Switching to LED lights, and being more careful about how long you leave them on for, will save you money, and is good for the environment too."
To help you have a more eco-friendly holiday season, Good Energy has produced some top tips to help people have a greener Christmas this year:
Lighting and Decorations
As well as switching fairy lights to LEDs, other steps you can take include putting lights on a timer, turning off other lights in the house when fairy lights are in use, or even just using fewer lights.
For decorations, try making or using ornaments made from natural materials such as holly, mistletoe, ivy, pine cones or poinsettia. They're a great way to decorate a room, look perfect in wreaths and are fun to make with all the family.
Christmas Trees
Christmas trees are the staple of every household during the festive season. However more than 6 million Christmas trees are thrown away each year with almost all of them ending up on landfill.
For a much greener option, always make sure to buy one that's UK grown by finding a registered retailer on the British Christmas Tree Growers Association website, before recycling it afterwards.
Many local councils now offer Christmas tree collections in early January with old trees composted or shredded for use in local parks or woodland areas.
Or why not grow your own tree or even rent one instead.
Having your own sustainable tree allows you to grow it outside, pot it up at Christmas, re-plant it in January and then use it again next year. Not only is this cheaper in the long run, it also has much less of an environmental impact.
If you don't have the space required for growing your own tree, some areas offer a great initiative where you can choose a tree to rent over the holidays. They will deliver and collect it, and you can even rent the same tree next year!
Food
Christmas wouldn't be Christmas without having lots of delicious food to indulge in over the festive period.
But try keeping it green and source your ingredients from local producers. And for the turkey, buy from a local farmer or visit the Big Barn Turkey Map to find all the organic and free-range turkey suppliers in your area.
For the big day, here are 5 handy hints that make for an energy-saving Christmas dinner:
Roast your vegetables alongside your turkey and potatoes instead of boiling unnecessarily on the hob.
Only cook the right amount of food that you need. Cooking excessive amounts means much more energy is wasted.
Put lids on pans when boiling to help keep the heat contained.
Defrost your freezer before Christmas. It will run more efficiently and create space for any leftovers.
Make items like mince pies in advance and cook them when using the oven for something else.
Cards and Wrapping Paper
Staggeringly, us Brits throw away around 83 square km of wrapping paper every Christmas and in 2014 bought over 900 million cards.
E-cards are continuing to grow in popularity and are a much more environmentally friendly way of sending festive greetings. They cut your carbon footprint, save trees and cost a lot less. But if you still prefer to send traditional cards, you could make your own or buy eco-friendly cards made from recycled materials.
When choosing your wrapping paper, try to buy from sustainable sources and recycle it again once you have finished. Better still, try using reusable bags or stockings to wrap presents. Use offcuts of paper or old cards to make gift tags or even try hiding presents around the house instead of wrapping them!
Other steps you might also like to think about include:
Putting on a Christmas jumper or wearing some extra layers to keep warm instead of turning up the thermostat
Travel greener by sharing lifts to go Christmas shopping or when visiting family
Turn off the TV or games console and have fun the old fashioned way – play games, read a book or go for a refreshing winter walk