The newest edition of the UK Energy Efficiency Trends report was released earlier this month. Part of volume 15 of the report focuses on the amount spent on energy efficiency over the last few years. The report shows that typically, the amount spent on energy efficiency is £47,000 per project, which is a lower on average cost from last year.
This is a reduction from £90,000 in Q4 of 2015 and represents a fall of £57,000 from the 2015 four quarter average of £104,000. It is the lowest level since the quarterly report was first published in 2012 (Fig 15, below).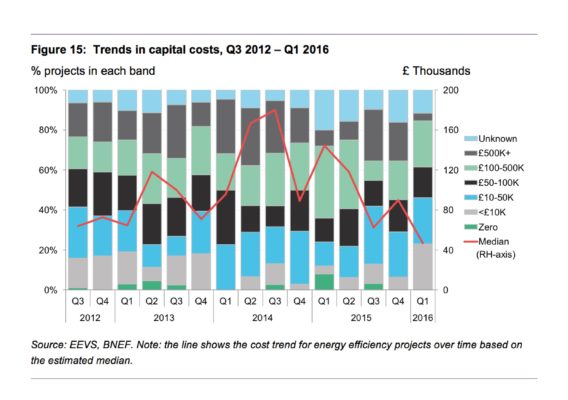 Commenting on the findings, Ian Jeffries, Director at EEVS, said: "Consumer spending on energy efficiency technologies has been volatile over the last 4 years and this quarter's results sustained that trend.
"Organisations appear to have almost entirely shunned the 'big ticket' energy saving schemes in the £500k plus range. As a result, we've recorded the lowest 'cost per project' since the research began – now just £47k.
"Whilst the reasons for this drop-off are unclear, it's fair to speculate that the increased uncertainty and business risk associated with a potential 'Brexit' means that organisation are, for now, taking a 'wait and see' attitude and are deferring bigger investment decisions until market confidence returns.
"If the long term referendum polls are correct, and the country votes to remain within the EU, perhaps we'll see a return to material investment growth in Q3 and Q4 of 2016."
The report also highlighted a reversal in the recent trend towards increasing use of third party finance, with the majority of consumers reverting back to core in-house capital this quarter (Fig 16, below).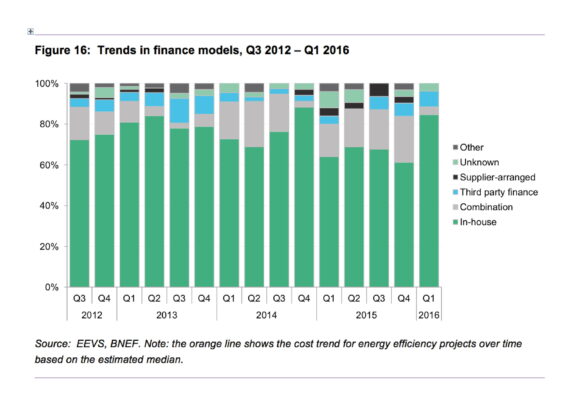 In addition, respondents reported a tightening of payback expectations for the third consecutive quarter, with the median payback expectation per project now three years (Fig 17, below)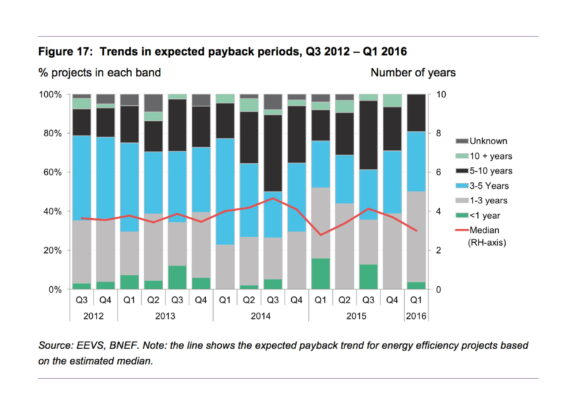 Richard Singleton, Managing Director of Corporate, at Bellrock said: "As a UK-based business with international clients, the uncertainty reflected in the report over the potential Brexit is certainly reflected by our own experience. Decision-making is stagnating, and not just for energy efficiency projects, although this is not as true for our healthcare and education sector clients.
"We often experience a similar but more wide-reaching slow down, coming up to a general election, however unlike an election there are ramifications beyond the decision from the referendum. The long term trend for lower capital projects will probably continue therefore, until such a time as there is confidence in the clarity for trade and stability for the economy in general."
Download the full report here: http://www.energyefficiencytrends.co.uk