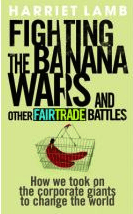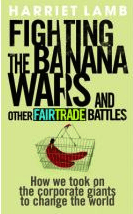 Book review: Fighting the Banana Wars and Other Fairtrade Battles – Harriet Lamb (2009)
Harriet Lamb, director of the Fairtrade Foundation, looks at the fairtrade revolution, explains why it is important and what impact it can have around the world in Fighting the Banana Wars and Other Fairtrade Battles.
From its small beginnings, the fairtrade market has gradually grown to encompass a wide range of goods that consumers can easily purchases from supermarket shelves. The movement has revolutionised the way consumers shop, making ethical choices far more accessible to the typical consumer, and the book documents this journey.
Lamb explains that fairtrade is about ensuring a better and fairer deal for the workers and farmers producing goods in the developing world.  She says it is about making sure the food on our plates and shirts on our backs don't rob people in other countries of the means to feed or clothe themselves.
Despite the progress made in the fairtrade market, the author highlights how western demand for cheaper food and goods continues to have an impact in other parts of the world.
The book uses stories from individuals and families to show how fairtrade has affected them and to demonstrate a variety of perspectives. These stories also show the human aspect of the movement and the benefits.
As well as inspiring change in readers, the book is interesting and engaging and includes a 'how to' section at the back, demonstrating the steps individuals can take to support the fairtrade movement and help it grow further.