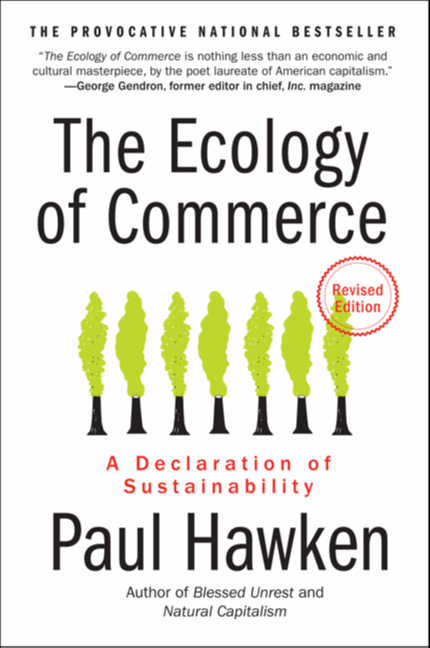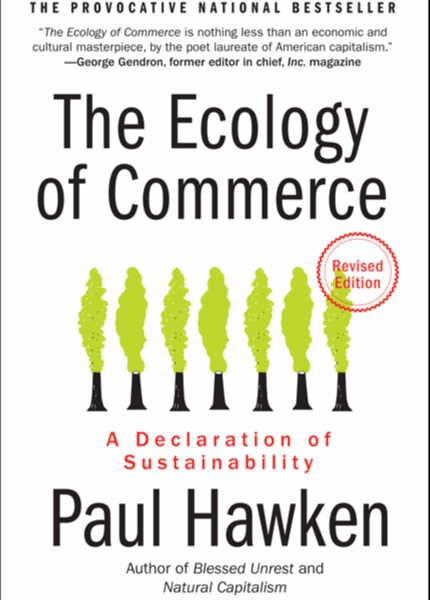 Book review: The Ecology of Commerce: A Declaration of Sustainability – Paul Hawken (2010)
Seventeen years after The Ecology of Commerce was first published, Paul Hawken  re-released it in 2010 with updated and revised material. Its themes are now more relevant than ever.
The book examines what big business must do it order in order to create a restorative economy that will benefit both the environment and society. Hawken helps readers understand the key challenges facing businesses as they move towards sustainability and social responsibility and why it is of the upmost importance.
The book highlights that issues concerning big business and the future of the planet are still not being addressed as seriously as they should be. It argues that current business models are limited and as a result widespread change is needed.
It shows readers a number of challenges we are currently facing and then offers possible solutions. The solutions are practical and show how sustainability can be achieved in the real world.
The author focuses on eight imperatives to create a sustainable economy. These are:
– Reduce energy carbon emissions by 80% by 2030
– Reduce total natural resource usage by 80% by 2050
– Provide secure, stable and meaningful employment to people everywhere
– Be self-organising rather than regulated or morally mandated
– Honour market principles
– Restore habitats, ecosystems, and societies to their optimum
– Rely on current income
– Be fun and engaging and strive for aesthetic outcome
Hawken presents a convincing case to go green and it's hard to argue with his logic. Ecology of Commerce links well with one of Hawken's other books, Blessed Unrest, which examines how the social movement has the potential to benefit the planet and what is in contrast to this, such as large corporations.