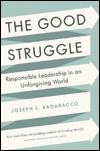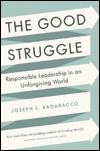 Book review: The Good Struggle: Responsible Leadership in an Unforgiving World – Joseph Badaracco (2013)
The Good Struggle examines how to lead successfully in an uncertain, high pressure and turbulent world. Author Joseph Badaracco, a Harvard Business School professor, looks at how leaders can deal with the complexities that now face them.
Badaracco argues that change is now occurring more frequently in the world and is having a wider and deeper impact. He says leaders are now surrounded by "the new invisible hand" – powerful persuasive markets that touch almost everything. As a result, it is vital that leaders understand this struggle.
Due to the rapid globalisation of markets and increased access to information, markets are now more intense and this now characterises the world. Those that embrace this struggle will benefit, according to the author.
This struggle has invalidated many answers to leadership questions creating a need for a new model of leadership. This can be found in entrepreneurs, Badaracco says.
Entrepreneurs have always faced intense competition, scarce resources and unforgiving markets that many companies now find themselves contending with.
The book also points out that accountability has changed in recent years and looks at how this impacts on leaders. Badaracco examines how to deal with the complexities of the new economy and the daunting challenges leaders face.
The Good Struggle isn't a traditional how-to book, but instead allows readers to identify and contemplate the questions they should be asking themselves in the 21st century.