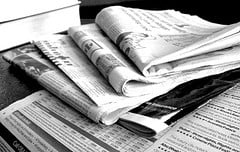 Rio+20; renewable energy; #EndFossilFuelSubsides: June in headlines
Here, we round up some of June's biggest headlines – a month that was dominated by a certain sustainable development conference in South America.
This is, of course, Rio+20, or the United Nations Conference on Sustainable Development, to give it its full title.
Blue & Green Tomorrow covered the run-up to the event in some detail. We previewed it with two weeks to go (Two-week siren sounds for Rio+20), looking at some of the biggest developments to emerge in the weeks leading up to its start.
The main talking point at the summit was the three-day talks that many of the world leaders were set to undertake between June 20-22 (World leaders all set for high-profile Rio talks). The leaders were urged to conclude on a sustainable outcome from the event (Leaders urged to find a sustainable consensus at Rio+20).
The national press treated Rio+20 with similar importance, with The Guardian even dedicating an 'as-it-happens' live blog to it over the course of the three days (Rio+20 summit: Opening day live blog).
Reflecting on the outcome of the talks, the BBC was rather critical. Environment correspondent Richard Black wrote a piece about how the event had ended (Rio summit ends with warning on corporate power), before looking back on the lack of progress it made (Rio summit: Little progress, 20 years on).
Also published post-event by Blue & Green Tomorrow was a piece, written by Mike Scott, about how the conference perhaps wasn't as bad as people have made out (Reflections on Rio: was it really that bad?).
Another big story to hit the headlines in June related to a statistical press release from the Department of Energy and Climate Change that mapped renewable energy generation in the first four months of 2012.
We reported how renewables provided 11% of the UK's electricity in that period – an increase of 39% over a year earlier (Renewables power on in UK electricity mix).
Wind Power Monthly opted to concentrate solely on the fact that the UK's wind energy output for 2011 rose by 56.5% (UK wind output rises 56%), whilst the BBC focused their reporting on the encouraging figures that were coming out of Scotland, whose renewable energy output had increased by 45% in the first quarter of this year, compared with the same period last year (Big increase in Scottish renewables output).
We have to turn to Twitter for the final story in this monthly round-up, after users worldwide took to the micro-blogging site to Tweet the hashtag, #EndFossilFuelSubsidies. The 24-hour 'Twitterstorm' was the brainchild of 350.org – a website founded by renowned environmentalist, Bill McKibben (World Tweets to end fossil fuel subsidies).
The Guardian covered the news in a similar capacity (Campaigners demand an end to $1tn fossil fuel subsidies), whilst the Huffington Post also urged individuals to join the online push, and related the news to Rio+20 (The Public Supports Ending Fossil Fuel Subsidies — Let's See That as an Action From the Earth Summit).
Interestingly, it was a piece on the Huffington Post, by actor, director and environmental activist Robert Redford, that gave the #EndFossilFuelSubsidies trend its biggest surge (Stop Public Handouts to Oil, Gas and Coal Companies, Now).
Dwarfing all three news items in this piece, though, was the release of Blue & Green Tomorrow's Guide to Limitless Clean Energy, which you can download here for free.
Previous monthly round-ups:
Executive pay; feed-in tariff cuts; and the energy bill: May in headlines
Renewable energy investment; fracking; and the not-so-green government: April in headlines
---
Register with Blue and Green to Comment
To leave a comment on this article, fill in your details below to register, alternatively if you are already registered you can login here.