Two years ago today, we launched. Help us fund two more reports in 2012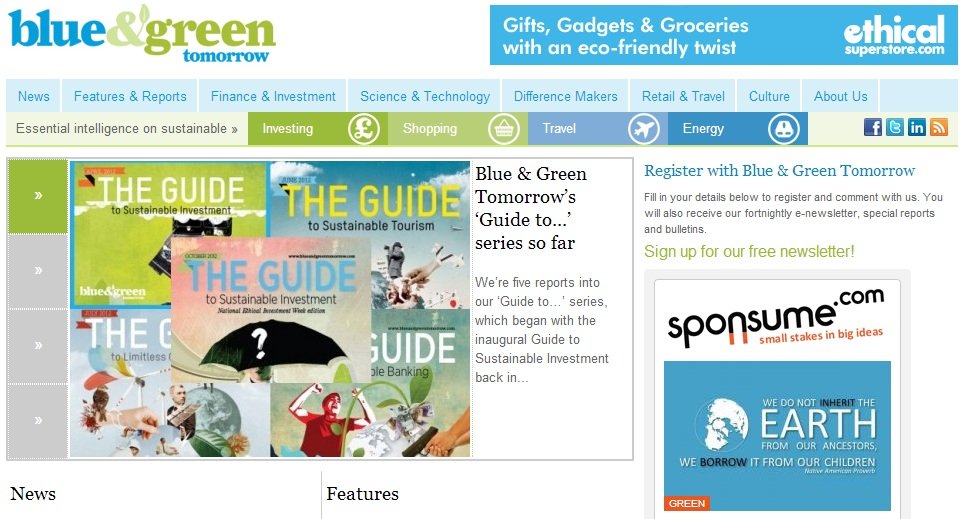 Blue & Green Tomorrow was two years in the making and today we're two years old. The simple idea was to write about the connection between investment and the world we live in – without jargon. With our crowdfunding campaign ending at midnight tonight, Simon Leadbetter looks back at the four-year ebb and flow of a fledgling publication.
The idea behind B&GT is a very simple one. Take the sixteen years' experience I had at the time working in financial services and media, and then combine them with personal values around corporate ethics, environmental and social responsibility and wider thinking of sustainability.
The connection between what we investment in and the world we inhabit seems obvious to many, but there seemed to be very few people out there actively explaining it to the unconvinced
It was only while I was in unspoilt New Zealand in early 2010 that the idea coalesced into the magazine concept that was ultimately launched. 'They' told me that launching a new magazine was brave. 'They' told me told that I was daft.
'They' were mostly right. But this is a story of throwing yourself off the cliff and building the plane on the way down kind of entrepreneurship to quote Reid Hoffman. Here goes.
B&GT started life as a print magazine with a simply dreadful website attached. Why a print magazine in 2010, I hear you ask? Why, indeed.
My view was that anyone with a laptop can launch a blog or website, in a 'build it and they will come' mentality. By publishing a hard copy magazine, we were creating a physical artefact that opened doors and actually landed with a thump. Something tangible often confers a certain credibility – especially in journalism. The printed word still matters.
In addition, preaching to the converted has never been the aim of the game. Encouraging people who already live sustainably to live sustainably is, in a word, pointless. A website with the terms and language we used would mainly attract the already convinced – who would obviously nod sagely at our wise insight as they already agree with us and us with them. A print magazine could be sent to the unconvinced, effectively as a free gift, and perhaps open a dialogue with the lightly sceptical.
Remember, remember the fifth of November
We launched on November 5, during National Ethical Investment Week 2010. In the lead up to the launch, I had published The Rise of Responsible Investor and was introduced to the overly acronym-laden but ultimately inspiring world of UKSIF, EIA and EIRIS – all of whom were very encouraging and supportive of what I was trying to do.
I had settled on four core areas for editorial, as they balanced the drier topics of investment and energy with the more fashionable world of travel and shopping. During my time in financial services, I have bored myself rigid patiently trying to explain to enthusiastic marketers how excruciatingly mind-numbingly dull and incomprehensible most normal people find financial services.
The original content was very good, but the cost and herculean effort of producing a monthly print magazine nearly killed me and it didn't reach the number of people with the frequency we needed. The launch team of David Tebbutt, Dominic Kershaw and Lori Heaford soldiered on for five issues before I finally pulled the plug and went back to the drawing board for a rethink.
Despite the support of several ethical financial advisers listed here, Good Energy, Ethical Superstore and Original Travel, this version of B&GT wasn't going to be the one that made it.
April 2011 saw the last version of the print edition. It had burnt through my financial reserves at an impressive rate and distracted from the digital version we desperately need to invest in and build.
That said, we had managed to build a better holding website and it was clear that the internet was our future. We could still reach the unconvinced through social media, paid search and the judicious use of opt-in email. Around 750,000 people currently invest in socially responsible investment funds and there are 1.7 million searches per year for ethical, sustainable, green, responsible, socially responsible and impact investing. The problem isn't one of demand; but supply and information.
In the UK, we have a huge problem with apparent business failure, whereas in the more entrepreneurial US, it's seen as a necessary rite of passage for any budding entrepreneur. If you haven't had a business failure in your background, you're not an investment-worthy candidate.
But I live in the UK and I know this particular psychology well having worked for two companies that tracked fast-growth, innovative companies. The army of 'told-you-sos' is always ready and waiting with baited breath to unleash their stream of knowing remarks. I had one phenomenally successful business and one creative success but commercial miss. B&GT looked like falling into the latter camp.
Early supporters understandably started to drift away, despite my declared intent to relaunch in the autumn. Many gave messages of support and hoped we would be back.
So, we sold up in London, identified a university town with a rising school of journalism and set about rebuilding the business. We took on three interns and a few designers, and redeveloped our website. With me acting as editor-in-chief, traffic rose, feedback became more positive and we started selling again.
And then an investor came calling.
Beware of Greeks bearing gifts
No, not a comment on the current economic crisis in the country but a reference to the Trojan horse that led to the sack of Troy. My potential backer promised funds and the platform to grow B&GT to new heights, in addition to creating an exciting new way to fund renewable energy projects.
He nearly ruined us.
Over four months we were led a merry dance. Formal documents of intent started to circulate and with a six-figure prize of investment within my grasp, I geared up to deliver what had been agreed. A new editor was recruited, along with a sales manager and more interns, and the burn rate rose again.
The team was humming. Weekly debates on major topics gave everyone the brain food to write better articles, and our content and look got better.
We published the first of our serious guides and the future looked bright.
But pride comes before a fall and I was too hasty it seems. Our potential backer then vanished. Literally. No emails, no phone calls, nothing. The deafening sound of silence.
"To lose one editor is unfortunate, to lose two, careless"
Wasting money is tough but unravelling this fledgling team was the hardest thing.
Walking into the office one day, someone had written on the whiteboard, "This is so sad". People rapidly left and we went back to the core team of a writer and me, with volunteers ably supporting.
Onwards and upwards
That one writer, our editor Alex Blackburne (a hero amongst men), and I then did something rather special. With nothing and no-one around, we retrenched and launched our three best reports so far, on energy, banking and investment.
We're preparing two more on shopping and the media before Christmas. Our traffic is higher than it's ever been and people are subscribing to our newsletter at a rate of knots.
At times, I feel like the King of Swamp Castle from Monty Python and the Holy Grail. For those not familiar with the film, he was a tenacious fellow, "When I first came here, this was all swamp. Everyone said I was daft to build a castle on a swamp, but I built in all the same, just to show them. It sank into the swamp. So I built a second one. That sank into the swamp. So I built a third. That burned down, fell over, then sank into the swamp. But the fourth one stayed up. And that's what you're going to get, Lad, the strongest castle in all of England."
B&GT will be here in 2013, to see our fourth National Ethical Investment Week. If you can help us get two more reports out in 2012 at http://www.sponsume.com/project/blue-green-tomorrow we will be in a good position for the New Year.
One quote that has resonated over the years, and applies to all of those who sail the entrepreneurial seas, has been Teddy Roosevelt's 1910 speech at the Sorbonne in Paris, "It is not the critic who counts: not the man who points out how the strong man stumbles or where the doer of deeds could have done better. The credit belongs to the man who is actually in the arena, whose face is marred by dust and sweat and blood, who strives valiantly, who errs and comes up short again and again, because there is no effort without error or shortcoming, but who knows the great enthusiasms, the great devotions, who spends himself for a worthy cause; who, at the best, knows, in the end, the triumph of high achievement, and who, at the worst, if he fails, at least he fails while daring greatly, so that his place shall never be with those cold and timid souls who knew neither victory nor defeat."
Blue & Green Tomorrow is one such a worthy cause and your support is more appreciated than you will ever know.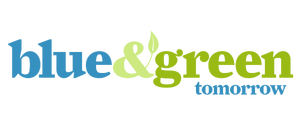 How Going Green Can Save A Company Money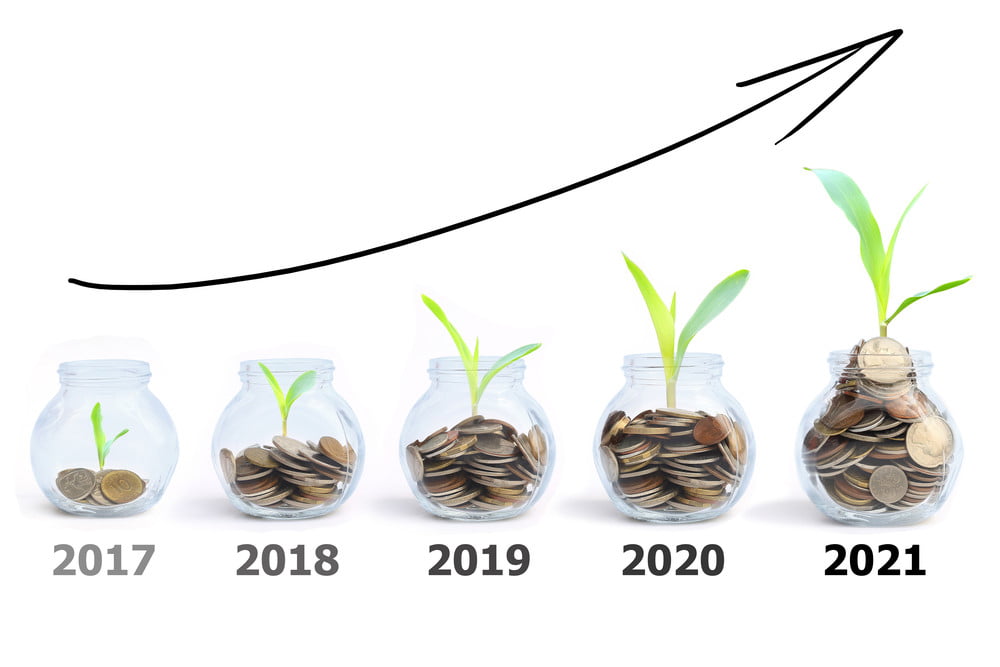 What is going green?
Going green means to live life in a way that is environmentally friendly for an entire population. It is the conservation of energy, water, and air. Going green means using products and resources that will not contaminate or pollute the air. It means being educated and well informed about the surroundings, and how to best protect them. It means recycling products that may not be biodegradable. Companies, as well as people, that adhere to going green can help to ensure a safer life for humanity.
The first step in going green
There are actually no step by step instructions for going green. The only requirement needed is making the decision to become environmentally conscious. It takes a caring attitude, and a willingness to make the change. It has been found that companies have improved their profit margins by going green. They have saved money on many of the frivolous things they they thought were a necessity. Besides saving money, companies are operating more efficiently than before going green. Companies have become aware of their ecological responsibility by pursuing the knowledge needed to make decisions that would change lifestyles and help sustain the earth's natural resources for present and future generations.
Making needed changes within the company
After making the decision to go green, there are several things that can be changed in the workplace. A good place to start would be conserving energy used by electrical appliances. First, turning off the computer will save over the long run. Just letting it sleep still uses energy overnight. Turn off all other appliances like coffee maker, or anything that plugs in. Pull the socket from the outlet to stop unnecessary energy loss. Appliances continue to use electricity although they are switched off, and not unplugged. Get in the habit of turning off the lights whenever you leave a room. Change to fluorescent light bulbs, and lighting throughout the building. Have any leaks sealed on the premises to avoid the escape of heat or air.
Reducing the common paper waste
Modern technologies and state of the art equipment, and tools have almost eliminated the use of paper in the office. Instead of sending out newsletters, brochures, written memos and reminders, you can now do all of these and more by technology while saving on the use of paper. Send out digital documents and emails to communicate with staff and other employees. By using this virtual bookkeeping technique, you will save a bundle on paper. When it is necessary to use paper for printing purposes or other services, choose the already recycled paper. It is smartly labeled and easy to find in any office supply store. It is called the Post Consumer Waste paper, or PCW paper. This will show that your company is dedicated to the preservation of natural resources. By using PCW paper, everyone helps to save the trees which provides and emits many important nutrients into the atmosphere.
Make money by spreading the word
Companies realize that consumers like to buy, or invest in whatever the latest trend may be. They also cater to companies that are doing great things for the quality of life of all people. People want to know that the companies that they cater to are doing their part for the environment and ecology. By going green, you can tell consumers of your experiences with helping them and communities be eco-friendly. This is a sound public relations technique to bring revenue to your brand. Boost the impact that your company makes on the environment. Go green, save and make money while essentially preserving what is normally taken for granted. The benefits of having a green company are enormous for consumers as well as the companies that engage in the process.
5 Easy Things You Can Do to Make Your Home More Sustainable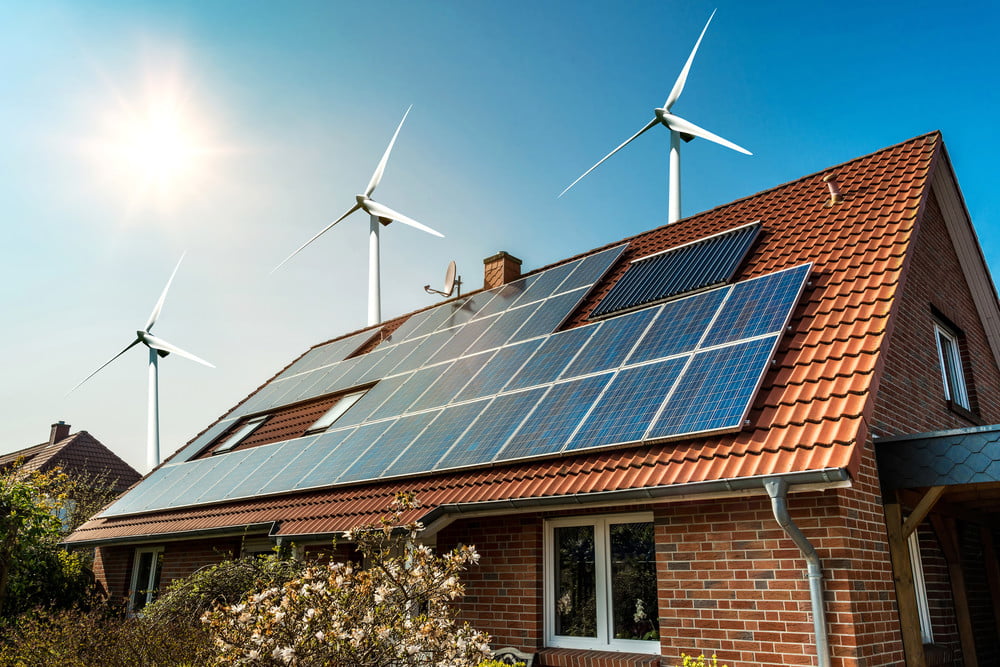 Increasing your home's energy efficiency is one of the smartest moves you can make as a homeowner. It will lower your bills, increase the resale value of your property, and help minimize our planet's fast-approaching climate crisis. While major home retrofits can seem daunting, there are plenty of quick and cost-effective ways to start reducing your carbon footprint today. Here are five easy projects to make your home more sustainable.
1. Weather stripping
If you're looking to make your home more energy efficient, an energy audit is a highly recommended first step. This will reveal where your home is lacking in regards to sustainability suggests the best plan of attack.
Some form of weather stripping is nearly always advised because it is so easy and inexpensive yet can yield such transformative results. The audit will provide information about air leaks which you can couple with your own knowledge of your home's ventilation needs to develop a strategic plan.
Make sure you choose the appropriate type of weather stripping for each location in your home. Areas that receive a lot of wear and tear, like popular doorways, are best served by slightly more expensive vinyl or metal options. Immobile cracks or infrequently opened windows can be treated with inexpensive foams or caulking. Depending on the age and quality of your home, the resulting energy savings can be as much as 20 percent.
2. Programmable thermostats
Programmable thermostats have tremendous potential to save money and minimize unnecessary energy usage. About 45 percent of a home's energy is earmarked for heating and cooling needs with a large fraction of that wasted on unoccupied spaces. Programmable thermostats can automatically lower the heat overnight or shut off the air conditioning when you go to work.
Every degree Fahrenheit you lower the thermostat equates to 1 percent less energy use, which amounts to considerable savings over the course of a year. When used correctly, programmable thermostats reduce heating and cooling bills by 10 to 30 percent. Of course, the same result can be achieved by manually adjusting your thermostats to coincide with your activities, just make sure you remember to do it!
3. Low-flow water hardware
With the current focus on carbon emissions and climate change, we typically equate environmental stability to lower energy use, but fresh water shortage is an equal threat. Installing low-flow hardware for toilets and showers, particularly in drought prone areas, is an inexpensive and easy way to cut water consumption by 50 percent and save as much as $145 per year.
Older toilets use up to 6 gallons of water per flush, the equivalent of an astounding 20.1 gallons per person each day. This makes them the biggest consumer of indoor water. New low-flow toilets are standardized at 1.6 gallons per flush and can save more than 20,000 gallons a year in a 4-member household.
Similarly, low-flow shower heads can decrease water consumption by 40 percent or more while also lowering water heating bills and reducing CO2 emissions. Unlike early versions, new low-flow models are equipped with excellent pressure technology so your shower will be no less satisfying.
4. Energy efficient light bulbs
An average household dedicates about 5 percent of its energy use to lighting, but this value is dropping thanks to new lighting technology. Incandescent bulbs are quickly becoming a thing of the past. These inefficient light sources give off 90 percent of their energy as heat which is not only impractical from a lighting standpoint, but also raises energy bills even further during hot weather.
New LED and compact fluorescent options are far more efficient and longer lasting. Though the upfront costs are higher, the long term environmental and financial benefits are well worth it. Energy efficient light bulbs use as much as 80 percent less energy than traditional incandescent and last 3 to 25 times longer producing savings of about $6 per year per bulb.
5. Installing solar panels
Adding solar panels may not be the easiest, or least expensive, sustainability upgrade for your home, but it will certainly have the greatest impact on both your energy bills and your environmental footprint. Installing solar panels can run about $15,000 – $20,000 upfront, though a number of government incentives are bringing these numbers down. Alternatively, panels can also be leased for a much lower initial investment.
Once operational, a solar system saves about $600 per year over the course of its 25 to 30-year lifespan, and this figure will grow as energy prices rise. Solar installations require little to no maintenance and increase the value of your home.
From an environmental standpoint, the average five-kilowatt residential system can reduce household CO2 emissions by 15,000 pounds every year. Using your solar system to power an electric vehicle is the ultimate sustainable solution serving to reduce total CO2 emissions by as much as 70%!
These days, being environmentally responsible is the hallmark of a good global citizen and it need not require major sacrifices in regards to your lifestyle or your wallet. In fact, increasing your home's sustainability is apt to make your residence more livable and save you money in the long run. The five projects listed here are just a few of the easy ways to reduce both your environmental footprint and your energy bills. So, give one or more of them a try; with a small budget and a little know-how, there is no reason you can't start today.