Only one in five energy efficiency behaviour change programmes actively identifies and removes barriers to change, suggesting that all too often building occupants may not be getting the help they need to act energy efficiently. 
That is the surprise finding from the latest issue of the UK Energy Efficiency Trends report (Volume 13) produced and published by EEVS and Bloomberg New Energy Finance in association with Global Action Plan in January 2016.
The report provides evidence that no cost/low cost behaviour change programmes could be more effective if 80% of them focused more on making energy saving actions easier for building users at the outset.
The latest EEVS UK Energy Efficiency Trends report covers Q3 of 2015. It includes a dataset to help shed light on what constitutes a behaviour change programme and the impacts the initiatives are making on the ground. The research found that savings could be increased by using more behavioural levers and that while the breadth of communications was good, savings could be increased further if suppliers better understood organisational barriers to potential change.
With two decades of behaviour change experience, these issues are well understood by Global Action Plan.
"Successful behaviour change requires a solution that suits the local audience, desired actions, available communication methods and organisational culture. One size does not fit all," explained Chris Large, Senior Partner at Global Action Plan.
"The report shows the trend in engagement activities to be positive. There is a broad split between the different ways of reaching occupants, including the use of online and hard copy communications, senior lead messaging, face to face conversations, energy training and recruiting energy champions. This suggests energy teams are selecting methods that are right for their situation.
"However, the trend in the use of behavioural levers leaves room for improvement.
"Unlike engagement activities, it is good practice to use certain behavioural levers in most situations. Two behavioural levers are under-used. Identifying and removing barriers to change is a lever that overcomes whatever stops people being energy efficient. This is happening in less than 1 in 5 programmes run by energy teams, suggesting that occupants frequently may not be getting all the help they need to act energy efficiently. For example, if a bank of light switches in a shared office is not labelled, staff may hesitate to turn out the light for fear of plunging their colleagues into darkness.
"The other lever that is under used is emphasising the 'other benefits' that energy efficiency brings beyond cost and carbon savings. Emphasising benefits to occupants has proven highly successful – such as in hospitals where the benefits of using natural light and lights-out curfews in helping patients to sleep was highly motivating to nurses.
"Often, this emphasis on occupant benefits is crucial, as leading with the savings may not align with building occupants' core motivations. For example, nurses are likely to care most about their patients' well-being, not energy bills and so encouraging nurses to remember to switch out the light is more powerful if the motivation is to help their patients rest and recover.
"The survey shows energy teams favour the savings message 70% of the time, but only communicate 'other benefits' 25% of the time. If projects were to more frequently promote all benefits and to also help occupants overcome their barriers to change, savings from projects could be higher," he concluded.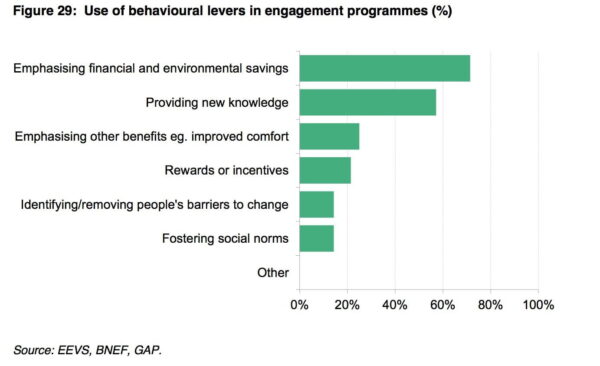 Download the graph above here:EET Jan 2016 Figure 29
Download the full report here: http://www.energyefficiencytrends.co.uk/latestreport.html
Compiled from the results of a confidential, quarterly industry survey, the UK Energy Efficiency Trends Report clearly evidences industry trends and has become one of the sector's leading sources of market intelligence. The report covers both energy suppliers and consumers, providing differentiated results for each market sector.
The report is delivered by a research partnership between EEVS and Bloomberg New Energy Finance, and supported by Bird & Bird, Bellrock and Schneider Electric.
Call for new respondents
New respondents are always needed to complete the survey. The ideal respondents fall into two categories:
Directors within energy efficiency supply organisations

Those responsible for reducing energy consumption within organisations
There is no restriction on size of organisation. Those interested in taking part in the next survey can register using this link: http://www.energyefficiencytrends.co.uk/join-community.html