A record 1.85m people are saving and investing £3.6bn in businesses creating positive social and environmental impact, according to the Ethex annual report of the positive investment market.
A record 1.85 million people across the UK are saving and investing £3.6 billion to create positive social and environmental impact, according to Ethex's annual survey of the market, launched today to coincide with Good Money Week, 18th–24th October 2015.
Positive savings and investments – in credit unions, ethical banks, community shares and businesses with a strong social or environmental mission – grew 11% in the last year, more than four times faster than the 2.4% average growth of UK household savings and investments over the last five years, finds the "Positive Investing Report 2015" by Ethex, the not-for-profit platform for positive investments and savings.
Community share offers make up the most active section of the market. Over the last year 75 new offers raised £36 million bringing the total invested to £157 million, a growth of 29%.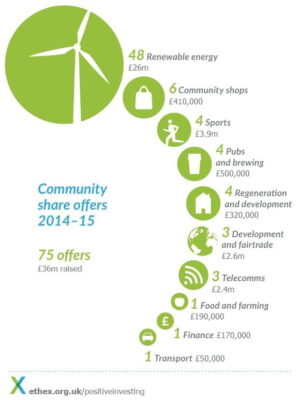 Community-owned renewables projects remain highly popular, with 48 community share offers raising £26 million in the last year. Four offers raised £3.9 million to bring football clubs into community ownership, including two in League Two, Portsmouth and Wycombe Wanders, and five similar offers have launched since July. Three offers raised £2.4 million to bring broadband to rural areas and for the Phone Co-Op.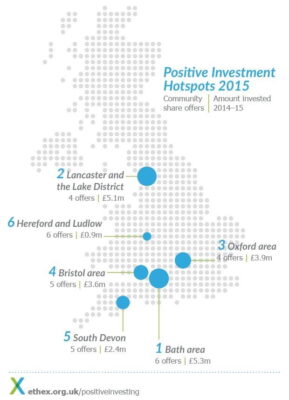 Bath is the most active hotspot for community investing, up from third place last year, raising £5.3 million in six offers. Bath and West Community Energy helped raise over £4.5 million for three solar power projects and its spin-off, Mongoose Energy, is now advising community energy groups nationally. Bath City Supporters Society launched a campaign to buy the football club, Save Open Spaces Frome raised finance to save local fields from development and a campaign was launched to save Farmborough village store for the community.
Lancaster and the Lake District comes second, raising £5.1 million in four offers. The High Winds Community Energy offer raised £3.75 million to finance the repowering of five wind turbines near Ulverston, the UK's second largest community share offer. Broadband for the Rural North (B4RN) raised £1 million to bring one of the world's fastest broadband connections to upland villages.
Oxfordshire is third, raising £3.9 million in four offers, including Abingdon Hydro's micro-hydro scheme on the Thames, Low Carbon Hub projects installing solar panels on schools and businesses across the county, and the Phone Co-op, based in Chipping Norton, which provides ethical phone and broadband nationally.
Bristol, South Devon and Hereford and Ludlow complete the six hotspots, which accounted for nearly 60% of all money raised by community share offers over the year. The South West was by far the most active region, raising £13 million in 23 offers. The North West raised £6.5 million from 12 offers and the South East raised £5.3 million from 12 offers.
Positive Investing Market Growing Strongly
Increasing numbers of people want to invest their money where it will do good and 2.9% of the UK's population are now actively involved in positive investing and saving:
– Nearly 1.6 million people have £2.3 billion saved in credit unions;
– Nearly 60,000 people have £980 million saved in ethical banks and building societies;
– Nearly 200,000 people have made direct investments worth £330 million in community shares, charity bonds, and bonds and shares in businesses with a strong social or environmental mission, providing the capital they need to grow.
A recent survey by Barclays Bank found that while only 9% of investors had made impact investments, 56% were interested in doing so.
Values-driven investors are turning away from the growth of green and ethical funds, which have been a mainstay of ethical investment since the 1980s, but which rely mainly on screening out "sin stocks" such as companies engaged in the arms trade or tobacco sales. The sector has fallen from a high in 2009 when it made up 2% of the UK funds market to just 1.5% in 2014.
The boom in direct investments has been driven by the rise of internet-based crowd-funding platforms, making it easy for people to invest in line with their principles, coupled with a growing choice of positive investments. Money invested via Ethex alone has tripled from £6 million to £18.1 million over the past year.
Jamie Hartzell, Founder of Ethex and author of the report, said: "Public demand for investments that make money and do good is so great that the market is on course to grow to £11 billion by 2020, involving nearly four million people."
"Positive investment delivers strong social and environmental benefits to society at little or no cost to the taxpayer. To unlock this potential it is essential that we continue to improve the choice and quality of positive savings and investment products and make people aware of these opportunities. We'd also like to see the Government do much more to encourage this market."
The report highlights key opportunities to grow the market:
Positive bank accounts. Some 96% of the UK population have a bank account and 1 million switch each year, so positive bank accounts have huge potential to attract ethical savers. Triodos, the ethical bank, intends to offer positive current accounts in 2016, filling a gap that emerged after the Co-operative Bank ran into difficulties.
Positive pensions. In France, since 2001, employers and pension providers have had to offer employees the option of investing their pensions in the Solidarity Investment Fund, which channels 10% of its assets into social investment. The fund now stands at 4.6 billion euros with a million investors. A similar requirement could channel hundreds of millions of pounds to positive investment in the UK.
Positive investments listed on the London Stock Exchange. Genuinely positive funds listed on the exchange are beginning to emerge, such as Impax Environmental Markets, the WHEB Sustainability Fund and the Threadneedle Social Bond Fund, which make investments that deliver social and environmental benefits and report on their impact. Positive investments listed on the exchange can reach the mass market, making it far easier to invest in them directly and indirectly through funds.
The report warns that cuts to subsidies for renewable energy will have a "dramatic impact" on the community energy sector, the fastest growing area of direct positive investment over the past three years. The Financial Conduct Authority is also proposing to limit the scope of community share offers by limiting the financial returns they can offer, forcing these businesses to become less commercial.
It also reveals that the introduction of Social Investment Tax Relief has had a limited impact, proving more difficult for most businesses to use than the similar Enterprise Investment Scheme. Since its launch in April 2014 it has raised only £890,000 in five offers.
"The Ethex Positive Investing Report 2015" and the map of hotspots are available here.