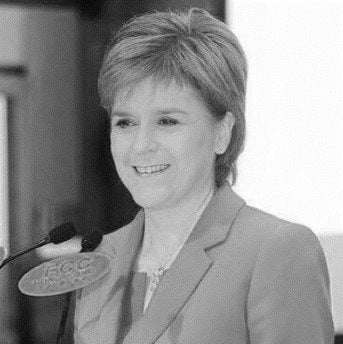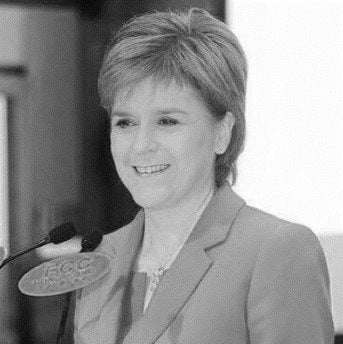 #bluegreenmarbles Vote for Nicola Sturgeon, First Minister of Scotland #sustainpersonoftheyear15
For making Scotland a beacon of green in the United Kingdom and across Europe. With all the hot air that comes out of Whitehall and Westminster, Holyrood provides a breath of fresh air, literally and figuratively speaking.
Read more about the 2015 Sustainability Personality of the Year and Blue & Green Marbles here.
Nicola Sturgeon is a Scottish politician who is the fifth and current First Minister of Scotland and the leader of the Scottish National Party, in office since 2014. She is the first woman to hold either position. Sturgeon has been a member of the Scottish Parliament since 1999, first as an additional member for the Glasgow electoral region from 1999 to 2007, and as the member for Glasgow Southside since 2007 (known as Glasgow Govan from 2007 to 2011).
A law graduate of the University of Glasgow, Sturgeon worked as a solicitor in Glasgow. Elected to the Scottish Parliament in 1999, and served successively as the SNP's shadow minister for education, health and justice. In 2004, she announced that she would stand as a candidate for the leadership of the SNP following the resignation of John Swinney. However, she later withdrew from the contest in favour of Alex Salmond, standing instead as depute (deputy) leader on a joint ticket with Salmond.
Both were subsequently elected, and as Salmond was still an MP in the House of Commons, Sturgeon led the SNP in the Scottish Parliament from 2004 to 2007, when Alex Salmond was elected to the Scottish Parliament in the 2007 election. The SNP won the highest number of seats in the Scottish Parliament following the 2007 election, and Alex Salmond was subsequently appointed First Minister of Scotland. He appointed Sturgeon as Deputy First Minister and Cabinet Secretary for Health and Wellbeing. She was later appointed as Cabinet Secretary for Infrastructure, Investment and Cities in 2012.
Following the defeat of the Yes Scotland campaign in the 2014 independence referendum, Alex Salmond announced that he would resign as leader at the party conference that November, and would resign as First Minister after a new leader was chosen. No one else nominated for the post by the time nominations closed on 15 October, leaving Sturgeon to take the leadership unopposed at the SNP's annual conference on 14 November. She was formally elected to succeed Salmond as First Minister on 19 November.
Vote here.