Boards Increasingly Take a Systematic Approach to Ethics and Values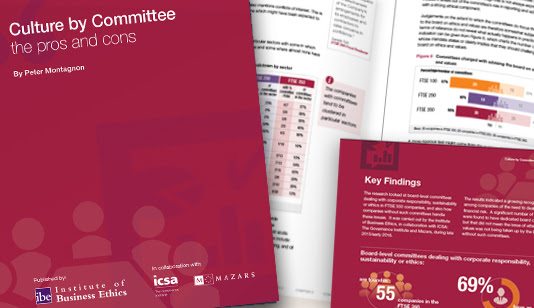 A significant number of corporate boards have formed committees to focus on ethics and values as well as corporate responsibility and sustainability, according to a new survey by the Institute of Business Ethics.
The survey, carried out with the support of the ICSA: The Governance Institute and Mazars, found that 55 companies in the FTSE 350 have formed such committees with published terms of reference, and that over half of them were specially charged with advising the board on ethics and values.
"This is an important conclusion because it shows that the debate on corporate responsibility is moving away from simple measurement of external indicators like environmental impacts to a better understanding of how to shape behaviour within the company," said Peter Montagnon, Associate Director of the IBE, who wrote the report. "Boards face a lot of pressure on their time. The committees can drill down into the detail, monitor trends and ensure these issues are looked at in a systematic way," he continued.
The development of sustainability and values committees reflects the proliferation of non-financial risks some of which have previously been monitored by audit and compliance committees. However, the report does not recommend that all companies should form a committee. While the need for more detailed oversight may favour the creation of a committee, there is a risk of the board's own responsibilities being diluted and of unnecessary overlap with other committees. What remains critical is that boards address the issues of ethics and values in the context of their approach to risk oversight, even when they do not have a committee, the report says.
The survey found that board sustainability and values committees tend to be more common in sectors with reputation and regulatory risk, such as banking, mining and defence. By contrast they are rare in support services, household goods and home construction.
Philippa Foster Back CBE, IBE Director said: "Long gone are the days when the principal concern of the board was financial risk. Gone, too, are the days when corporate responsibility was a public relations add-on. This survey shows just how seriously boards take these issues. They are now seen as integral to strategy and risk management. Businesses know that the damage caused by getting these things wrong can be terminal. By contrast, getting them right secures and strengthens the franchise."
Peter Swabey, Policy and Research Director at ICSA added: "Issues with ethical conduct are not restricted to the corporate world. You only need to look at FIFA to see the detrimental effect that poor culture can have on reputation and the bottom line. With customers increasingly ready to look elsewhere if companies do not match up to their ethical expectations and many job seekers preferring to work for companies with strong values, boards have a duty of care to ensure that their companies are doing the very best that they can on this front."
Anthony Carey, Head of Board Practice, Mazars said : "Culture is high on the board agenda and rightly so. This is particularly true for the financial services sector in the wake of the financial crisis and the new regulatory regime for banks and insurance companies. This report is very timely in addressing the different ways in which boards are addressing cultural and ethical issues. It highlights that one-size does not fit all and that it is for the board to decide whether having a specialised committee is the right way forward."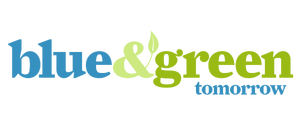 How to be More eco-Responsible in 2018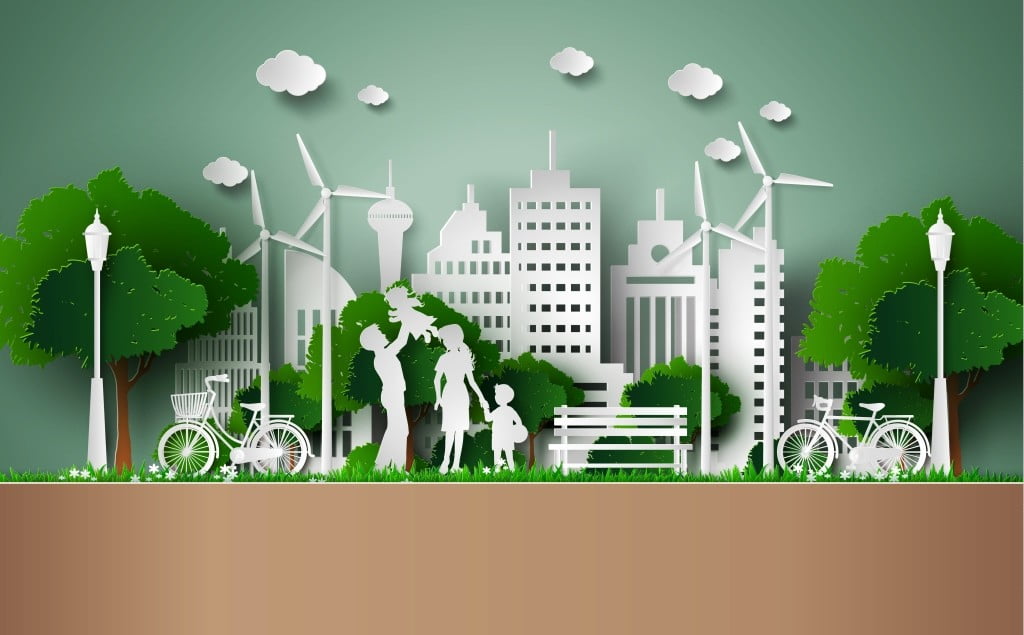 Nowadays, more and more people are talking about being more eco-responsible. There is a constant growth of information regarding the importance of being aware of ecological issues and the methods of using eco-friendly necessities on daily basis.
Have you been considering becoming more eco-responsible after the New Year? If so, here are some useful tips that could help you make the difference in the following year:
1. Energy – produce it, save it
If you're building a house or planning to expand your living space, think before deciding on the final square footage. Maybe you don't really need that much space. Unnecessary square footage will force you to spend more building materials, but it will also result in having to use extra heating, air-conditioning, and electricity in it.
It's even better if you seek professional help to reduce energy consumption. An energy audit can provide you some great piece of advice on how to save on your energy bills.
While buying appliances such as a refrigerator or a dishwasher, make sure they have "Energy Star" label on, as it means they are energy-efficient.
Regarding the production of energy, you can power your home with renewable energy. The most common way is to install rooftop solar panels. They can be used for producing electricity, as well as heat for the house. If powering the whole home is a big step for you, try with solar oven then – they trap the sunlight in order to heat food! Solar air conditioning is another interesting thing to try out – instead of providing you with heat, it cools your house!
2. Don't be just another tourist
Think about the environment, as well your own enjoyment – try not to travel too far, as most forms of transport contribute to the climate change. Choose the most environmentally friendly means of transport that you can, as well as environmentally friendly accommodation. If you can go to a destination that is being recommended as an eco-travel destination – even better! Interesting countries such as Zambia, Vietnam or Nicaragua are among these destinations that are famous for its sustainability efforts.
3. Let your beauty be also eco-friendly
We all want to look beautiful. Unfortunately, sometimes (or very often) it comes with a price. Cruelty-free cosmetics are making its way on the world market but be careful with the labels – just because it says a product hasn't been tested on animals, it doesn't  mean that some of the product's ingredients haven't been tested on some poor animal.
To be sure which companies definitely stay away from the cruel testing on animals, check PETA Bunny list of cosmetic companies just to make sure which ones are truly and completely cruelty-free.
It's also important if a brand uses toxic ingredients. Brands such as Tata Harper Skincare or Dr Bronner's use only organic ingredients and biodegradable packaging, as well as being cruelty-free. Of course, this list is longer, so you'll have to do some online research.
4. Know thy recycling
People often make mistakes while wanting to do something good for the environment. For example, plastic grocery bags, take-out containers, paper coffee cups and shredded paper cannot be recycled in your curb for many reasons, so don't throw them into recycling bins. The same applies to pizza boxes, household glass, ceramics, and pottery – whether they are contaminated by grease or difficult to recycle, they just can't go through the usual recycling process.
People usually forget to do is to rinse plastic and metal containers – they always have some residue, so be thorough. Also, bottle caps are allowed, too, so don't separate them from the bottles. However, yard waste isn't recyclable, so any yard waste or junk you are unsure of – just contact rubbish removal services instead of piling it up in public containers or in your own yard.
5. Fashion can be both eco-friendly and cool
Believe it or not, there are actually places where you can buy clothes that are eco-friendly, sustainable, as well as ethical. And they look cool, too! Companies like Everlane are very transparent about where their clothes are manufactured and how the price is set. PACT is another great company that uses non-GMO, organic cotton and non-toxic dyes for their clothing, while simultaneously using renewable energy factories. Soko is a company that uses natural and recycled materials in making their clothes and jewelry.
All in all
The truth is – being eco-responsible can be done in many ways. There are tons of small things we could change when it comes to our habits that would make a positive influence on the environment. The point is to start doing research on things that can be done by every person and it can start with the only thing that person has the control of – their own household.
5 Tips for Making Your Bakery Greener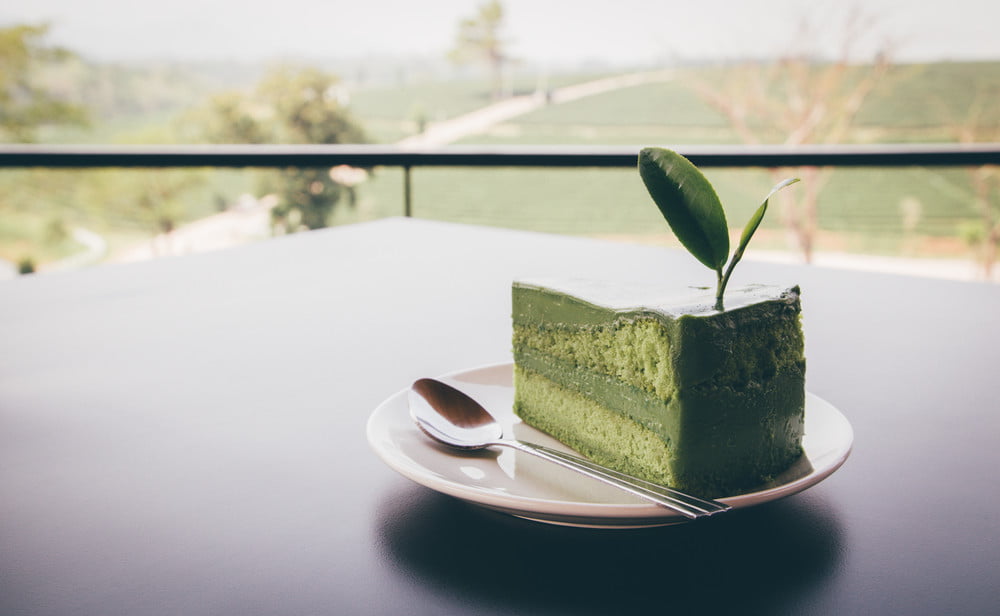 Bakeries are staple businesses in small towns and urban areas alike. Much like diners and cafes, bakeries are the heartbeat of American society. It's where people drink their morning coffee and grab a slice of pie after a dinner. But from the perspective of sustainability, what are they doing to stay green?
5 Ways to Make Your Bakery a Little Greener
You might think "green" and "bakery" don't belong in the same sentence unless St. Patrick's Day is around the corner, but things are changing and there's actually a huge market for bakeries that use green products and practices. From New York City to Los Angeles and every small town and big city in between, there are bakeries embracing the green movement. Could yours be the next?
As you look to redefine your bakery, here are some green tips you might find helpful:
1. Work With Green Suppliers
Being green isn't just about making sure the practices inside of your bakery are sustainable and energy efficient. You also need to be sure you're working with other green companies in your supply chain. Otherwise, you're not really having much of an impact.
While it used to be a challenge when Rubin first started out, today it's fairly easy to locate green suppliers. Do some research and reevaluate your current partnerships if they appear to be inefficient.
2. Reduce Packaging Waste
If most of your bakery goods are sold to-go, you probably go through a lot of packaging. One of your primary focuses should be on reducing packaging waste and using more sustainable materials.
"Many of our clients own bakeries and we've seen them experience a major shift over the past few years," Plastic Container City explains. "Whereas they used to be pretty frivolous with how they packaged and served food, they're now thinking really strategically about how they can curb waste and embrace sustainability. It's great to see."
3. Curb Food Waste
Food waste is a big issue in any food-related business. Try to be really cognizant of your biggest causes of food waste and look for solutions that allow you to maximize ingredients and resources. This may look like making bigger batches, moving to smaller batches, donating food to local kitchens, or getting into food composting.
4. Conserve Water
The average bakery uses a lot of water. From making different food items to cleaning pots and dishes, water is always running. One practical step you can take is to use more water-efficient practices in the kitchen. Observe how things are currently being done and look for areas where you can improve – such as with washing dishes.
5. Use More Efficient Appliances
Finally, if you're willing and able to make an upfront investment, swapping out old appliances with newer energy efficient models can make a big difference in your bakery's total energy consumption. It'll cost you something on the front end, but you'll slowly recoup the money and rest easy knowing your carbon footprint is much lower.
Sustainability in the Heartland
Small town bakeries represent the heartland of the country. And if we're going to get serious about sustainability at a core societal level, it's imperative that we begin with the fabric that binds America together. By prioritizing eco-friendly decision making in key American businesses, such as bakeries, we can begin to make noticeable progress. Are you prepared to do your part?