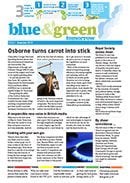 Simon Leadbetter takes a trip through the archive to see which articles hit the spot from the print era of Blue & Green Tomorrow.
Blue & Green Tomorrow started life as a print magazine with a simple aim, to encourage more people to buy from, or invest in, those companies that balance planet, people and prosperity.  For those of you who may have missed those first issues, here is a list of the top ten most read articles.
NB some articles' format is a bit mangled as they've been through several publishing platforms. We're tidying the archive up over time.
Enjoy: