Laura Sanchez, founder of Lypsso, writes about providing solutions to solve the 'beauty problem'.
My greatest passions are: beauty, helping SMEs to grow their businesses and finding ways to make people's lives easier. When I reached a turning point in my professional career, I decided to change direction and started to think about a way to work on my passions.
I became more aware of the trends in this day and age, and that we live in a society where men and women care about the image they present to others. At times, the quest to look good can be exhausting, as it is easy to become overwhelmed by too many beauty resources on the internet that promise they can improve your appearance or fix a beauty concern.
In a standard Google search for a beauty solution for hair loss (alopecia) or cellulite, to name two of the most popular searches by men and women these days, online users can expect to find a very wide variety of fragmented results. It could be 'the best' beauty products and reviews, beauty or hair treatment suggestions, information resources, videos… and the list goes on.
It is also common to find a lot of competing information which is sometimes biased, and can confuse the user, as one result might suggest certain remedies and another may suggest the complete opposite. Furthermore, some of the suggestions offered may contain ingredients that could potentially be harmful to your skin or health if used regularly. Basically, the results you find may not be the best ones for you individually or to treat your personal beauty concerns.
To be more specific, the table below indicates that users should expect an average of 31,777,000 Google page results per each individual search. It is a known fact that these days, 36.4% of users don't read past page one on Google, nor read very much on the web. The Nielsen Norman Group estimates that on the average, webpage users have time to read, at most, 28% of the words during an average visit; 20% is more likely.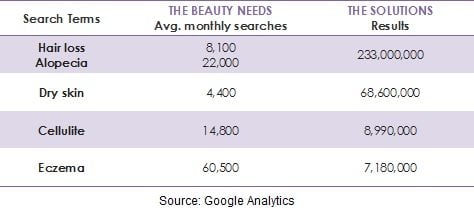 This overflow of beauty results and information often translates into time-consuming searches, which in a society where time is scarce and precious are often unsuccessful.
In turn, this poses a tough and challenging scenario to the growing number of small and medium-sized companies in the beauty industry; those who struggle to take their products and services to Google's page one.
To solve the 'beauty problem' that users and SMEs face, Lypsso has been conceived. Stay tuned to find out more about our Lypssolutions that include natural and organic beauty products, beauty treatments and many more beauty resources.
Laura Sanchez is founder and CEO of Lypsso. She has over eight years' experience in business development consultancy and is on a quest to help SMEs in the beauty industry grow; whilst helping users find solutions to their needs. 
Further reading:
Beauty bloggers call for an end to cosmetic animal testing
Livers grown from stem cells can significantly reduce animal testing
Cruelty free cosmetics: animal testing 'largely hidden from the public gaze'
Sainsburys say no to animal testing