Consumers believe they receive fairer treatment, better value for money and superior customer service from FinTech financial product providers than from traditional sources.
The latest survey from consumer insight and review platform Smart Money People reveals that 92.5% of consumers believe they are treated fairly by FinTech providers of financial services, compared to banks (82.8%) or insurance companies (85.6%).
FinTech providers are also perceived to provide better value for money, scoring 4.4 out of a possible maximum of 5, compared to 4.0 for banks and 4.2 from insurance companies. A similar picture emerges when it comes to customer service: Fintech providers scored 4.5 against 4.2 and 4.3 respectively for banks and insurance companies.
This latest consumer insight follows Smart Money People's recent survey which revealed that, despite people who switch their bank feeling 92% satisfied compared to 80% for those choosing to stay with the incumbent, only 3% of consumers per annum make the change.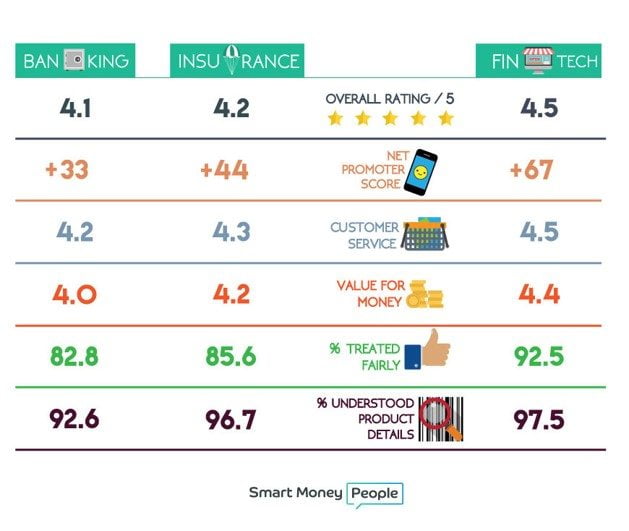 Commenting on the latest finding, Smart Money People's founder and CEO Mike Fotis said: "With the UK's first mobile-focused bank (Atom) set to take a prime position in the App store, it's encouraging to see that a diverse set of innovative business models leading the way when it comes to customer satisfaction in financial services."
"That said, it is fair to say that the bar is still too low. We've found in practice a 4* rating means that a financial organisation is doing OK, which offers significant competitive opportunities across a number of products and services."
"In the minds of consumers, the push (away from a perceived 'bad' provider) remains stronger than the pull (to a perceived 'better' provider) and there remains a high tolerance for 'bad' providers. The consumer insight summary demonstrates that on aggregate consumers are satisfied with their financial providers and increasingly happier with FinTech providers."
The data for the attached table came from 2,422 consumer reviews. Smart Money People will be announcing the results of its annual British Bank Awards in February.