Seth Kirby discusses the reconfiguration of travel at festivals and how renewable energy can transform the blueprint for sustainable events –therefore influencing the industry for the greater good.
Festivals searching for longevity in the industry must ensure that their overriding vision is one which encompasses the value and practices of sustainability. Principally, festivals should recognise the burden that staged outdoor events place on the natural environment, and consequently explore alternative methods for powering events and transporting the festival masses.
Festival travel has taken a dramatic shift over recent years with a higher proportion of festivals, quite rightly so, adopting schemes that place a greater emphasis on the use of public transport to events. Examples of these schemes include the Green Traveller Initiative, Big Green Coach, LiftShare and a growing array of cycling schemes.
The Green Traveller Initiative is a rewards scheme that was introduced at Glastonbury in 2011. Each person who arrives by public transport or bicycle is handed a Green Traveller lanyard, in exchange for festival discounts, vouchers and entry to competitions.
LiftShare is a car sharing scheme which aims to match festival attendees travelling in the same direction, enabling people to reduce their overall travel costs and their strain on the environment. It is operational at festivals such as Global Gathering and Bestival.
Big Green Coach is a company designed to fill the gap for an ethical and environmental form of bus transport. Their partners include the likes of V Festival and Wakestock.
However in many cases these travel schemes and initiatives do not reflect the insurmountable impact that festival transport has on the events' carbon footprint. Environmental indicators still appear to reinforce countless studies ranking festival transportation as one of the single most destructive event impacts.
Major issues need to be addressed and transport impacts tackled throughout the music and events fraternity in order transform and shape sustainable festival travel of tomorrow. Therein lies fundamental disconnects and resistance between the issue of accessible transport and the facilitation of sustainable travel.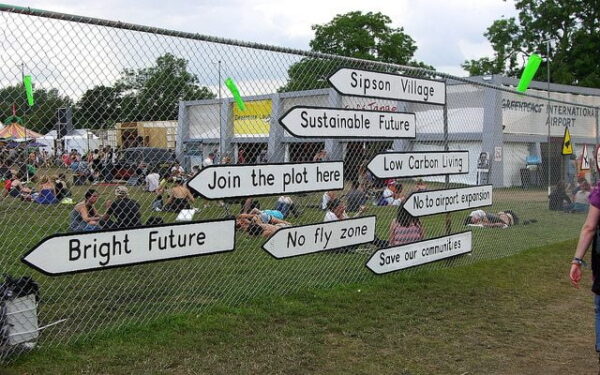 The presence of renewable energy at festivals is slowly gaining momentum. This is in part due to the efforts of organisations such as Julie's Bicycle and the Green Festival Alliance.
Julie's Bicycle is a not-for-profit organisation that acts collaboratively with organisations in order to assist with measuring an event's environmental impact, while also innovatively aiding extreme carbon emission reduction.
Meanwhile, the Green Festival Alliance (GFA) is a group aiming to catalyse sustainability in the festival sector. It has been involved in developing campaigns such as the Powerful Thinking Campaign and introduced a variety of schemes, including the Industry Green certification (which is a report indicating your environmental performance).
There are a plethora of examples in the festival world that have established and appropriately harnessed the remarkable potential of renewable energy.
The Shambala Festival is a small, diverse festival located in Northamptonshire which is said to be 98% powered by wind, solar and waste biodiesel. Shambala was awarded three stars for Industry Green in 2012, and has ultimately committed in the future to be 100% powered by renewable energy.
The Sunrise Festival (Another World) is an ethical living arts and music festival which relocated this year to a new home in Wiltshire. Sunrise's goal is to achieve best practice in ethics and the environment, while also entertaining the crowds.
Previously there has been a discussion about festivals leading the way in best practice for renewable energy solutions. One of these cases was Glyndebourne festival which uses a wind turbine for its main source of power.
Glyndebourne's long-term ambition is for its whole operation to become carbon neutral. Latest figures released for the wind turbine in its first year (to 31 January 2013) found that it generated 89% of the organisation's electricity requirements.
The festival sector has the ability to become a key player in renewable energy and responsible forms of travel. This is an ongoing process which requires creativity and collaboration across the sector, coupled with the support of sustainably driven organisations such as the Green Festival Alliance.
Festivals organisers and officials must ensure that their environmental plans are placed right at very forefront of their growth strategies, paying particular attention to preventing excessive rates of degradation and irreversible environmental outcomes.
Seth Kirby graduated in 2012 from the University of Lincoln with a first class degree in sports tourism management. His research interests include sustainable travel, sports tourism, film tourism, dark tourism, slum tourism and travel motivations.
Further reading:
Renewable energy: something to sing loudly about?
Recycled 18-foot bee sculpture to stand among festivalgoers at Glastonbury