In the UK, there are nearly 18m joint accounts, representing over a third of all accounts open. But do you and your partner really love the bank you bank with? And would they be a financial valentine?
The chances are, if you're with one of the big five – HSBC, Barclays, Royal Bank of Scotland, Santander or Lloyds – the answer to the above will be a resounding no. As we reported in our Guide to Sustainable Banking, what should be an essential good has become necessary evil.
The scandals and crises from the past year alone are enough to put anyone off high street banks for life: huge fines for Libor rate-fixing, payment protection insurance mis-selling and money laundering; catastrophic financial losses; almighty technical failures; and some of the worst customer satisfaction scores imaginable have made the chances of a love-in with one of the big banks very slim indeed.
The magazine Which? conducted a survey at the back end of last year to see just how satisfied banking customers were with their current provider. Only 54% of customers at the big five banks said they were happy with the service they receive; compared to 87% at the Co-operative Bank, for example.
But there are better solutions, and it is possible to love your bank. Honestly.
The UK is fortunate in that it has a thriving alternative banking sector, including mutuals, friendly societies, co-operatives and credit unions. Institutions are generally smaller, but no more risky, have overwhelmingly positive customer feedback and do not become embroiled in unethical, irresponsible and unsustainable activity for the sake of short-term profit.
Most importantly, though, your money – sitting there untouched by you – will be doing active good.
"The big banks have lied to, stolen from, and cheated on the British public, but there are better alternatives", says Laura Willoughby, chief executive of the Move Your Money campaign.
"Move your joint account today and tell the big banks that it's not you, it's them, by banking on something better."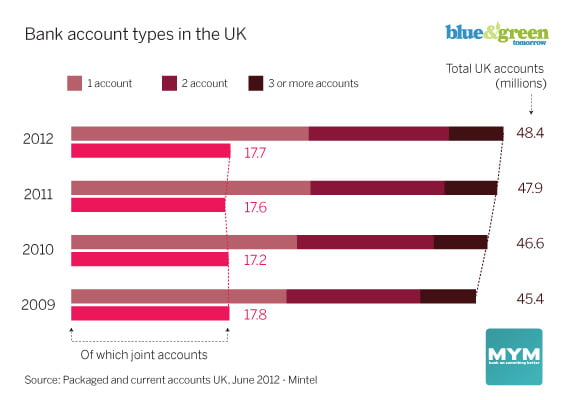 Move Your Money statistics show some 500,000 people have moved accounts to the alternative banking sector since January last year. That figure is inevitably going to grow next time it's calculated, given what's gone on at the big banks in the past 12 months.
We hypothesised on Tuesday whether Barclays could become the world's first ethical banking superpower, after chief executive Antony Jenkins' bold plan to revolutionise the way the bank operates, and to move it onto a more sustainable footing.
This seems unlikely; even Jenkins admits it will take years to rid the bank of its deserved poor reputation among customers and in the industry.
It might not be as romantic as a candlelit meal for two, but this Valentine's Day, we urge you to create lasting change by switching to a bank that prides itself on being ethical, responsible and sustainable.
Losing customers hurts the big banks. Jenkins can implement as many renewed values and principles at Barclays as he likes; but the real kick up the backside will come from you, the customer.
To quote the Move Your Money campaign's slogan, move your money and bank on something better. Today.
Happy Valentine's Day.
Further reading:
Has your bank been naughty or nice this year?
Sustainable banks more 'robust and resilient' than high street institutions
Interest in ethical options surges amid UK banking melee
Ex-Goldman Sachs director: unethical banking affects everyone