At a seminar in London today in advance of Good Money Week, Impax Asset Management showcased its methodology to bring positive (net) impact measurement to listed equities.  The impact measurement is focused on Impax's Specialists strategy, which includes the UK investment trust Impax Environmental Markets plc (IEM plc).
The focus is on four environmental metrics:
– Net CO2 emissions            (tonnes of CO2 emitted vs CO2 avoided)
– Renewable energy             (MWh generated)
– Water                                (mega-litres treated, saved, provided)
– Materials                           (tonnes recovered, waste treated)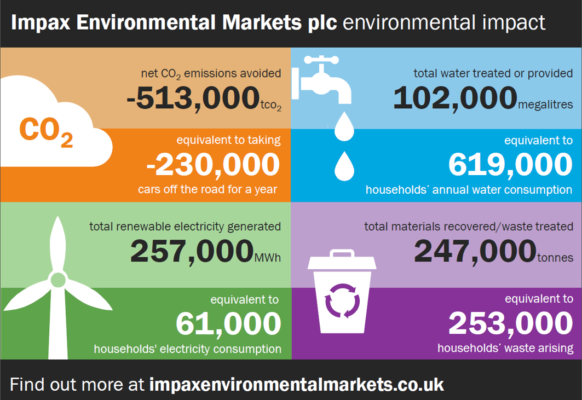 IEM plc, seeks to maximise financial returns within a universe of pure play, or "specialist", environmental companies.  However, it is not just the returns which appeal to investors.  With over 80% of the underlying revenue of the portfolio companies generated by sales of environmental products or services, it has always seemed reasonable to believe that the fund has a positive environmental impact.
The relevant environmental metrics for all portfolio companies were measured where data was available or could be estimated. The percentage owned in each underlying investment (calculated based on the proportion of shares owned) as at 31 December 2014 was applied to measure the environmental benefit attributable to IEM plc.
The methodology is available here and the work has received assurance of its efficacy from EY's Sustainability Practice.
Independent SRI Consultant John Fleetwood of 3D Investing said: "This is a really positive development that quantifies the environmental impact of the fund.  I hope that other funds might follow Impax's lead, and maybe expand the range of metrics.  It would also be good to see some discussion of how a fund grapples with any ethical or environmental concerns, including some conversation of dealing with complex and potentially controversial issues."
Bruce Jenkyn-Jones, Head of Listed Equities at Impax, said: "We believe this net measurement is a more meaningful metric to carbon foot-printing.  Investment advisers can use these additional reporting metrics to help clients seeking to decarbonise their portfolios, offset
emissions in alternative strategies, or simply to improve their understanding of the extent of the positive outcomes of their investment decision."
Faith Ward, Chief Responsible Investment & Risk Officer of the Environment Agency Pension Fund ("EAPF"), also presented the approach of the EAPF towards responsible and impact investing and John Spiers of EQ Investors discussed the growing importance of impact measurement.
Faith Ward commented: "We seek to demonstrate to our members that their pension fund is investing to make a positive contribution to sustainable capitalism and the transition to a low carbon economy, while delivering strong financial returns.  We would like to thank Impax for developing this methodology which helps us to measure the environmental impact of the fund."
John Spiers added: "I hope that over the next 10 – 15 years impact investing will become embedded throughout investment culture.  Effective measurement – such as this work to measure positive environmental impact – will be key to this process."