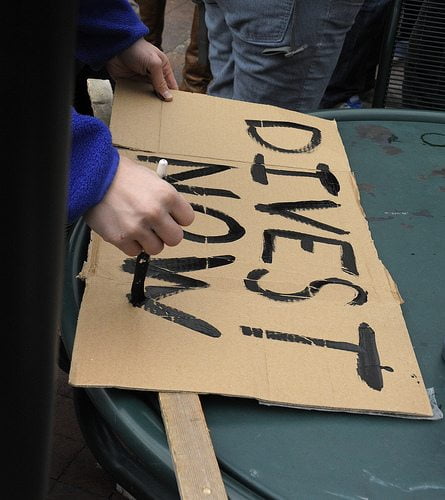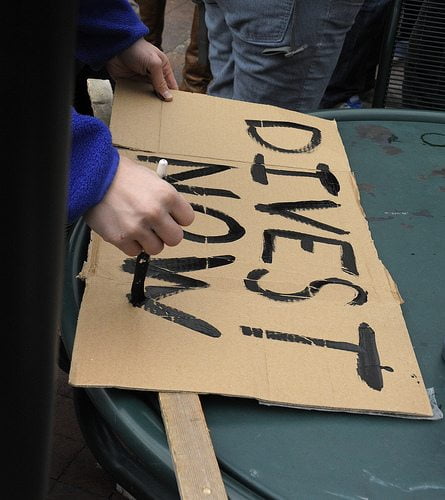 Harvard divestment group block hall entrance and call for a meeting on fossil fuels investment
Students who launched the Divest Harvard's Day of Action have blocked the entrance of the school's administration offices and called for a meeting with the president and the board of the university to discuss divesting from fossil fuels.
The protest was set up with the aim of obtaining a meeting with Harvard trustees and president Drew Faust, in order to discuss the school's involvement with fossil fuels companies.
Students have long been campaigning for the school to divest from these firms, in order to switch funds to renewable energy and accelerate the transition to a low-carbon economy. The divestment movement has involved many other academic institutions, many of which have decided to drop shares in dirty energy.
Police came and arrested one of the students, while the Harvard College Dean of Student Life Stephen Lassonde said others would face disciplinary action.
Ted Hamilton, a first-year student at Harvard Law School, who participated to the blockade, said, "The administration of Harvard University would rather arrest their own students and have police force us out of the way than speak to us civilly about this important issue".
Despite student requests, supported by a petition signed by 50,000 people, Faust said in October that Harvard would not divest from fossil fuels companies, preferring to use its influence to drive sustainable behaviour within the firms.
She also added that the university was not the place to push for social change, a claim that was highly contested by students who named Harvard's stance against South African apartheid in the late 80s.
Faust also announced a set of measures to increase sustainability on campus and responsible investment – including the adhesion to the UN's Principles for Responsible Investment.
However, students and academics have kept asking the school to reconsider its decision on divestment and criticising Harvard's contradictory stance on climate change.
Photo: James Ennis 2
Further reading:
Harvard to sign Principles for Responsible Investment and set up $20m climate fund
Yes, we too can profit by killing the planet because… we're Harvard
Fossil fuel divestment is neither 'warranted or wise', says Harvard president
Harvard academics rally for 'ethically responsible' fossil fuels divestment
Students criticise Harvard's 'false neutrality' over fossil fuel divestment