The Guide to Fair Trade 2013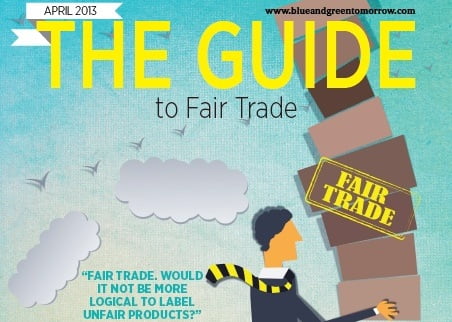 Welcome to Blue & Green Tomorrow's Guide to Fair Trade 2013. Dutch free speech organisation Loesje once questioned whether it would "not be more logical to label unfair products". But for now, our focus is on the positive.
The guide looks at farmers' markets and the benefits of buying locally (page 26), and includes polarising answers to the question, "What's so fair about fair trade?"
Nick Slawicz's analysis of the fair trade movement on page 6 analyses the origins, practices and future of an industry that now accounts for billions of pounds in sales every year. Meanwhile, Ben Willers' stunning infographic makes for welcome viewing for readers in the UK, Ireland and Switzerland, particularly.
As always, we're encouraged by the positive results from our reader survey. This time around, we asked readers, "Do you try to buy fair trade products over non-fair trade products?"
Nearly a third (28%) said they do; while 37% said they try as often as possible. Fourteen per cent said they buy fair trade products occasionally, bringing the total to 78% of Blue & Green Tomorrow readers who buy fair trade products at least some of the time.
On the go? Download the mobile version (4MB file).
You can also access the report on Issuu and Scribd.
We published seven reports last year in our Guide to… series, covering ethical shopping, sustainable banking, sustainable investment, sustainable tourism, limitless clean energy and responsible media, as well as a second sustainable investment issue that was published as part of National Ethical Investment Week. Our three previous reports in 2013 have covered sustainable tourism, sustainable investment, ownership and ethical financial advisers.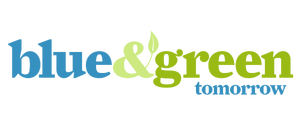 Introducing our 7th Guide to Sustainable Investment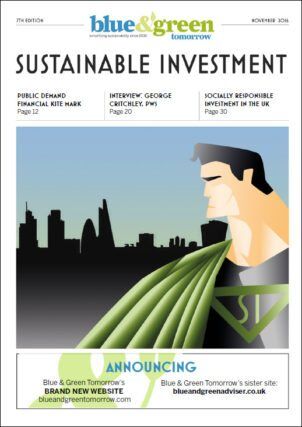 Tomorrow

Blue & Green celebrates its 6th birthday – remember, remember the 5th of November – and to mark the occasion we are delighted to launch our latest and seventh Guide to Sustainable Investment.

The Guide has contributions from UKSIF's Simon Howard, 3D Investing's John Fleetwood and Pennine Wealth Solutions George Critchley alongside wise insights from our friends at ATI, Columbia Threadneedle, Foresight, Impax, Triodos and WHEB.

Click here to download the guide to find out the best sustainable funds available in the UK.
Guide to Sustainable Energy 2016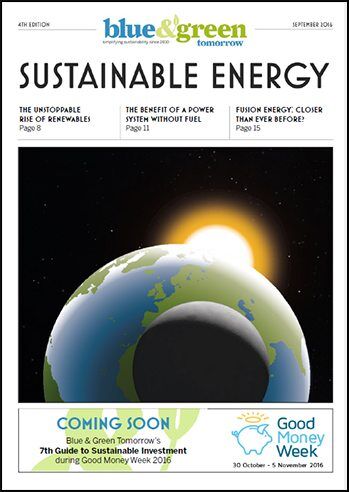 "I'd put my money on the sun and solar energy. What a source of power! I hope we don't have to wait till oil and coal run out before we tackle that."
Quite.
We found the quote at the end of a great article on the New York Times Magazine website in its Current Thinking column, that was current thinking from 2007! It's still worth a read.
You hold in your hand (on your smartphone, tablet or desktop) the fourth edition of our Guide and the current thinking remains we'd put our money on solar energy, but also wind, tidal, wave and geothermal. And nuclear?
Recently the UK government decided it would put our money on nuclear with the Hinkley Point C after months of dithering, perfectly illustrating everything that is wrong with government strategic thinking and energy policy. The wrong technology, with the wrong partners at the wrong price.
Which is why we're delighted to have contributions from Tidal Lagoon Power, Abundance Energy, Bristol Energy Cooperative and the excellent investment organisations (Alliance Trust, Foresight, Impax, Triodos and WHEB) that are putting money into distributed clean energy and storage – the right technology, with the right partners at the right price.
And we also have an article about nuclear fusion – a technology which divides the environmentally minded. We don't have a strong opinion on nuclear fusion and wanted to just present the technology. We believe you are more than capable of forming your own judgment.
We hope you enjoy the guide.
Click here to read it as a single page spread
Click here to read it as a double page spread
You can download pdf of the guide using the links above and clicking on the cloud icon in the bottom right of the screen, if however you are having any issues with that, you can also download a pdf version here (4mb version) and here (12mb version)