It's not every day you spend the weekend dressed as a lion, in the company of hundreds of other lions, owls, foxes, fish, stags and frogs, amidst pirates, cowboys and fairies. But, that's what my family did this weekend. While others headed to the V Festival, we entered the imagination of children.
Festivals come in all shapes and sizes, with themes and costs to suit all tastes and budgets. The mother ship is almost certainly Glastonbury, but deep in the county of Cheshire, another festival has been building momentum for the last three years. Now in its fourth year, the highly-rated Just So Festival is designed with children and their exhausted, overworked parents at its heart. And it's a big heart.
With artists, performers, authors, poets, acrobats, musicians and storytellers, the event took us from the high seas, into the spellbound forest, through the wild things, away with the fairies, to the high chaparral, across lazy days, to the moon, and eventually to the social and footlights to recharge little legs then dance like no one was looking.
It is impossible to do the event justice in this feature and, despite military-style late night planning by myself and Mrs L, it was impossible to fit in everything we wanted to see. But what we did see ranged from the oddly amusing to the truly spectacular. Throughout, our two boys were rapt.
Children could learn to be a pirate or cowboy, make sheriff badges or headdresses. They could quite literally eat their words, build a den, learn to bongo, and help create a flower maze, or build a rocket. They could be entertained by There's a Monster in my Piano, watch The Revenge of Mister Trout or be moved and amazed by the acrobatic play, La Ballade de Bergerac (a personal highlight which carried echoes of the Melies silent classic, A Trip to the Moon).
We learnt how to make lanterns and clay pots, walk on stilts and paint with a water pistol. My son hugged the Gruffalo (we thought there was no such thing as a Gruffalo, too) at least five times in different parts of the park. Quite what the foxes and owls thought with a Gruffalo about is beyond us.
All the time entertained by folk, rock, acoustic, gypsy and Russian music. Music purists may have balked at the brass art punk marching band that is Perhaps Contraptions or the sea shanties, hillbilly lullabies and gypsy dances of Holy Moly & The Crackers, but the kids loved it. Especially the big, unshaven ones called Dad.
From baby massage to storytelling for grown-ups, every age group was catered for and no one forgotten.
Staying until the final evening, we were able to participate in the Maurice Sendak-inspired Wild Rumpus. Each family had chosen their animal tribe (lions, owls, foxes, fish, stags and frogs) at the outset of the weekend and were encouraged to win tokens for their tribe during the weekend by taking part in competitions or impressing stewards with face paint, homemade masks, tails and wings.
On Sunday night each tribe, dressed accordingly and some with no budget spared, gathered in respective parts of the camp and roared, twit-twooed, barked, bubbled, snorted and ribbited their way to The Social where the Tribal Tournament winner was to be announced. Despite accusations of cunning on the part of the foxes and the best roars from the Kings of the Jungle, it wos the owls wot won it. I blame JK Rowling.
Being off the grid (no phone) was liberating. Looking around at all the creativity and limitless imagination of children, I was constantly struck by the true motivation behind this magazine.
"Words are, of course, the most powerful drug used by mankind"
This is why we write about sustainability. Not to promote or defend our self-interest, but because we are conscious that those without power or a voice, need the support of the more powerful and the more vocal. They include the people harmed today by the governments we vote for, the products we relentlessly consume and the investments we make, but also, perhaps more importantly, children and those not even born yet.
We heartily recommend booking a place at the 2014 Just So Festival today and we genuinely hope to see you there, learning how to dance Bollywood-style with homemakers who are lions, teachers who are fish, doctors who are foxes, accountants who are frogs, policemen who are stags and sales managers who are owls.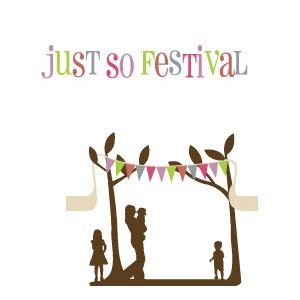 The Just So Festival (photos here) is a not-for-profit community event that takes place every August at Rode Park in Cheshire, founded by Sarah Bird and Rowan Hoban. Rode Hall is a handsome 18th century, grade II listed building, and the estate has been in the Wilbraham family since 1669. The festival itself is the perfect size, not too big or too small, but just right, in a Goldilocks sort of way. You can camp true festival-style (fun but noisy) or go boutique and glamp in a pre-erected teepee, yurt or bell tent.
Finally, thanks to Alfie (6) for being such a great friend to my son, William (4).
Further reading:
Festivals play a crucial role in switching on our environmental antennas
Honing festival sustainability: from travel to renewable energy
Renewable energy: something to sing loudly about?
Recycled 18-foot bee sculpture to stand among festivalgoers at Glastonbury