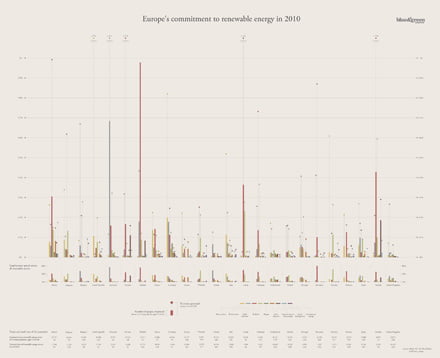 Using information from a European Commission report, Blue & Green Tomorrow has created an infographic that shows the renewable energy commitments of 24 European countries, and for the UK, it doesn't read all that well.
As of 2010, the UK had the smallest percentage of people employed in the renewable energy sector, in proportion with its total workforce, with only 0.073% of people working in the industry.
Whilst this figure is expected to have risen since 2010 – partially because of increased governmental awareness and commitment to renewables through schemes such as the feed-in tariff – the UK, a leader in so many other ways, can do better.
When it comes to turnover from renewable energy, the UK is barely any better—22nd out of 24 countries and contributing only 0.439% of GDP, with only the Netherlands and Ireland below it.
Looking at the leaders, Finland has the biggest proportion of people employed in the renewables sector, and Estonia emerges as the country with the biggest share of GDP from the industry.
Finland is propelled to the top of the first section thanks to its massive (but strangely, unprofitable) solid biomass sector. Estonia, which has been mentioned by Blue & Green Tomorrow before as innovators in the electric vehicle space, also has solid biomass to thank for its high ranking, though bucking Finland's trend, it is extremely lucrative.
Denmark was the most consistent country in the ranking, and came second in both sections, setting its place as a renewable energy champion in stone.
Here's the full chart for your perusal, complete with sector and country breakdowns. You might want to grab a coffee (or other hot beverage of your choice) and a spare moment or two to benefit from the depth of this rather smart infographic.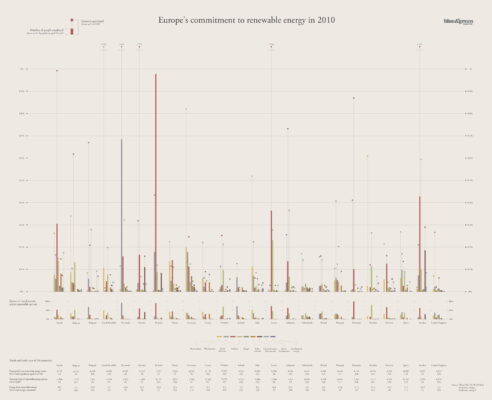 The UK is gifted with some of the best natural resources for renewable energy on the planet. And as the world's sixth largest economy, we really shouldn't be so far down the list. We discussed the UK's renewable energy sector in depth in our latest report, The Rise of Renewable Energy.
An increased adoption of renewables at a community level can only be good for the country's fortunes, as it will force Government and businesses to take further steps into implementing renewable energy as the backbone of our economy.
Supporting companies like Good Energy – the UK's only 100% renewable electricity provider – is essential, if we are to realise a sustainable future.
Related articles:
The Rise of Renewable Energy 2012
Denmark lays down foundations for green future
EU green energy jobs break million milestone
EU urged towards a sustainable, green economy
Infographics: Ben Willers.