FTSE's ESG unit can "shed light" on responsible investment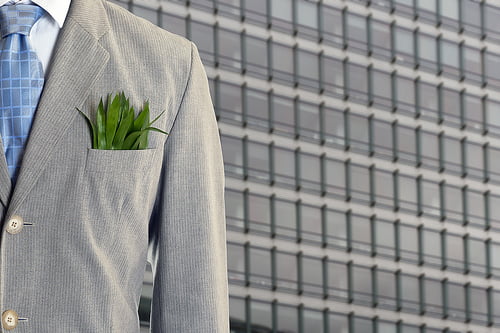 Last week, the FTSE Group launched an environmental social governance (ESG) service unit, as it looks to assist the necessary shift towards a low-carbon economy. Blue & Green Tomorrow spoke with managing directors Kevin Bourne and Gordon Morrison about the newly-established unit's premise.
In 2001, 17 years after the launch of its revolutionary FTSE 100 Index, the FTSE Group launched a series of indices that ranked companies on their environmental, ethical or socially responsible standard.
Over a decade later, and the FTSE4Good Index Series remains at the forefront of ESG reporting, and now, the Group has upped its efforts by launching an ESG service unit after strong demand from the investment community.
"We're seeing a whole new phenomenon beginning to take place", says Gordon Morrison, one of the managing directors of the service unit, "and that's a combination of climate change, resource depletion, and environmental and biodiversity erosion.
"You can see the global policy makers and the politicians trying to grapple with all of these issues. These are being seen by asset owners and chief investment officers (CIO) as being potential risks in their portfolios.
The transition to the low-carbon economy is a very real and material industrial change.
"There's industrial change happening, and the CIOs' concern is that the industry lacks the tools or the framework against which it can measure and manage these risks."
Morrison, who previously worked at HSBC, forms part of the unit's management with Kevin Bourne and David Harris. Bourne, like Morrison, also spent some years at HSBC before moving to FTSE, and he told Blue & Green Tomorrow where the demand for an ESG
service unit emerged from.
"The management team at FTSE, and particularly the CEO Mark Makepeace, were very aware that this whole theme was expanding exponentially for a whole variety of reasons", he explains.
"One of these was the realisation that these are real impacts now on the world and need to be addressed at a more substantial and technical level, and therefore Mark decided it was time to extend the company's reach and technical capabilities."
And so, the ESG service unit was launched last week. ESG was picked out as the prevailing definition of the theme so that customers could easily identify with it.
The installation of Morrison, Bourne and Harris as directors of the unit was something that FTSE saw as vital.
"From our experience, we understood that the challenge faced by the banks, fund managers and pension schemes, was the establishment of a framework that permitted disciplined integration of the green investment themes into their existing portfolios", outlines Bourne.
"We provide sophisticated solutions that can be adopted by them so they can make well-educated investment decisions.
"There's clearly a need to go beyond just providing the data products, and to deliver capabilities that help measure and model these issues for clients."
The low-carbon economy is still at its very early stages. Conventional corporate social responsibility or socially responsible investment is relatively well understood and has been around for 15 years. However the consistent screening of ESG indicators is not as mainstream as some people would like to think, and not all fund managers apply it to all their products, all the time.
"The transition to the low-carbon economy is a very real and material industrial change", he explains.
"How companies operate and what companies manufacture are two different issues. We focus on both, and look to provide sophisticated solutions that can be adopted by asset managers and exist within the operational regime that they live with day to day."
One of the key processes of the service team, the pair say, is looking at which companies are actually adapting to, mitigating or remediating the effects of climate change, resource depletion and environmental and biodiversity erosion.
Some companies score very highly in ESG terms, but the products they're creating are not contributing to an industrial change. On the other side of the coin, there are some companies that, on paper, may be marked poorly for ESG – usually because of the industry they are involved in – but sometimes, they are the ones actively striving for change.
Then there are companies that do well in both aspects: those that are high-scoring in ESG and are going to benefit from an industrial transition.
"Our frame of reference is the transition to the low-carbon economy, and we have a low-carbon economy optic that we apply to the way the world currently addresses the capital market's definition of industrialisation", says Bourne.
There needs to be investment on a massive scale in goods and services that are going to help mitigate and adapt to the problems that exist globally.
"From that, we've been able to create a framework that enables, we hope, the investment industry to understand the dynamics and the change that is taking place.
"Whilst there are good products to help understand when companies are starting to change their operating model – and the FTSE4Good index is a great example of this – it is the totality of the change that needs to be captured – that's the work we did before we came to FTSE and the reason we're here now – because fund managers need to be able to understand not just from an equities point-of-view how this change is impacting their portfolio, but also what's happening to debt, commodity and property markets as a result of these changes."
With FTSE's ESG service unit only in its infancy, it remains to be seen as to how effective its operations will be. But one thing is for sure: there is a high demand for a service unit that focuses on environmental, socially responsible and sustainable investing.
"There are clear needs in the marketplace to help solve the problems that exist at a global scale", concludes Morrison.
"There is a school of thought that says if we cannot sort out this global climate change risk, then temperatures are going to rise, water is going to become scarcer, there is going to be more flooding and society as we know it on a global basis will change very radically.
"There needs to be investment on a massive scale in goods and services that are going to help mitigate and adapt to it.
"It might be flood defence barriers, water desalination plants or more efficient generation of electricity, but whichever way, there needs to be massive investment into these new industries.
"I think that the ESG unit can shed some light onto how those investments could be directed."
Ultimately, it's companies that the FTSE service unit is targeting, but private investment in sustainable places is placed at equal importance. We urge you to take a look at our recent Guide to Sustainable Investment for information from industry leaders about how your own money can help inspire the all-important shift to a low-carbon, sustainable economy.
Further reading:
FTSE answers ESG demand with launch of new service unit
Investors worth $3 trillion call out corporate sustainability failures
UNPRI recruit Lansons to push ESG efforts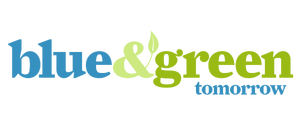 What Kitchen Suits Your Style? Modern, Classic or Shaker?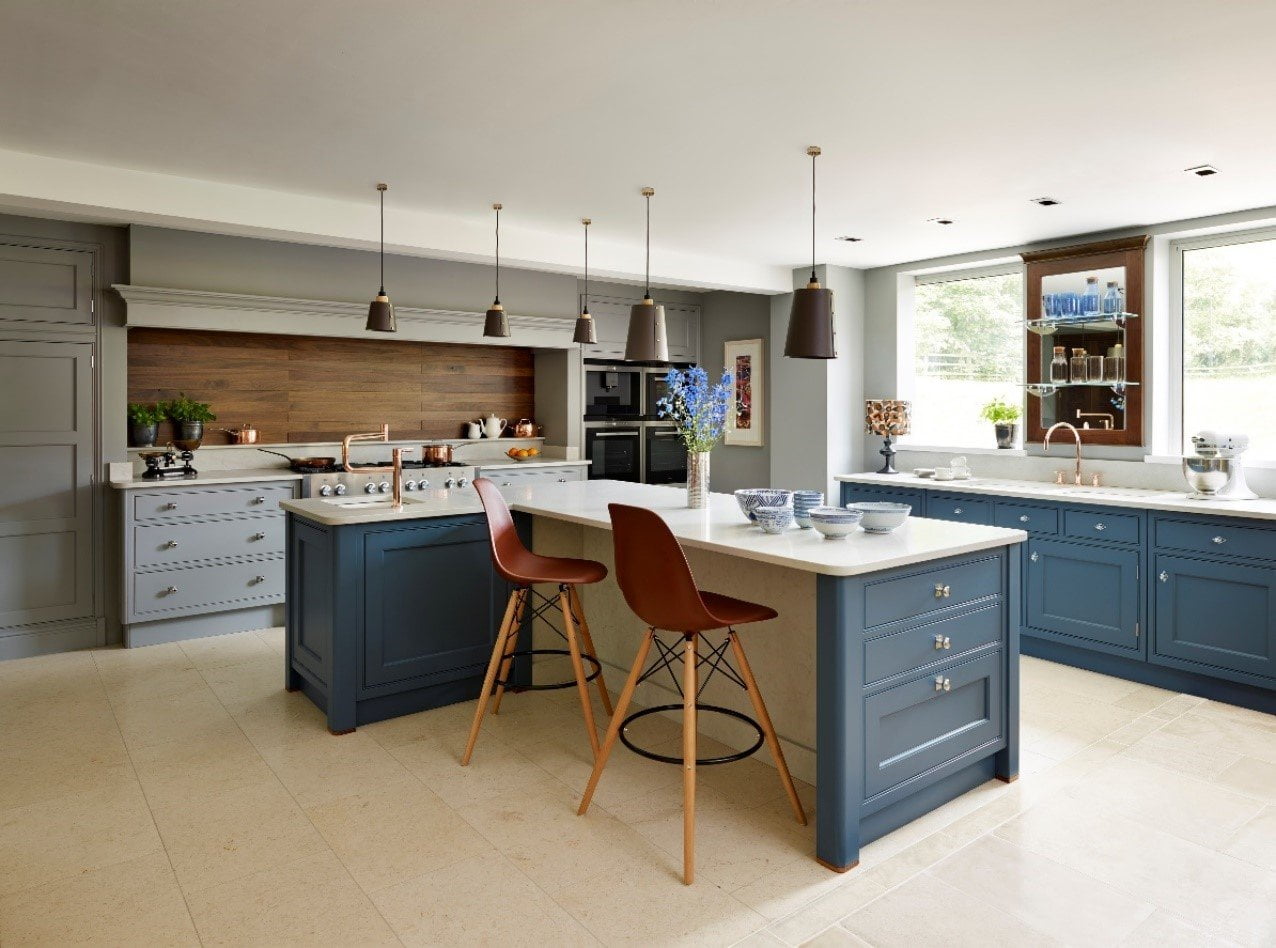 A kitchen is the centre of the home. Your kitchen ranges between where friends and family gather, talk about their day, cook meals, have drinks, to somewhere you can just enjoy each other's company. The kitchen is the heart of the home. But, everyone's lifestyle is different. Everyone's taste is different. So, you need a kitchen that not only mirrors your lifestyle but matches your taste too. Whilst some prefer a more traditional design, others want a modern feel or flair – and it's all down to personal taste.
When it comes to redesigning your kitchen, what style would you go for? It's a difficult one isn't it. With so many different styles to go for, how can you know exactly what you want until you've seen it in action? Leading kitchen designer, Roman Kitchens, based in Essex, have provided three examples of bespoke kitchens and styles they specialise in, accompanied with beautiful images. This design guide will get you one step closer to picking your dream kitchen for your home.
1. Modern
New home in the city centre? Or even a sleek new modern build? You want a trendy and modern kitchen to reflect your city lifestyle. In modern kitchen design, colours are bolder and fresher, with sleek design and utilities that are distinctive and vibrant.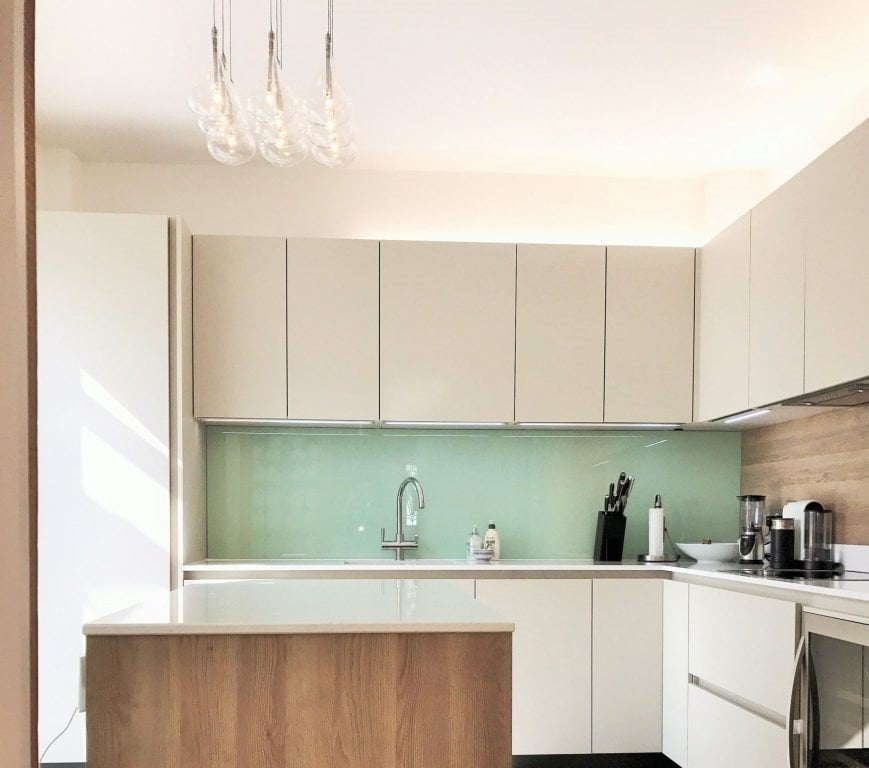 This modern kitchen is sleek and smooth with flawless design and beauty. Minimalism doesn't stop this kitchen standing out. Featured walls of wood and vibrant mint green draw the eye, whilst the white surfaces reflect the light, illuminating every nook and cranny of this kitchen. This kitchen features products from Rotpunkt, innovators of modern kitchen design. Made with German engineering, a Rotpunkt Kitchen is the ultimate modern addition to your home. Rotpunkt Kitchens have timeless design and amazing functionality, they work for every purpose and are eco-friendly. Sourced from natural materials, a Rotpunkt kitchen uses 37% less timber, conserving natural forests and being more environmentally conscious.
2. Classic
Prefer a homely and traditional feel? Classic kitchens are warm, welcoming and filled with wood. Wood flooring, wood fixtures, wood furniture – you name it! You can bring a rustic feel to your urban home with a classic kitchen. Subtle colours and beautiful finishes, Classic kitchens are for taking it back to the basics with a definitive look and feel.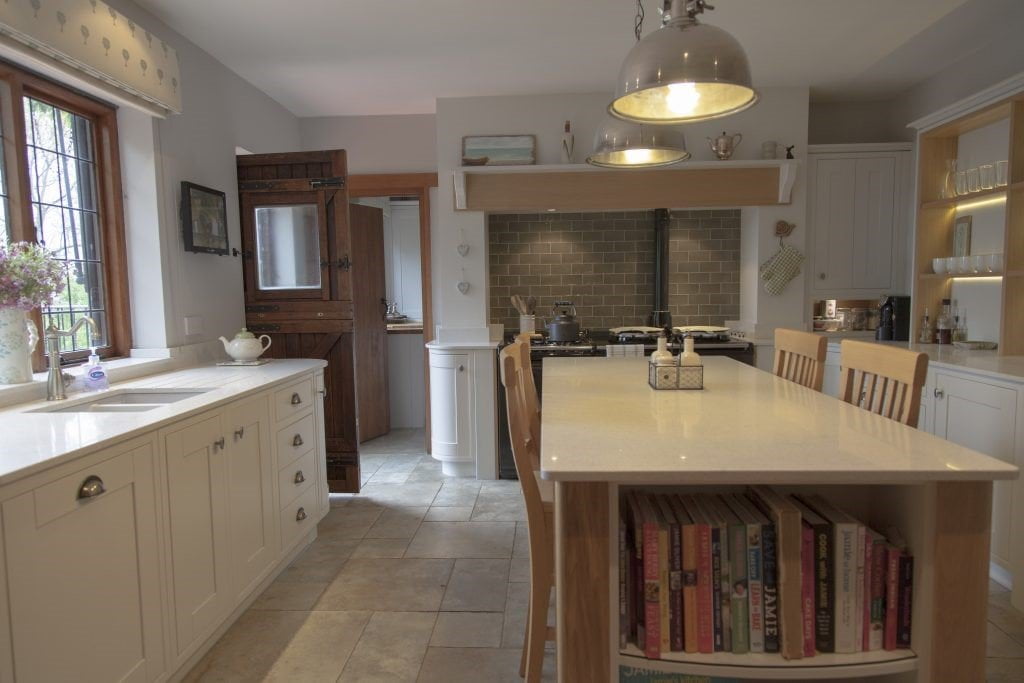 With stated handles for cupboards, Classic kitchens are effortlessly timeless. They convey an elegant but relaxing nature. Giving off countryside vibes, natural elements convey a British countryside feel. The wood featured in a classic kitchen can range between oaks and walnut, creating a warmth and original feel to your home. Soft English heritage colours add a certain mood to your home, softening the light making it cosier.
3. Shaker
Any kitchen planner will tell you that the meeting point between traditional and modern design, is a Shaker kitchen. They have a distinctive style and innovative feel. Shakers are fresh, mixing different colour tones with stylish wood and vinyl. The most important feature of a Shaker kitchen is functionality – every feature needs to serve a purpose in the kitchen. Paired with stylish and unique furniture, a Shaker kitchen is an ideal addition to any home.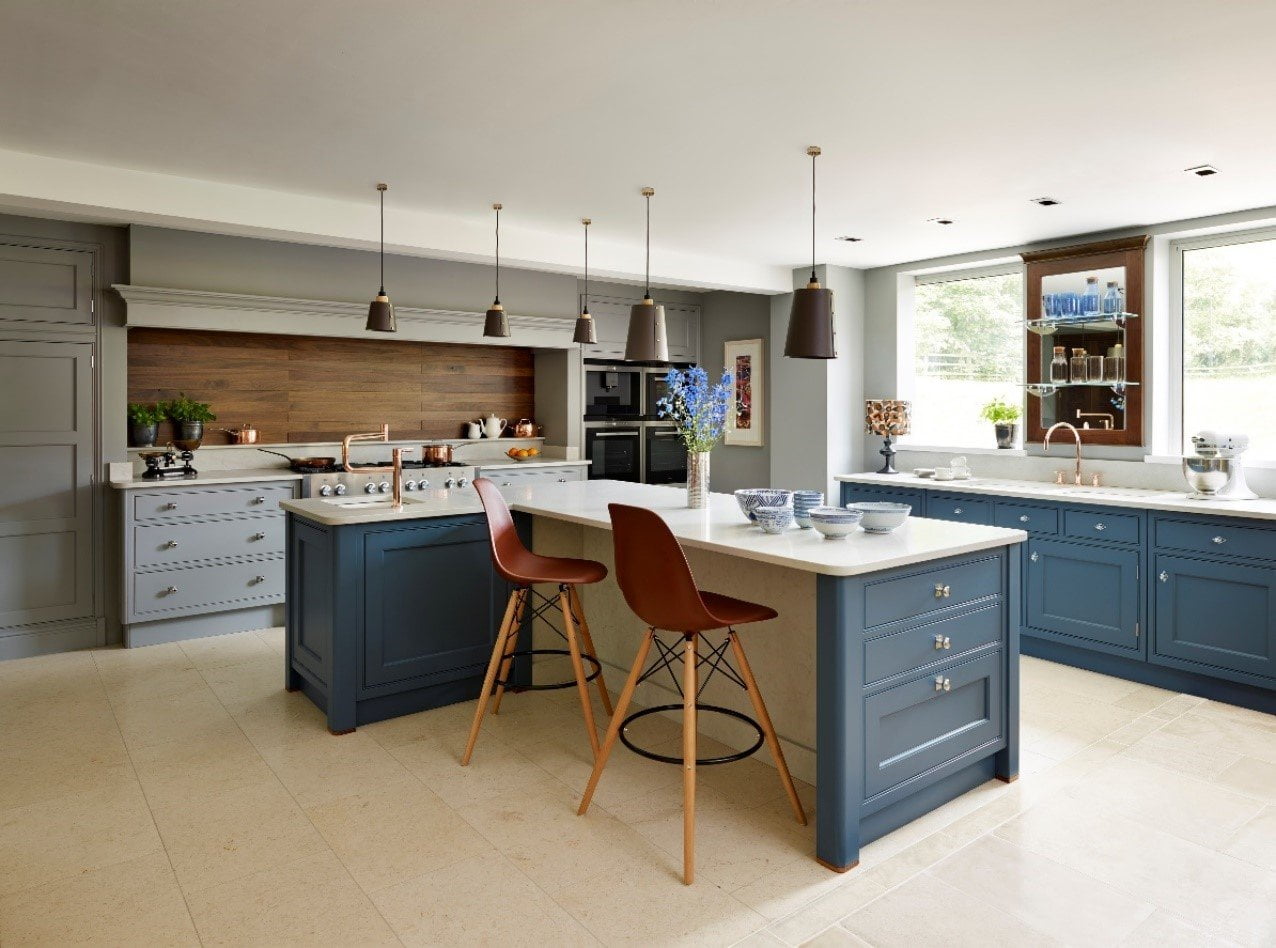 The ultimate marriage between Classic and Modern kitchens, this Shaker kitchen has deep colour tones with copper emphasis features. All the fittings and fixtures blur the line of modern and tradition, with a Classic look but modern colour vibe. Unique furniture and design make Shaker Kitchens perfect for the middle ground in kitchen design. Minimal but beautifully dressed. Traditional but bold and modern at the same time. Storage solutions are part of the functionality of Shaker kitchens, but don't detour from conveying yours as a luxury kitchen.
Whatever you choose for your new kitchen, be it Modern, Classic or Shaker – pick whatever suits you. Taste is, and always will be, subjective – it's down to you.
Ways Green Preppers Are Trying to Protect their Privacy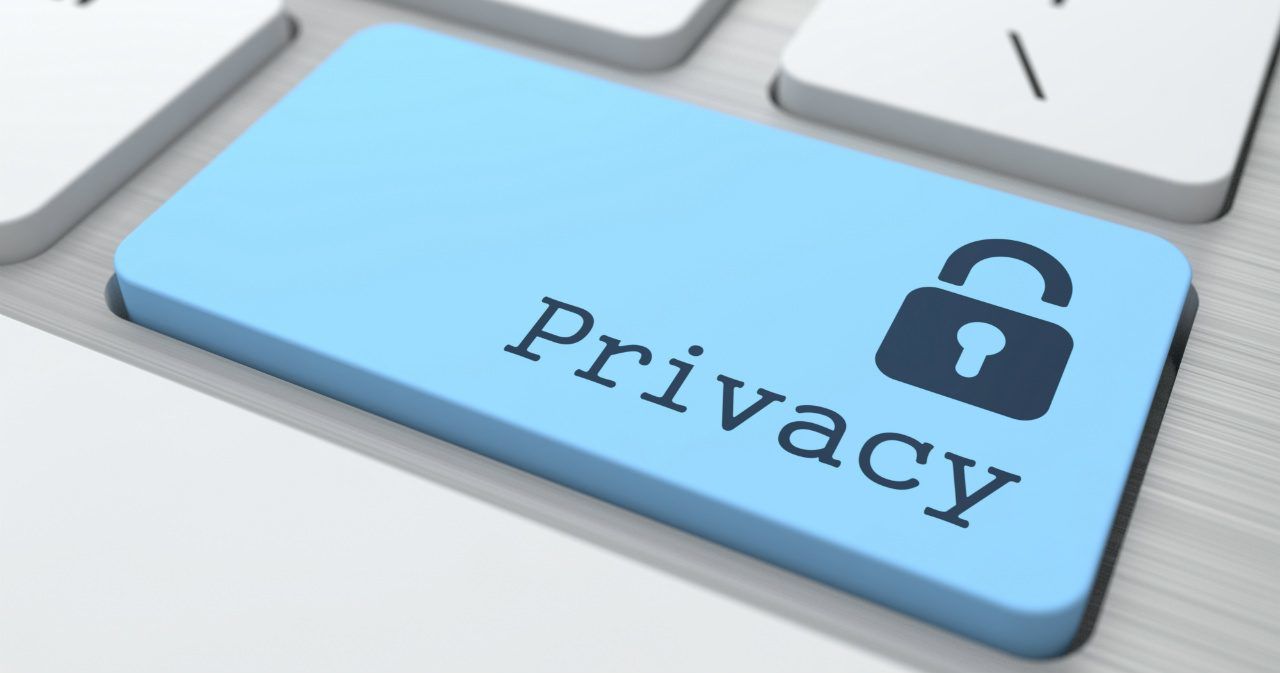 Environmental activists are not given the admiration that they deserve. A recent poll by Gallup found that a whopping 32% of Americans still doubt the existence of global warming. The government's attitude is even worse.
Many global warming activists and green preppers have raised the alarm bell on climate change over the past few years. Government officials have taken notice and begun tracking their activity online. Even former National Guard officers have admitted that green preppers and climate activists are being targeted for terrorist watchlists.
Of course, the extent of their surveillance depends on the context of activism. People that make benign claims about climate change are unlikely to end up on a watchlist, although it is possible if they make allusions to their disdain of the government. However, even the most pacifistic and well intentioned environmental activists may unwittingly trigger some algorithm and be on the wrong side of a criminal investigation.
How could something like this happen? Here are some possibilities:
They could share a post on social media from a climate extremist group or another individual on the climate watchlist.
They could overly politicize their social media content, such as being highly critical of the president.
They could use figures of speech that may be misinterpreted as threats.
They might praise the goals of a climate change extremist organization that as previously resorted to violence, even if they don't condone the actual means.
Preppers and environmental activists must do everything in their power to protect their privacy. Failing to do so could cost them their reputation, future career opportunities or even their freedom. Here are some ways that they are contacting themselves.
Living Off the Grid and Only Venturing to Civilization for Online Use
The more digital footprints you leave behind, the greater attention you draw. People that hold controversial views on environmentalism or doomsday prepping must minimize their digital paper trail.
Living off the grid is probably the best way to protect your privacy. You can make occasional trips to town to use the Wi-Fi and stock up on supplies.
Know the Surveillance Policies of Public Wi-Fi Providers
Using Wi-Fi away from your home can be a good way to protect your privacy.However, choosing the right public Wi-Fi providers is going to be very important.
Keep in mind that some corporate coffee shops such a Starbucks can store tapes for up to 60 days. Mom and pop businesses don't have the technology nor the interest to store them that long. They generally store tips for only 24 hours and delete them afterwards. This gives you a good window of opportunity to post your thoughts on climate change without being detected.
Always use a VPN with a No Logging Policy
Using a VPN is one of the best ways to protect your online privacy. However, some of these providers do a much better job than others. What is a VPN and what should you look for when choosing one? Here are some things to look for when making a selection:
Make sure they are based in a country that has strict laws on protecting user privacy. VPNs that are based out of Switzerland, Panama for the British Virgin Islands are always good bets.
Look for VPN that has a strict no logging policy. Some VPNs will actually track the websites that you visit, which almost entirely defeats the purpose. Most obviously much better than this, but many also track Your connections and logging data. You want to use a VPN that doesn't keep any logs at all.
Try to choose a VPN that has an Internet kill switch. This means that all content will stop serving if your VPN connection drops, which prevents your personal data from leaking out of the VPN tunnel.
You will be much safer if you use a high-quality VPN consistently, especially if you have controversial views on climate related issues or doomsday prepping.