Kelly review tells Co-operative Bank's 'sorry story'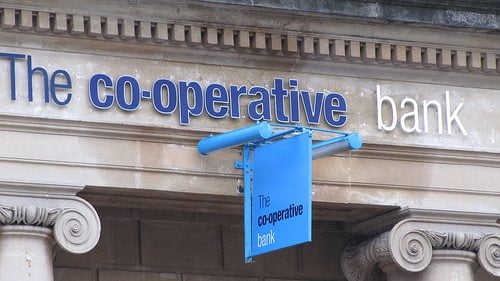 The crisis at the Co-op Bank can be blamed on bad management and governance and a "culture of mediocrity", according to a damning new report dissecting the "sorry story" of the troubled institution.
The independent nine-month review, carried out by Sir Cristopher Kelly and commissioned by the bank, concludes that the Co-op's real problems began with its ill-advised merger with the Britannia Building Society in 2009.
Kelly argues that both organisations already had their failings at the time, and bringing them both together exacerbated these problems.
Among these problems was a culture that included a "willingness to accept poor performance" and a "tendency not to welcome challenge" at the Co-op.
Ultimately, these flaws led to the exposure of a £1.5 billion black hole in the bank's balance sheet. The rescue deal left the Co-operative Group with just a 30% stake in its banking operations, as lenders and hedge funds stepped in.
Earlier this month, the bank also announced a loss of £1.3 billion for 2013, indicating its troubles are far from over.
"Poor commercial lending, a failed IT project, and mis-selling of PPI accounted for the bulk of [the capital shortfall] in numerical terms, but the severity of the problem was magnified by failures of management, lack of capability, a fallible culture and weak governance", Kelly, a former senior civil servant, said.
"[The Britannia merger] might have worked if the merged organisation had received first class leadership. Sadly it did not."
He added, "This report tells a sorry story of failings in management and governance on many levels."
To try and ensure such mistakes are not made again, Kelly sets out a number of lessons that are "far from novel".
These include recommendations such as ensuring bank board has technically competent directors or an experienced chief executive.
Kelly notes that Paul Flowers, the Methodist minister who was chairman of the bank until last June and was later involved in a drug scandal, "manifestly did not have the appropriate expertise". 
The publication of the report comes as Lord Myners, who resigned from the Co-operative Group earlier this month continues his own review into how the bank's governance structure must be reformed.
The current chief executive of the bank Niall Booker has said that the report makes "difficult reading" but adds that the bank broadly accepts its findings.
He did add however, "We do believe there are many more positive aspects of the Co-operative Bank's culture that are not reflected in the report, for example not enough credit is given to the service, ethic and empathy of our employees."
Commenting on the report, Charlotte Webster, campaign manager at the banking reform group Move Your Money, said, "Today we see exposed some of the biggest issues in our big banks.
"This is not the banking British citizens demand, nor deserve.
"Lets hope lessons fall hard on the industry, in the meantime people will continue to move their money to banks that are managed, ethical and provide security for an increasingly fed up public."
Webster advises that concerned banking customers use Move Your Money's online scorecard, which rates banks according to their impact, ethics and customer service.
Photo: Howard Lake via Flickr
Further reading:
Co-operative Bank's troubles blamed on governance
Co-op Group reveals 'disastrous' £2.5bn loss for 2013
Lord Myners: Co-op Group needs to 'strengthen its governance'
Co-op Bank reveals £1.3bn loss for 2013