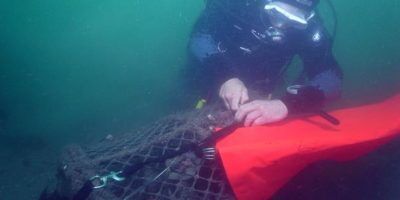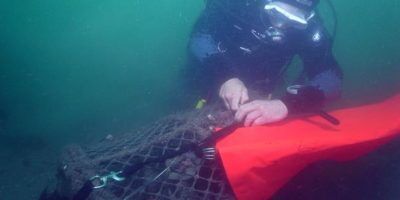 Pembrokeshire Coast To Be Cleared Of Litter By World Animal Protection Fund Environmental Divers
World Animal Protection UK, an international animal welfare charity, is funding volunteer environmental divers Neptune's Army of Rubbish Cleaners (N.A.R.C) on the 11th and 12th of August, to rid the Pembrokeshire coast of lost lobster pots, fishing nets and rope.
Lost or discarded fishing nets, lines and pots, otherwise known as 'ghost gear' is a huge global issue for marine animals – a staggering 640,000 tons of ghost gear is lost in our oceans each year. This lost gear continues to catch animals and affects Pembrokeshire wildlife such as the yellow sponge crab, the colourful Ballan wrasse (fish), the bottlenose dolphin and grey seal.
Last year on a similar dive N.A.R.C cleared one tonne of commercial fishing net and 13 lobster pots, 12 of which were still ghost fishing and they anticipate a similarly successful haul this year. N.A.R.C has a passion for clearing litter from the underwater environment in Pembrokeshire and work with local fishermen to identify where pots have been lost.
Once they have located a suitable location, divers descend in buddy pairs armed with scissors, bags, trays and lifting bags. Dives can last up to an hour in which litter is collected, bagged and sent to the surface for retrieval by a support boat.
World Animal Protection has been supporting the project by funding dives and creating films and other educational materials with local fishermen to show simple tips for preventing gear loss and how to modify pots to limit the impact of ghost fishing.
Christina Dixon, World Animal Protection UK Campaigns Manager said, "N.A.R.C do an incredible job collecting marine litter and keeping the oceans safe and enjoyable for animals and marine users alike.
Christina Dixon : Ghost gear is a massive global problem and our job is to work collaboratively with the fishing industry, environmental groups and policy makers to prevent it happening.
David Kennard, N.A.R.C Chairman said, "We work closely with the fishing community to locate the best place to dive, for example somewhere pots have been lost during winter storms. Lost gear is an issue not just for wildlife but also for the sustainability of local fisheries and biodiversity, so it is great that we are able to collaborate with industry stakeholders so that we can clear the gear and also share ideas to limit loss in the future."
World Animal Protection UK has been highlighting the efforts of the fishing community to tackle the impact of ghost gear and last year awarded Nigel Sanders, a Swansea-based fisherman, the Sea Change Champion Award for his low-tech pot modification project intended to prevent lost pots from continuing to fish at the end of their life.
The charity has also launched a new film and materials featuring N.A.R.C showing how fishermen are helping each other to protect their businesses from ghost gear.
For more information about World Animal Protection UK's Sea Change campaign click here and for more information about N.A.R.C click here: www.narc-cc.org.uk