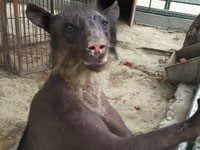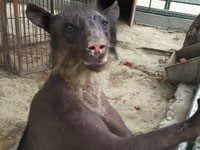 Saved from the circus! Heart-warming footage shows 'real life Paddington Bear' return home to the forest
Cholita the 'real life Paddington bear' who won the world's hearts with the story of her terrible abuse in the circus has been successfully returned to her native forest home. A new video tells the story of how the mutilated, hairless bear was saved from her sad life by Animal Defenders International. The organisation has now launched an urgent appeal to save two more bears in need who could give Cholita the companionship of her own kind for the first time in her life.
The video tells Cholita's heart-warming story from the time Animal Defenders International recovered the abused bear. Her life transforms as she receives specialist care, a proper diet and is relocated back to the jungle by truck and boat.
Animal Defenders International President Jan Creamer said "It is an absolute joy to see Cholita explore and enjoy her new home, and the sights and sounds of the forest from which she was stolen as a baby. Many have been moved to tears by Cholita's mutilated paws and hairless body – a cruel reminder of her abusive past in the circus. We thank everyone who donated to help us save Cholita – we hope people will now dig deep to rescue two more spectacled bears who are in urgent need of our help."
Spectacled bear Cholita was snatched from the wild as a baby and spent years in the circus confined to a tiny cage. Her fingers were cut off and her teeth broken, leaving her completely defenceless. Her sad and stressful life caused her hair to fall out, and where she should have thick, black fur she has none. Cholita was confiscated from the circus by authorities but no permanent home could be found for her, so she stayed in a zoo for ten years.
Animal Defenders International heard of Cholita's plight and vowed to save her. The organisation brought her back to its Operation Spirit of Freedom rescue centre and nursed her back to better health, helping her painful feet and breathing troubles, while building her a forever home in her native habitat. In their care, Cholita has benefited from round the clock care, a natural diet, veterinary treatment, a therapeutic pool and hanging fruits and toys to entertain her.
Thanks to overwhelming support from members of the public, Cholita was built a new home complete with a bathing pool and cave at the Taricaya Ecological Reserve in the Amazon cloud forest – the lush, natural habitat of spectacled bears.
A truck was fitted out with deep straw, warm blankets and an oxygen tent to keep Cholita comfortable on the three day journey across Peru. The lucky bear arrived back in the jungle by boat with several other rescued animals including a puma, macaw and some monkeys.
Animal Defenders International has now launched an urgent appeal to save two more spectacled bears. Lucho and Sabina are victims of the circus and illegal wildlife trade, living in appalling conditions and in need of urgent help. They would be ideal companions for Cholita who has not seen her own kind since she was torn from her mother as a baby.
It will cost over £10,000 to save Lucho and Sabina and get them back to the forest in a home like Cholita's. Their lifelong care and veterinary needs will cost £3,000 per month. Please help Animal Defenders International ensure Cholita's comfort and allow her, Lucho and Sabina to live happily ever after: www.ad-international.org/HelpTheBears or 020 7630 3340.