Do you know someone making serious leaps forward in the renewable energy or clean technology sectors? Well, now's your chance to have their efforts recognised by industry professionals, as the New Energy & Cleantech Awards 2013 prepare to receive nominations.
The event, which has been renamed in 2013 to incorporate cleantech, seeks to recognise the achievements of entrepreneurs, investors and professional advisers in renewables and cleantech.
"There are twin focuses to the awards", Nick Britton, managing editor of growth business specialists Vitesse Media, told Blue & Green Tomorrow in the run-up to last year's ceremony.
"One of them is about cutting our carbon emissions, and the other is about making a business success out of the attempt to do that.
"It's not purely about helping the planet; it's also about building financially sustainable business models as well."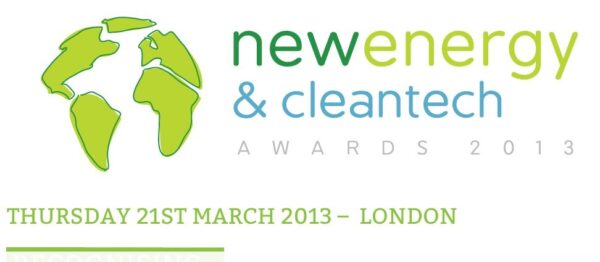 There are 11 categories that companies and individuals can be nominated in; with one addition from last year – Financier of the Year. Here's a full rundown, along with the current holder of each award:
Innovator of the Year – Developer of the best environmentally successful technology
2012 winner: Nujira 
New Energy Champion of the Year – Organisation most committed to carbon emission reduction
2012 winner: Low Carbon Business 
Entrepreneur of the Year – Individual that is pioneering products, growing sales and profit, and driving market penetration
2012 winner: Chris Farrell, Zenex Energy 
Deal of the Year – Best acquisition, merger or fundraising in the marketplace
2012 winner: ECO Plastics 
University Spin-out of the Year – Producer of the most commercially successful technology
2012 winner: Ilika 
Investor of the Year – Early-stage investor, venture capital firm or business angel network that has done the most to finance fast-growth and start-up businesses
2012 winner: Oxford Capital Partners 
Financier of the Year – Private equity house, turnaround practitioner, bank or alternative finance provider that has shown the greatest commitment to financing companies and projects within the sector
2012 winner: New category
Advisory Firm of the Year – Professional advisory firm providing the most depth of expertise and invaluable service to its client base
2012 winner: Altium Capital
Developer of the Year – Property developer that made the greatest effort to place renewable energy features at the heart of its developments
2012 winner: Caledonian Modular
Retailer of the Year – Retailer that has gone furthest to foster new energy techniques, in-store or with suppliers, in a cost-effective manner
2012 winner: Marks & Spencer 
Company of the Year – Company that made the strongest progress and greatest impact in the sector
2012 winner: Nujira 
Over 300 representatives from some of the most innovative energy and technology firms will be in attendance for the sixth instalment of the awards.
Judges include Paul Ekins of University College London, Stephen Fawkes of Matrix Group and Kevin Anderson of Kreab Gavin Anderson.
Building on the success of last year's ceremony, which was hosted by BBC presenter Monty Halls, the 2013 event will have an afternoon ceremony included, which will allow delegates to discuss key issues of both renewable energy and clean technology.
To nominate an individual or company for any of the above categories, visit www.newenergyawards.com/nominate, but be quick; nominations are only open until December 21.
What do you think of Blue & Green Tomorrow? Complete our short reader survey and be in with a chance to win an iPad mini or a Kindle Fire. Survey closes December 21.
Further reading:
New Energy Awards 2012: the winners
New Energy Awards 2012: the nominees at a glance
New Energy Awards 2012: an overview