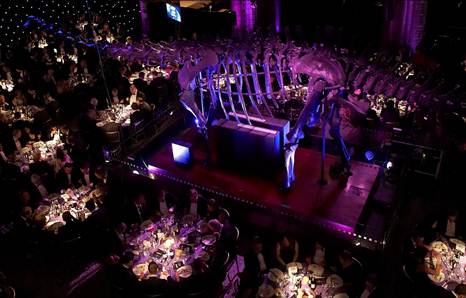 At a time when it's becoming increasingly vital to embrace alternative sources of energy, the fifth annual New Energy Awards takes place at the Science Museum on March 29, and it's set to be a corker.
"Recognising commitment to alternative sources of energy" is the awards' tagline, and just a week after George Osborne's disappointingly unsustainable and not-so-green budget statement, it's great that an awards ceremony can reward innovation in the space.
Entering into its fifth year on the scene, the New Energy Awards is an event run by Vitesse Media, specialists in growth businesses.
"[The awards] were founded to recognise the achievements of entrepreneurs, investors and professional advisers for the renewable energy sector", explains managing editor Nick Britton.
"There are twin focuses to the awards. One of them is about cutting our carbon emissions, and the other is about making a business success out of the attempt to do that.
"It's not purely about helping the planet; it's also about building financially sustainable business models as well."
With regards to Osborne's crushing blow to the renewables sector last week, or rather his complete disregard for it, the timing of the New Energy Awards means that businesses in the industry will be aware of the adversity they face from the very top of the tree.
But Britton adds that the encouraging impetus in innovation must continue, and the awards ceremony tomorrow will ensure that it does.
"The Government doesn't want to be seen to be completely backtracking in its commitment to new energy, but all the stuff about being the "greenest government ever" – I don't think anyone really believes that that's the Government's priority anymore and, in fact, they've said themselves that things have to be fiscally sustainable", he says.
"I think you can see their point to a degree. There have to be sustainable financial models for new energy as well, but at the same time, it's always disappointing to see previous commitments being scaled back – it's happened with the feed-in tariffs and again in the budget.
"I think it's very important to keep up the momentum, and this is what the event is all about."
A total of 55 individuals and companies have been nominated across nine categories that include retailer of the year, investor of the year and entrepreneur of the year, as well as two new classes – innovator and new energy champion.
As its name suggests, innovator of the year recognises innovation, which is something the other eight categories do also. But with the introduction of a bespoke classification, the judges are able to appreciate organisations that have really set a new pace in the past year.
Meanwhile, the new energy champion award goes to a company that has either reduced its own carbon emissions or influenced other companies to do so.
Britton forms part of a judging panel for the awards that includes a number of high-profile investors, academics and engineers – all of whom are experts in their fields, whether it's financial or scientific.
Paul Ekins, professor of energy and environment policy at the University College London's Energy Institute is another judge.
"Technological innovation is one of the keys to energy security and a low-carbon energy system at affordable cost", Ekins says.
"These awards seek to recognise some of the most promising innovations relating to energy that have come forward in the past year […] Some of the companies and technologies awarded will become the household names and appliances of tomorrow.
"That's what makes being a judge such a fascinating, and responsible, task."
Britton explains the significance of the awards, particularly in the current climate – both economic and physical.
"I think [the awards are] particularly important at a time like this because we all know that we have to burn less fossil fuels, but it's very difficult for us, with our modern lifestyle, to reduce the amount of energy we use", he claims.
"To give just one example, you've got mobile phones that are becoming increasingly sophisticated, so they're using more energy. One of the companies on the shortlist is finding a way to reduce power consumption of phones and mobile phone transmitters as well.
"I think there are lots of clever ways that companies can help us all use less energy, and it's particularly important at a time when governments, including the UK Government, are looking again at their commitments to green energy and thinking about whether they can afford them in fiscal terms."
Blue & Green Tomorrow has spoken to a number of the companies and individuals shortlisted for tomorrow's ceremony, which takes place at the Science Museum in London.
In an eleventh hour message to the 55 nominees, the three things that are needed to be a New Energy Award winner are "a combination of innovation, a real commitment to the principles of new energy and also the business acumen to make the ideas reality", says Britton.
A healthy amalgamation of these three ingredients will stand you in good stead to take home a gong.
We'll be attending the event ourselves and writing a review of it afterwards (and maybe even tweeting during it if you're lucky), so check back on Friday for a rundown of the lucky nominees that evolved into winners. You can also visit the event's website here.
In the meantime, check out our new report, The Rise of Renewable Energy for more information on why shifting our dependence from fossil fuels to renewable energy sources is so important. You should also consider shifting your own home to renewable energy through Good Energy, the UK's only 100% renewable electricity provider.
Related articles:
The Rise of Renewable Energy 2012
Budget statement: what about the environment?
Denmark named as leading innovator in cleantech ranking