Faroe Islands diary: a first glance at the Land of Maybe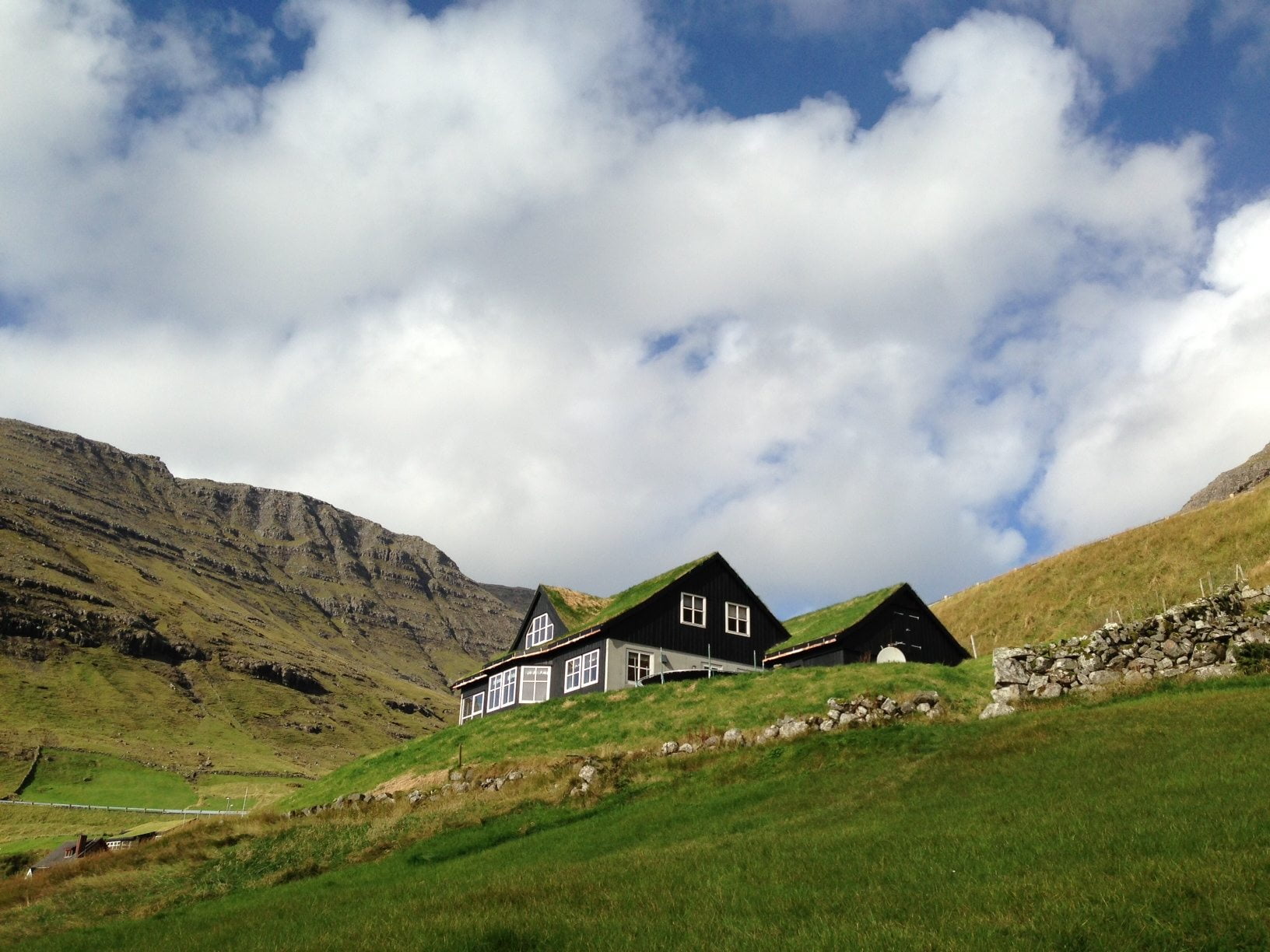 "The Faroe Islands: is that near Egypt?" I smiled as I stood in the queue at Gatwick, while the woman I was on the phone with from my bank tried to work out where in the world I was jetting off to.
She will have eventually found that my destination was actually around 200 miles north-west of Scotland, almost equidistant between Iceland and Norway – and certainly not in north Africa.  Føroyar, or to the English-speaking world the Faroe Islands, is an archipelago of 18 islands and one of the smallest countries not only in Europe, but the world.
During the second world war, thousands of British troops used the islands as a base, following Nazi Germany's invasion of Denmark – of which the Faroe Islands belong. The British nicknamed the country 'the Land of Maybe', because the regularly changeable weather makes it nigh on impossible to plan anything. I experienced this for myself straight after stepping off the plane at Vágar airport – built by the British during their five-year stay – in the west of the islands.
My guide for the day, Andrias Thomassen, had called the local postman in the village of Gásadalur earlier that morning to check on the weather. The postman looked up at Eysturtindur, the mountain Andrias was planning on taking me up, and said it wouldn't be possible because the conditions were too poor.
As it was, we reached the summit – 714 metres high – in just over an hour and in beautifully clear – but incredibly windy – conditions. For a country that experiences rain 260 days a year, it seemed as if I had arrived on one of the good days. For at least the first few hours of my time on the island, the jacket and raincoat I'd packed were redundant.
They also briefly remained in my rucksack because, perhaps surprisingly given how far north it is, it doesn't actually ever get that cold in the Faroe Islands – even at the height of winter. Whereas many of its Scandinavian cousins – Sweden, Norway and in particular Iceland – experience sub-zero temperatures regularly, the Faroes have a mild climate because of their positioning in the Gulf Stream. Mean temperatures in winter are around 3-4C, but it also means summers are cool – between 9.5-10.5C usually.
My first glimpse of a Faroese village was Dávabreyt – a tiny community located a short drive from the airport. It had a small beach with black, volcanic sand, and a waterfall running into the Sørvágsfjørður fjord.
Most of the handful of houses in the village had grass on their roofs, which Andrias explained was a natural form of insulation. It went some way to camouflaging them against the surrounding mountains. On some houses, the grass was overgrown; while on others, it was like a perfect rooftop bowling green. My first question to Andrias was, obviously, "How do they cut the grass?" Strimmers and scythes are the most popular methods, he said, but some people prefer to stick a couple of sheep up there to keep the grass trim.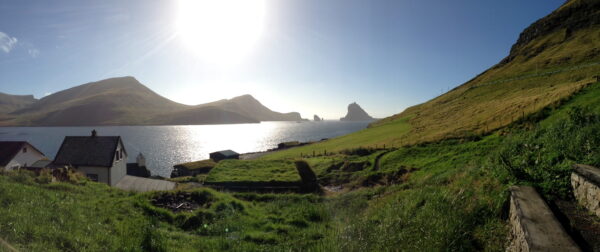 As we moved on to begin scaling Eysturtindur, Andrias gave me a potted history of his country – from its Viking and, unexpectedly, Irish roots, through to its Danish control and eventual home rule. Now, 91% of the country's 49,000 people are Faroese, with the rest made up of Danes, Brits, Greenlanders, Icelanders and a small minority of people of other ethnicities. Its main language is Faroese, which is similar to the Old Nordic language, but Danish is taught in schools to children aged eight and upwards. English is taught from nine and German from 13.
Although the Faroe Islands' population increased 0.5% between 2012 and 2013, many of its residents are leaving the smaller communities and villages for larger settlements. Meanwhile, young people often move to Denmark to study and never return permanently.
But it's certainly not the Faroe Islands' lack of beauty that is sending them away. The entire country is steeped in splendour. Think the Lake District or the Scottish Highlands, with fewer roads and amenities and even fewer urbanisations (and almost no trees outside the major conurbations). Its lush green mountains, some of whose only inhabitants are sheep (which outnumber people 2:1), appear to stretch for miles. Yet everything is within reach.
The Faroese mountains – the highest of which is Slættaratindur, at 882 metres above sea level – appear to have been hand-crafted by the gods themselves. So it's easy to understand why almost everyone in the country is religious (strangely, unlike some of its other Scandinavian cousins. Sweden, for example, has one of the highest proportions of atheists in the world at 34% of the population). The five peaks of Tindhólmur, a mountain on the south side of Sørvágsfjørður – named Ytsti, Arni, Lítli, Breidi and Bogdi (translated as Farthest, Eagle, Small, Broad and Bent, respectively) – almost resemble a giant hand reaching out to the heavens from the Earth.
Like many of his fellow countrymen and women, Andrias too is religious. He's 34, and spent time in the US studying at Bible college, and also works in a hotel. He told me he was never completely sure about religion growing up, until one day, while out walking with a friend, he was all of a sudden stopped in his tracks and filled by "joy, peace and energy". He saw this as a sign from God that instantly reaffirmed his faith.
The Faroe Islands are famous for their thriving seabird population – puffins, guillemots, eiders and starlings are common. Andrias said a handful of mountain hares (which villagers are allowed to shoot and eat in certain months) were introduced in the 1800s and there are now thousands across the country. Whaling is also popular in the country – though a somewhat contentious issue among environmentalists (I looked at whaling more detail later on in my trip, so stay tuned).
Andrias told me of a time he saw a walrus on the beach – an apparently rare sight in the country. It was getting dark, and he slowly edged nearer and nearer the creature in an effort to simply touch it. He did, and described it as one of the best moments of his life.
Perhaps the most famous creature local to the Faroe Islands, though, is the salmon. Salmon fishing makes up 95% of the country's exports (the US, Andrias told me, is particularly fond of Faroese salmon) and contributes massively to the economy. It is also one of the things that the country is globally famous for.
Before a recent international football match with the Faroe Islands, Joachim Löw, the manager of the German national team, said, "I don't know much about the Faroe Islands, but I do know that they have the best salmon in the world." The Germans may have won 3-0 on the night – which many Faroese supporters hailed as a good result for the country – but at least the islanders can claim a victory in the fish stakes.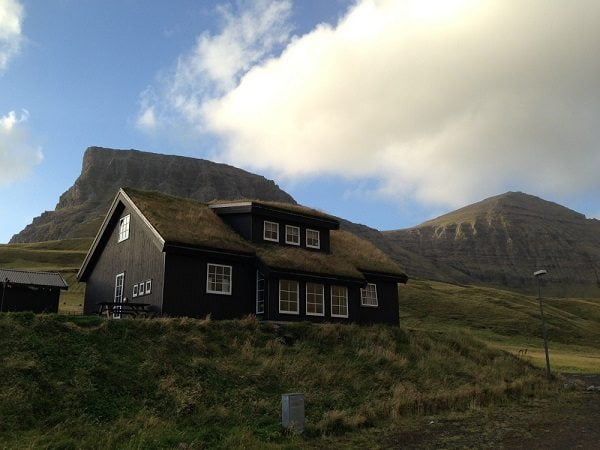 After saying my goodbyes to Andrias, I headed to Gjógv on the northern tip of Eysturoy island, where I would be staying the night. The 80km drive through the rolling Faroese mountains would have Jeremy Clarkson salivating. The humble automobile might have its critics in terms of its environmental impact, but its invention has connected regions of the Faroe Islands in ways that were once not possible.
Road tunnels have been constructed through mountains so that villages don't have to brave the conditions to get something from the other side. Until the development of the tunnel between Gásadalur and nearby Bøur, the local postman had to walk the exact 3.5km route I walked with Andrias three times a week.
I arrived at the Gjáargarður guesthouse in Gjógv at around 8.30pm, and was greeted by a plate of locally-produced food – a range of breads, salad, meat and fish – and a thoroughly welcome local beer, brewed by Føroya Bjór.
I had only been in this incredible country for half a day, yet I had already forgotten what it was like to be in the hustle and bustle of a major city. The Land of Maybe had me at hello.
This is the first of four diary entries from Alex Blackburne's recent trip to the Faroe Islands. 
Further reading:
Sustainable tourism: people power and destination stewardship
A responsible tourist considers local communities
Sustainable tourism can help tackle the world's biggest challenges, says UN official
81% of tour operators and 75% of travellers say yes to more sustainable travel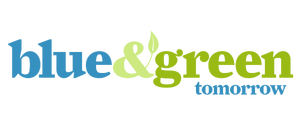 How Home Automation Can Help You Go Green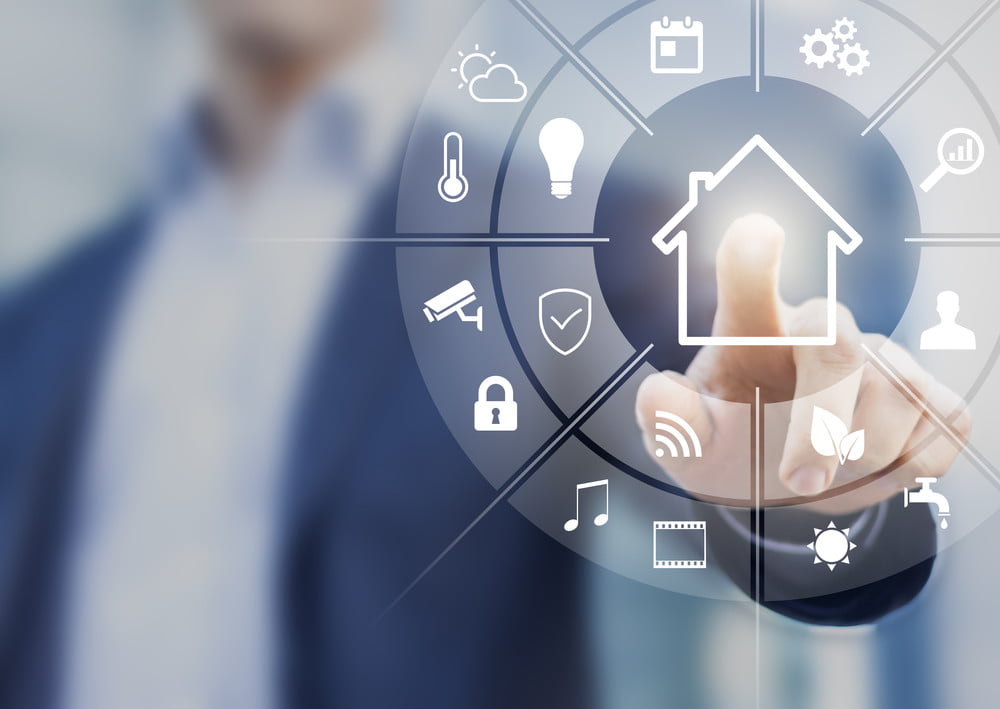 The holidays are an exciting, nostalgic time: the crispness in the air, the crunch of snow under your boot, the display of ornate holiday lighting up your home like a beacon to outer space, and the sound of Santa's bell at your local Walmart.
Oh, yeah—and your enormous electric bill.
Extra lights and heating can make for some unexpected budgeting problems, and they also cause your home to emit higher levels of CO2 and other pollutants.
So, it's not just your wallet that's hurting—the planet is hurting as well.
You can take the usual steps to save energy and be more eco-conscious as you go about your normal winter routine (e.g., keeping cooler temperatures in the home, keeping lights off in naturally lit rooms, etc.), but these methods can often be exhausting and ultimately ineffective.
So what can you actually do to create a greener home?
Turn to tech.
Technology is making waves in conservation efforts. AI and home automation have grown in popularity over the last couple of years, not only because of their cost saving benefits but also because of their ability to improve a home's overall energy efficiency.
Use the following guide to identify your home's inefficiencies and find a solution to your energy woes.
Monitor Your Energy Usage
Many people don't understand how their homes use energy, so they struggle with conservation. Start by looking at your monthly utility bills. They can show you how much energy your home typically uses and what systems cost you the most.
The usual culprits for high costs and energy waste tend to be the water heater and heating and cooling system. Other factors could also impact your home's efficiency. Your home's insulation, for example, could be a huge source of wasted heating and cooling—especially if the insulation hasn't been inspected or replaced in years. You should also check your windows and doors for proper weatherproofing every year.
However, waiting for your monthly bill or checking out your home's construction issues are time-consuming steps, and they don't help you immediately understand and tackle the problem. Instead, opt for an easier solution. Some homeowners, for example, use a smart energy monitor such as Sense to track energy use in real time and identify energy hogs.
Use Smart Plugs
Computers, televisions, and lights still consume energy if they're left on and unused. Computers offer easy cost savings with their built-in timers that allow the devices to use less energy—they typically turn off after a set number of minutes. Televisions sometimes provide the same benefit, although you may have to fiddle with the settings to activate this feature.
A better option—and one that thwarts both the television and the lights—is purchasing smart plugs. The average US home uses more than 900 kilowatts of electricity per month. That can really add up, especially when you realize that people are wasting more than $19 billion every year on household appliances that are always plugged in. Smart plugs like WeMo can help eliminate wasted electricity by letting you control plugged-in items from your smartphone.
Update Your Lighting
Incandescent lightbulbs can consume and waste a lot of energy—35% of CO2 emissions are generated from electric power plants. This can have serious consequences for increased global warming.
To reduce your impact on the environment, you can install more efficient lightbulbs to offset your energy usage. However, many homeowners choose smart lights, like the Philips Hue bulbs, to save money and make their homes more energy efficient.
Smart lights can be controlled from your smartphone, and many smart light options come with monthly energy reporting so you can continue to find ways to reduce your carbon footprint.
Take Control of the Thermostat
Homeowners often leave the thermostat on its default settings, but defaults often result in heating and cooling systems that run longer and harder than they need to.
In fact, almost half the average residential energy use comes from energy-demanding heating and cooling systems. As an alternative to fiddling with outdated systems, eco-conscious homeowners use smart thermostats to save at least 10% on heating and roughly 15% on cooling per year.
Change your home's story by employing a smart thermostat such as the Nest, ecobee3, or Honeywell Lyric. Smart thermostats automatically adjust your in-home temperature by accounting for a variety of factors, including outdoor humidity and precipitation. A lot of smart thermostats will also adjust your home's temperature depending on the time of day and whether you're home.
Stop Wasting Water
The average American household uses about 320 gallons of water per day. About one-third of that goes to maintaining their yards. Using a smart irrigation systems to improve your water usage can save your home up to 8,800 gallons of water per year.
Smart irrigation systems use AI to sync with local weather predictions, which can be really helpful if you have a garden or fruit trees that you use your irrigation system for  water. Smart features help keep your garden and landscaping healthy by making sure you never overwater your plants or deprive them of adequate moisture.
If you're looking to make your home greener, AI-enabled products could make the transition much easier. Has a favorite tool you use that wasn't mentioned here? Share in the comments below.
Working From Home And How It Reduces Emissions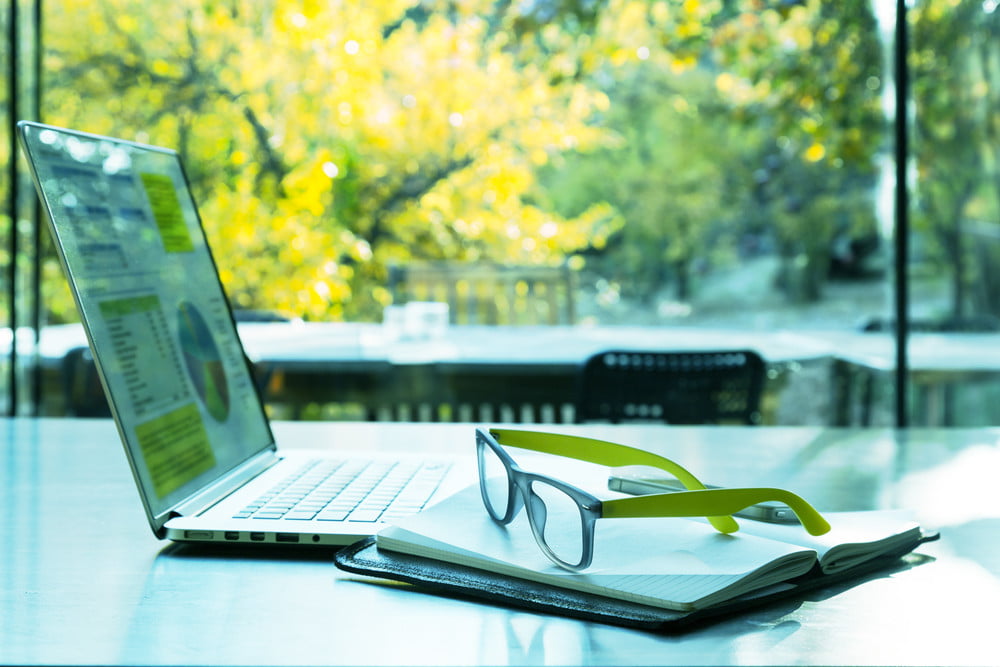 Many businesses are changing their operating model to allow their employees to work from home. Aside from the personal convenience and business benefits, working from home is also great for the environment. According to GlobalWorkplaceAnalytics.com, if employees with the desire to work from home and compatible jobs that allowed for this were allowed to do so only half the time, the reduction in emissions would be the equivalent of eliminating automobile emissions from the workforce of the entire state of New York. Considering the stakes here, it is vital that we understand how exactly working from home helps us go green and how this can be applied.
Reduction of automobile emissions
Statistics by the United States Environmental Protection Agency (EPA) show that the transportation sector is responsible for about 14% of the total Global Emissions of greenhouse gases, which is a very significant percentage. If employees work from home, then the need to travel to and from their workplace every other day as well as other business trips are reduced considerably. While this may not eliminate the emissions from the transport sector altogether, it reduces the percentage. As indicated in the example above, a move to work from home by more businesses and industries cuts down automobile emissions to as much as those from an entire state.
Reduction of energy production and consumption
According to Eurostat, electricity, gas, steam and air conditioning accounted for as high as 26% of the Greenhouse gas emissions from the EU in 2014. EPA stats are also close at 25% of the total emissions. This makes energy production the single largest source of emissions. Working from home eliminates the need for large office spaces, which in turn reduces the need for electricity and heating. Similarly, the need for electrical office equipment and supplies, such as printers and computers, is also greatly reduced, which reduces the emissions from energy production in offices. Additionally, most households are now adopting green methods of energy production and implementing better ways of energy usage. The use of smart energy-efficient appliances also goes a long way in reducing the energy production and consumption levels from households. This, in turn, cuts down emissions from energy production from both the home and office fronts.
Reduced need for paper
Paper is also a huge source of emissions, considering that it is a carbon-based product. EPA stats show that carbon (IV) oxide from fossil fuel and industrial processes accounts for 65% of the total greenhouse gas emissions. Working from home is usually an internet-based operation, which means less paper and more cloud-based services. When everything is communicated electronically, the need for office paper is reduced considerably. Moreover, the cutting down of trees for the sake of paper production reduces. All these outcomes help reduce the emissions and individual carbon footprints.
Effective recycling
While businesses make an effort to recycle it is not as effective as homeowners. Consider everything from the water you drink to office supplies and equipment. While working from home, you have greater control over your environment. This means that you can easily implement proper recycling procedures. However, at the office, that control over your personal space and environment is taken away and the effectiveness of recycling techniques is reduced. Working from home is, therefore, a great way to go green and increase the adoption of proper recycling.
Takeaway
Even though the statistics are in favor of working from home to reduce emissions, note that this is dependent on the reduction of emissions from home. If the households are not green, then the emissions are not reduced in the least. For instance, if instead of installing a VPN in the router to keep the home office safe, an employee buys a standalone server and air gaps it, the energy consumption is not reduced but increased. Therefore, it is necessary that employees working from home go green if there is to be any hope of using this method of operation to cut down on the emissions.