Is your energy sapped and your willpower dimmed at the very thought of looking for a new business electricity deal?
If apathy hits when you think about switching, you're in good company. Many small businesses know a new electricity contract could save them money, but are put off by the effort needed to switch – and that goes for gas contracts too.
Frankly, searching for the best electricity deal is a time-consuming bore for busy SMEs with better things to do with their time.
A switch in time saves…
With a switching service, small businesses can ditch all that fraught, tiresome stuff and get a good commercial electrical deal fast – especially if it's done online or by phone.
Leading UK energy and water consultants Utilitywise, for example, will provide a range of prices from a basketful of key energy suppliers. You choose the one that meets your needs before being switched over to a new business electricity supplier.
Utilitywise customer Julian Jackson, who runs The Priory Estate, was helped to switch provider and renew an existing contract. He thinks switching energy provider should be much smoother:
"Suppliers don't make it easy to switch and getting them to cooperate can be one of those challenges that makes you lose the will to live!"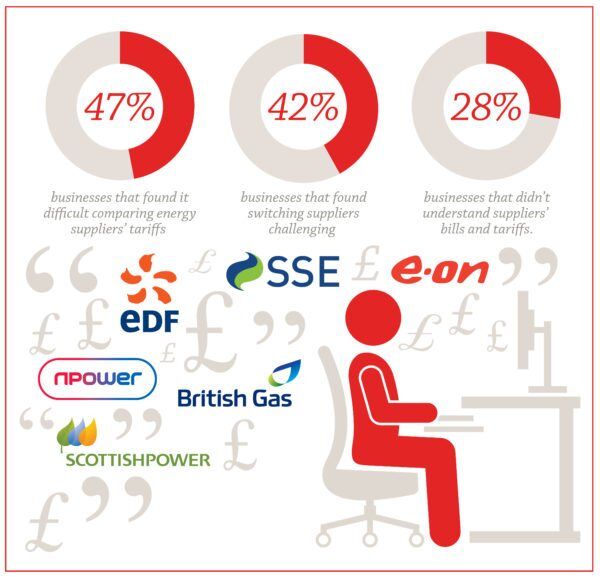 Tariff-ic ways to hold the fort
As well as different suppliers, there are a bewildering range of tariffs to get your head around if you're doing it yourself. Research by the Federation of Small Businesses (FSB) says:
– 47% of businesses found it difficult comparing energy suppliers' tariffs
– 42% found switching suppliers challenging
– 28% didn't understand suppliers' bills and tariffs.
Independent energy experts can look for electricity deals on your behalf and take the hassle out of procurement for you. These are some of the deals on the market:
A fixed energy deal helps all kinds of organisations to fix a price for a fixed period to avoid volatilities in the energy market. Utilitywise says it is ideal if you're a high energy consumer and want to be certain of your budget so you can plan ahead.
It renegotiated charity Shalom House's gas and electricity contracts in a five-year deal that insulated them from price rises.
Energy consultants can also purchase electricity from the wholesale commodity market in a flexible contract. It could suit your business if you spend more than £100,000 on electricity each year, while a portfolio deal tends to suit smaller firms.
Put your feet up and save energy
Of course, there's always the option of a fully inclusive energy management plan like the Utilitywise Utility Management Plan. It puts you in control of your energy consumption, which is the surest way to save money.
You also have an ironclad way to save consumption in your business right under your nose … and that's your staff. Get them on board and together with better controls you could reduce your firm's energy consumption by 33%. It's worth making the effort.