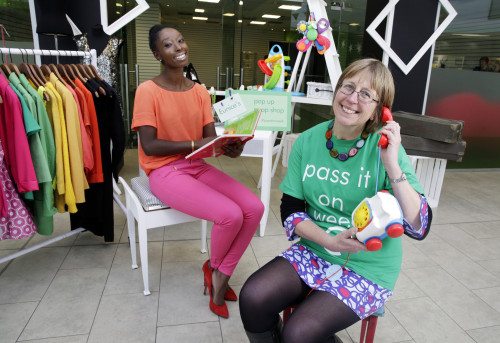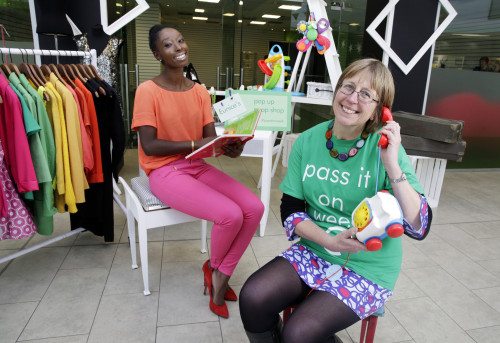 Scottish Supermodel and Environmental Campaigner Eunice Olumide Urges People in Scotland to 'pass it on' this March – and Help the Planet
The average household in Scotland has £4,000 worth of clothes – 30% of which have been unworn for at least a year – yet each household continues to spend an average of £1,700 every year on new clothes[1]. If everyone in Scotland wore their clothes just three months longer – our carbon, water and waste footprints would be reduced by 5 – 10%.
Supermodel Scot and fashion-forward TV presenter Eunice Olumide – known for her work to help tackle climate change – is encouraging everyone in Scotland to get involved in Pass it On Week this 5 – 13 March by organising their own 'swap shop' events. The focus of the campaign is to help keep the things we use – including our clothing – in circulation for longer in order to reduce our impact on the environment.
Eunice, who recently joined renowned British fashion designer Dame Vivienne Westwood as part of a 60,000-strong climate change rally in London, said:
"We need as many people in Scotland as possible to gather up their unused or unwanted clothing, books, toys, furniture and electrical equipment – and swap, share, re-use or upcycle their way to a greener planet this Pass it On Week!
"This is a fun campaign with a serious message. It is a brilliant way of uniting people throughout Scotland in a national event, run at a local level, and enables all of us to do our bit in the move towards a zero waste society. I'm very proud to be able to support Zero Waste Scotland to help get everyone in the country involved!
Pass it On Week #passitonweek is Scotland's annual event, run by Zero Waste Scotland, to encourage everyone to keep things in use for as long as possible by passing on, swapping, sharing or donating things they no longer use.
Every year in Scotland, many potentially re-usable items are thrown away, including approximately 5,000 tonnes of sofas, 9,700 washing machines, 1,600 office desks, 6,300 tonnes of TVs and 2,100 tonnes of T-shirts. Scotland already re-uses some products that are otherwise disposed of – with an extremely significant benefit to Scotland's economy and environment as a result. For example, Scotland re-uses 49% of all its T-shirts (14.9 million), generating £10 million in financial savings, sales and re-employment, and saving 25,600 tonnes in CO2 equivalent carbon emissions. And, although Scotland currently only re-uses 5% of all washing machines (11,000), this still results in £33,000 being generated through sales and employment, saving 1,000 tonnes in CO2 equivalent carbon emissions. This represents a strong argument for the whole country to be re-using more.
Eunice added "Signing up to run your own Pass it On Week event wherever you are in Scotland is easy to do – and you don't need loads of organisational skills, time or money to do so! It's a great chance to declutter your home, grab a bargain, have some fun and help reduce waste and help the planet at the same time. All you need to do is log onto www.passitonweek.com and click on the 'submit an event' link on the homepage. You'll also find a variety of suggestions and details of previously successful events to inspire you."
Eunice officially launched today's call for events in support of Pass it On Week with her own pop-up swap shop at Glasgow's St. Enoch Centre – which will host a special weekend event on the 5th and 6th March in support of Pass it On Week with demonstrations and workshops on 3D printing, lego swapping, jewellery making, sewing, repairing items, fashion shows and much more. "Eunice's pop up swap shop" was filled with donated vintage and second hand clothing, toys, books and furniture from local Revolve-accredited stores, demonstrating the type of event that people throughout the country can organise for Pass it On Week this March.
Revolve is a re-use quality standard for shops who sell second hand goods in Scotland, and makes it easier, more inviting, and safer for everyone to buy second hand items.  Wherever the Revolve logo is displayed, customers can be assured they are buying from a great re-use shop with a commitment to quality and excellent customer service.
Iain Gulland, Chief Executive of Zero Waste Scotland, said:
"We're really excited to be working with Eunice Olumide for the first time as she brings a fantastic new fashion-focused dynamic to our Pass it On Week campaign – not to mention her environmental campaigning experience.
"Eunice's Pop-up Swap Shop is a great example of the type of event that's easy to organise, and that we'd love to see replicated throughout Scotland this coming March. We need as many people throughout Scotland as possible to run their own events in support of Pass it on Week, to effectively reduce waste and keep the every day things we no longer use – like clothing, books, toys and furniture – in use for as long as possible.
"Pass it on Week is just one of several projects run by Zero Waste Scotland all year round, designed to demonstrate the various positive – and often small – changes that people can make to their behaviour, which can have a hugely positive collective impact on the environment."
For more details as to how you can sign up to register your own Pass it On Week event this March, visit www.passitonweek.com.